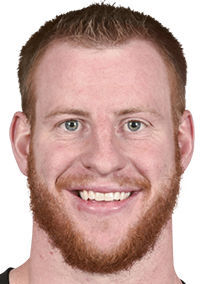 There is optimism, and there is ignoring reality.
Carson Wentz wanted to make sure the reporters he was talking to via Zoom afternoon understood that he is an optimist who also understands that the coronavirus's threat to the NFL's chances to play a 2020 season can't be banished by slogans and positive thinking.
The Eagles' quarterback said he and his wife, Madison, talked a lot the past several months about what he would be facing when he reported to the NovaCare Complex this week, and whether he should do so.
"Obviously, I'm very well aware of the circumstances we're all living in. It's unfortunate; when this thing first hit back in March, no one knew what the season would look like. There was a lot of conversation both from the [players' association], ownership, and just amongst the players on how this thing would look," Wentz said.
"Throughout the whole time, I think everybody's in the back of their mind wondering, 'What does that look like for me safety-wise? What does that look like for my family, safety-wise?' I was no different."
Wentz said he felt the calculation might have been tougher for players such as himself, who are married and have children. Hadley Jane Wentz, Carson and Madison's first child, was born on April 27.
"You definitely have to take all those factors in, but I definitely feel safe here. You never know how this is going to fully unfold. ... It's something that my wife and I talked a lot about, prayed a lot about.
"We feel good with our decision, but at the same time, completely respect the guys who did decide to opt out ... like, Marquise Goodwin -- I talked to him the other day. I fully respect his decision. Obviously I'm bummed that I'm not going to be able to play with him."
Goodwin is the veteran wide receiver the Eagles traded for on the last day of the draft, who finally became a father last winter after his wife had suffered repeated miscarriages. Goodwin, who said he didn't want to risk the health of his daughter, is the only Eagle to opt out of the season so far.
"I'm optimistic that we can execute all protocols, guys can stay safe, guys can stay healthy," said Wentz, who is entering his fifth season, at age 27. "But I'm also not an idiot. ... Until something changes, I'm going to be here, I'm going to be working, I'm going to be ready to go, just like all my teammates."
Across the NFL, around 30 players have opted out, with more such decisions expected.
"As far as guys opting out, I'm not surprised, to be honest," Wentz said. "I think all of us, especially with health conditions or family, or maybe some guys live with or look after their parents -- you've got to take into consideration your family, it's not just about you. I completely respect the guys that did opt out, and will continue to opt out, but I'm not surprised by it, just because of the state that we're all living in."
Wentz spoke against the background of the resumption of the Phillies' season being yet again delayed, through the weekend. The aftermath of the Miami Marlins' decision to take the field last Sunday against the Phils after four positive virus tests continues to unfold. The NFL, like baseball, is trying to create a bubble at the workplace while expecting players and staffers to be responsible for themselves when they leave. That's 80 NFL players per team right now, on their own every evening.
Wentz said that he is "very aware that it is going to be a challenge."
"We've talked about it a fair amount," he said. "You've got to be a professional 24/7, not just when you're in the building. ... Be smart and handle your business.
"We really are all in this thing together. We say that all the time, it's kind of the cliché thing, but it has a little different meaning this year. ... We're going to do everything we can as a team, especially as leaders, to make sure guys are handling their business, not just in the building but outside the building."
General manager Howie Roseman has talked of "retooling" this year; offseason moves clearly indicate the Eagles aren't in Super Bowl-or-bust mode for 2020. But careers are finite. Wentz was healthy for 16 games last season, for the first time since he was a rookie, only to be sidelined in the first quarter of the playoff loss to Seattle by a concussion. Wentz knows that the calendar pages will continue to turn, whether 2020 really represents a good, solid chance to prove he can win in the postseason or not.
Wentz has the security of being only a year into a four-year, $128 million contract, but he also saw the Eagles invest a second-round pick, Jalen Hurts, in his position this spring.
"It still seems crazy to say I'm going into my fifth year," Wentz said, when asked a question about leadership.
But on the other hand, "I definitely feel like a veteran now."
Be the first to know
Get local news delivered to your inbox!