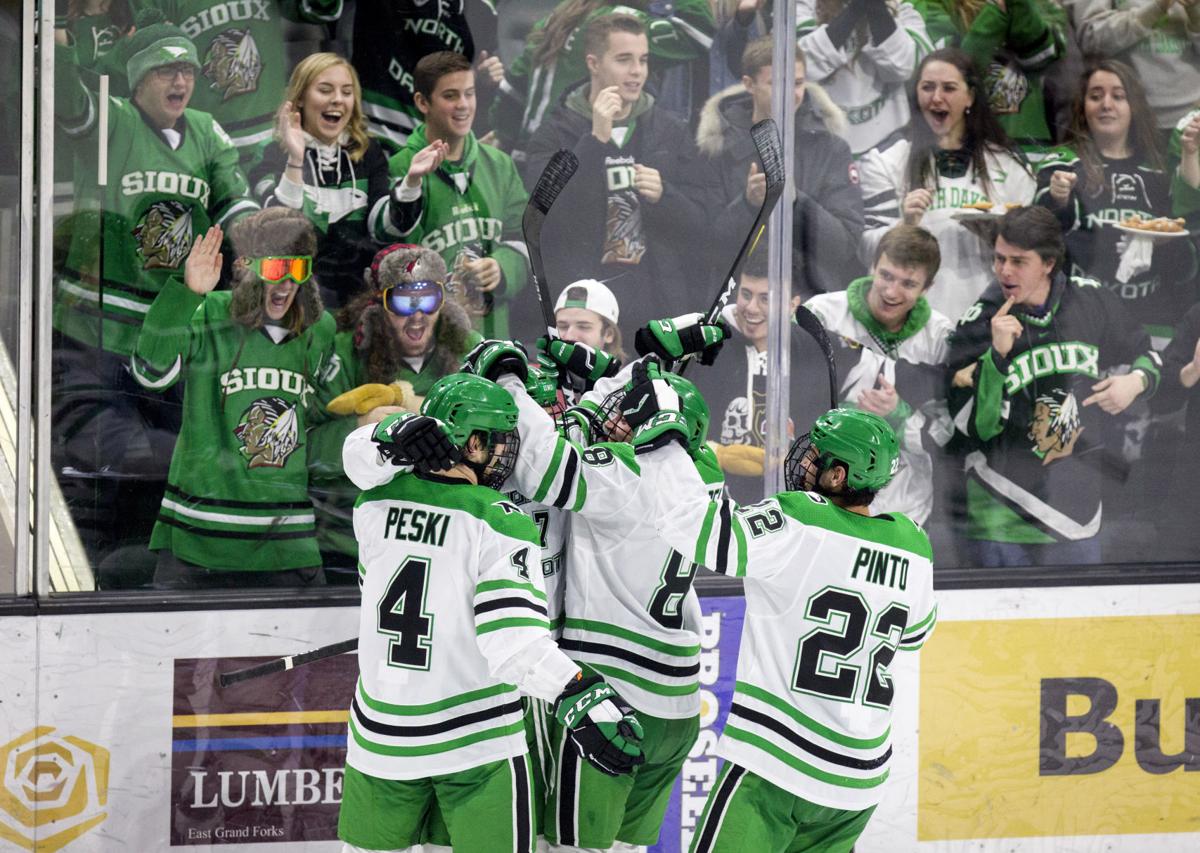 GRAND FORKS — The University of North Dakota's opponents are now dressing in a locker room on the west side of Ralph Engelstad Arena — the opposite side as their bench.
It means that, like everywhere in the National Collegiate Hockey Conference outside of Denver, the opponent has to walk across the ice to get to its bench.
In Grand Forks, it also means the added discomfort of walking through the student section seven times before the end of the game — before and after warmups, before and after the first period, before and after the second and before the third.
While the location change of the opponent locker room was made for logistical reasons — allowing athletic trainer Mark Poolman to spread out his area after UND's locker room renovation a couple of summers ago — there's no doubt that North Dakota doesn't mind adding a little bit of discomfort for their opponents.
And things have not been comfortable for opponents at The Ralph this season.
UND is a perfect 7-0-0 at home. Dating back to last season, they've won nine straight at Ralph Engelstad Arena, the second-longest home winning streak since the building opened in 2001. The record is 12, set during the 2015-16 and 2016-17 seasons.
This weekend, some history awaits.
North Dakota closes out the first half of the home schedule against St. Cloud State (7:37 p.m. Friday, 7:07 p.m. Saturday) with an opportunity to achieve a rare feat by taking an undefeated home record into the new year.
UND has only been unbeaten at home at Christmas break once since 1968. That was in 2002, when UND went 11-0-1 before break.
The last time UND went to Christmas break without a loss or a tie at home was 1964, when North Dakota brought a 6-0 home record to break with sweeps over the Brandon Wheat Kings, the South St. Paul Steers and Michigan Tech.
In order to achieve that rare feat, UND will have to go unbeaten against the two-time defending Penrose Cup champion Huskies, who were last swept at The Ralph during the 2017 playoffs.
"We know we have to take care of business at home here before we go on two tough road trips to end the first half," said UND coach Brad Berry, whose team plays at rival Minnesota and at Western Michigan after this weekend. "We know what we need to do to be ready this week for an absolute test. It's a focus of ours. What I like about our group is that we've done a good job, so far, compartmentalizing from week to week what we need to get to."
UND has skyrocketed up the national rankings to No. 5 after an 8-1-2 start. North Dakota earned a win and a tie at Denver last weekend. Their only loss has been a 2-1 defeat at No. 1-ranked Minnesota State-Mankato in mid-October.
UND's current unbeaten streak of seven games is the longest in the country.
"I think we expected a lot of ourselves this year," UND junior forward Grant Mismash said. "We know what we want to achieve. It's gone as planned so far. We're playing good hockey and we just need to stay consistent and keep playing our way and not worry too much about what we're ranked or what stats we're putting up. It doesn't matter. We've just got to keep playing and the wins should come."
Teddy bear toss, Movember auction
There will be two unique happenings at Ralph Engelstad Arena this weekend.
On Friday, there will be a teddy bear toss during the first intermission. Fans are asked to bring teddy bears to throw on the ice at the end of the first period. They will be donated to local charities.
On Saturday, the NCHC referees will be holding their annual Movember auction to benefit men's health issues, including prostate cancer, testicular cancer, mental health and suicide prevention.
The featured item of the auction is a World Series baseball. It is signed by the umpiring crew, including crew chief Gary Cederstrom of Minot.
Longtime college hockey official Derek Shepherd, who recently retired, also autographed an old game-worn Western Collegiate Hockey Association officials sweater. Shepherd reffed in the WCHA and the NCHC.
There will be other autographed items from NHL and Major League Baseball players, including former UND star Zach Parise and former American League MVP Justin Morneau.