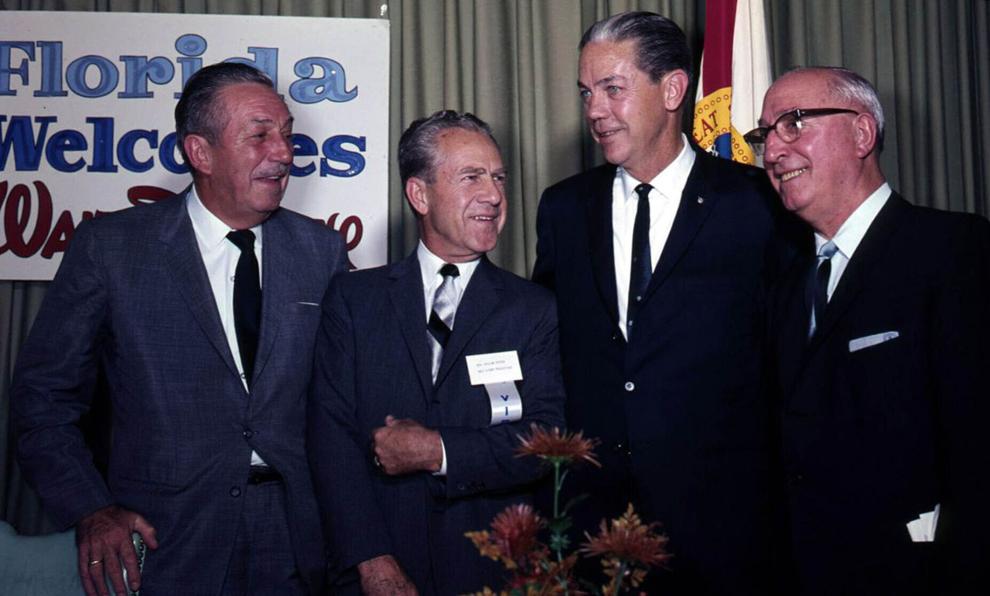 In his early 60s, the graying retired U.S. Army general led the massive construction project to get Disney's land ready to build a theme park. The bulldozers tore through, uprooting trees, and crews tamed what was an alligator- and snake-infested swamp of Central Florida in the late 1960s.
This was an old Florida back then, more rugged, wild and so far away from the well-manicured Disney grounds known today. On a boat ride through the canal, Potter and his team brought a gun because snakes hung from the trees, his daughter recounted.
To make Disney World, something had to be done about Bay Lake.
The water was "a dark-brown color which would not be used for swimming because it would turn bleached blond hair brown and white swimming suits would be grey," Potter recalled in his oral history recorded by the U.S. Corps of Engineers.
His men pumped out 5 million cubic yards of the sand, added well water and cleaned the lake's bottom to turn into a pristine lake.
Potter's team also built the 200-acre lagoon by the Polynesian Hotel.
Like a good military man, Potter had listened to his commander, Walt Disney. He complained how hard it was to maintain the fantasy in Disneyland when realities like garbage dumpsters or employee areas couldn't be completely hidden away, Lucas said.
Potter's workaround: Build an underground tunnel system at Florida's Magic Kingdom.
And to govern this new kingdom — or at least run its sewage system and utilities — Potter established the plan for Reedy Creek Improvement District.
By 1967, the state officially approved Reedy Creek as its own government, so Disney could have control of building roads, zoning code, and build a power plant, even its own airport if Disney desired one. Potter eventually served as the district's first leader.
"We think today Disney is its own self sufficient community, but that didn't happen overnight, and it certainly didn't happen by itself. Walt, again, had to sign off on all of this, but Joe Potter was the man that he trusted. He let him take care of all that," said Lucas, author of the book 'Top Disney.'
Along the way, there were political landmines that could implode at any time.
A few holdout landowners unwilling to sell. Labor strikes. Skeptical government officials. Orlando didn't have a major airport as it was about to become a tourism hotspot. Again, it was Potter who went on the public relations offensive, negotiating and cajoling and earning himself the nickname "Mr. Disney" in Orlando as he became the liaison for the company.
Work is under way on the Magic Kingdom from this 1968 photo that is part of the public library's Disney collection. (Orange County Public Library)
Work is under way on the Magic Kingdom from this 1968 photo that is part of the public library's Disney collection. (Orange County Public Library)