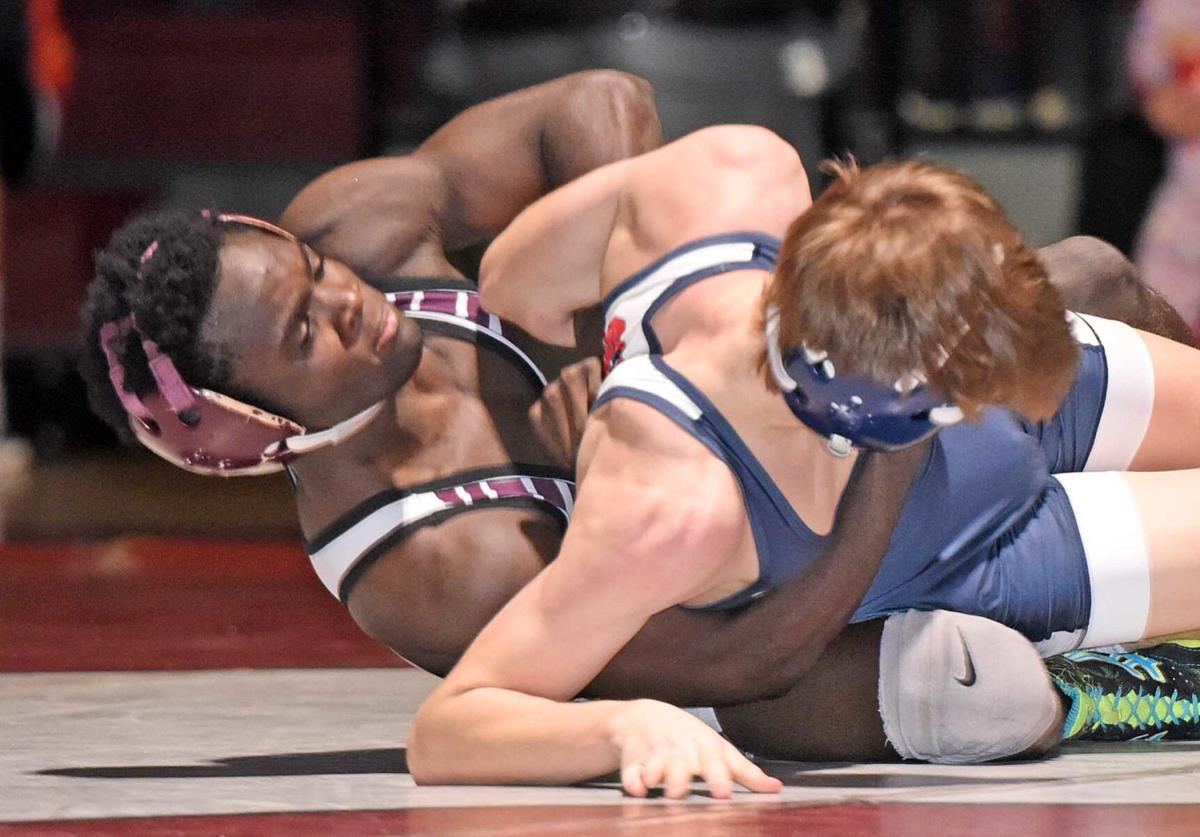 Bismarck and Lisbon are right where they're used to sitting.
With the first day of the state wrestling tournament at the Fargodome in the books, Bismarck has a 14-point lead in the Class A individual tournament. Lisbon is up 11.5 points in Class B.
Bismarck is after its fourth straight individual tournament title and 38th overall. Lisbon is wrestling with an eye on a fifth straight state tournament championship.
Both Bismarck and Century put up some strong numbers Thursday as both the Class A and Class B teams battled through the quarterfinals of their tournaments.
The Demons won 25 of 32 matches with 19 pins. Eight BHS wrestlers advanced to today's semifinal round. Bismarck has five men still alive in the wrestlebacks.
Century's effort bears a striking resemblance to that of its arch rival. The Patriots went 24-8 with 19 pins. Eight CHS wrestlers reached the semifinals and four more are still going in the wrestlebacks.
While the numbers look good, Mark Lardy, who shares BHS head coaching duties with Jeff Schumacher, said there were some missteps.
"There were a couple of spots where we lost matches that we'd really like to have back. Maybe we'll have a chance to redeem ourselves in the wrestlebacks," Lardy said.
Lardy said BHS picked up one loss after losing the lead on a reversal and back points. And at 138 pounds, Parker Benz defaulted due to a shoulder injury.
"He (Benz) will be able to come back in the wrestlebacks and get rolling again," Lardy noted.
Bismarck 106-pounder Noah Savageau was the only No. 1 seed in the tournament to fall on Thursday, losing by fall to Clark Thompson of Legacy in the second period.
That setback won't damage Bismarck's scoring ability because Savageau was not the Demons' designated scorer at that weight. However, Lardy said it was still a tough loss.
"It was definitely a winnable match. We were leading going into the second period and chose down," Lardy said. "We got into a scramble situation and gave up some points ... and got pinned.
"The seeds are so deceiving this year ... I'd hate to say that was a major upset.
This year's seeding system, used because the East and West Regions didn't mix this season, was a departure from the seeding meetings of the past. Each region's coaches ranked their wrestlers, and the bracketing was done using those rankings.
Because of that system, Lardy said he'd be leery of calling the five quarterfinal losses by No. 2 seeds upsets.
 All nine defending Class A champions advanced to this afternoon's semifinal round. They include Bismarck's A.J. Araujo (125 pounds), Christian Tanefeu (113), Wilfried Tanefeu (120) and Isaiah Huus (195). Also, Century's Clay Radenz (138), St. Mary's Reece Barnhardt (132), Fargo South's Jacob Thomas (145), Dickinson's Troy Berg (152) and Fargo Davies' Truman Werremeyer (220).
Class B
 Lisbon jumped to the front of the Class B race by winning 28 of 37 matches, 19 by fall.
 The Broncos, with 133 points, advanced six men to this morning's semifinal round, including defending state champions Boeden Greenley at 138 and Jordan Sours at 160.
 Five other teams surpassed 100 points on the first day. Velva is second with 121.5 points, followed by Carrington (119.5), South Border (118.5), New Salem-Almont (110) and Pembina County North (104). 
South Border and Velva each sent six men to the semifinals and New Salem-Almont advanced five.
 Lisbon's advantage in today's final day of individual tournament competition is in the wrestlebacks. The Broncos have had just one wrestler eliminated, giving them seven in the wrestlebacks.
 Velva, South Border and New Salem-Almont each had four wrestlers bounced out.
 All seven Class B defending champions will wrestle in this morning's semifinals. In addition to Greenley and Sours, they are Cole Gerhardt of New Salem-Almont (113 pounds), Peyton Tuhy of Hettinger (120, Marshall Lindgren of South Border (132), Ethan Wonser of Williams County (132)and Garrett Hebl of LaMoure-Litchville-Marion at 160.
 Class B action begins at 9:30 a.m. today. Class A wrestlers take to the mats at 3:30 p.m.