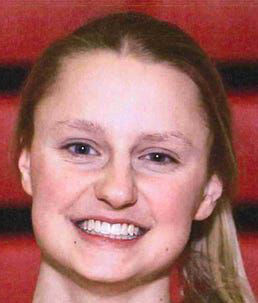 After two years away from high school swimming while she focused on cross country, Century swimmer Erin Palmer has come roaring back
 Last season she placed second in two events and swam on a winning relay at the state meet for the state champion Patriots.
This season Palmer, a CHS junior, has swum qualifying times for the state swimming and diving meet in all eight open swimming events. It would not be accurate, however, to characterize her as a Jacqueline of all trades because that phrase is followed by the words "master of none."
 That certainly doesn't describe a swimmer who has achieved the state's top qualifying times in three events and ranks no lower than fifth in the other events. She's the fastest qualifier in the individual medley (2:10.26), butterfly (58.41) and breaststroke (1:05.02).
 Collecting state qualifying times was not a goal Palmer set for herself at the beginning of the season.
 "Oh, nope, no," she replied. "I don't really know a lot of the state qualifying times."
  Her well-rounded resume is probably a spinoff of her attitude toward competing. She'll fill in anywhere, just so head coach Kathy Aspaas gives her an opportunity to swim.
 "I'd be willing to swim any stroke at state if Kathy told me to," she said.  "I do enjoy the 200 IM a lot, but I'd be willing to swim any other race, as well. I'm totally flexible."
 Swimmers are limited to two open events and two relays in meet competition, so Palmer's versatility will be limited at today's state meet. She's scheduled to compete in the individual medley and breaststroke along with the medley relay and 400 freestyle relay.
 Palmer's entire high school swimming career has been marked by state championships. As a seventh grader she contributed a 13th-place finish in the backstroke to a Patriot state title.
 When she came back to swimming last fall, she contributed 54 points as Century outlasted West Fargo Sheyenne 355.5 to 329. The Patriots had to bounce back from a disqualification in the 200-yard medley relay, the first event on championship day. That miscue cost Century 34 to 40 points.
  Palmer was on that ill-fated relay team, but she had little time to feel sorry for herself.
 "There was lots of emotion going on," Palmer recalled. "... I had to swim the next event, the 200 IM. ... I let out all my emotion -- I probably cried for five minutes, then I was told to suck it up because we've got to fill this gap (of missing points). So I thought I had to make it up for the team."
 Palmer finished second to Marissa Branham of Williston in both the breaststroke and individual medley at last year's state meet with no reservations. She said Branham earned both championships.
 "Last year turned out great. I was very happy with it. ... It was my first year back, and I thought it went very well," she said. "I placed at state and helped the team. I'm very happy with where I am right now."
 Palmer's sophomore year went well, indeed, considering an ill-timed injury she had to overcome.
 "I had a stress fracture in the second metatarsal on my right foot. ... The majority of the cross country season last year I could not compete," she said.
 Swimming was another story.
 "We have equipment (for training) that don't require your feet. You just use your arms. I was not kicking through that whole period, about six weeks.
 "It made me stronger in the upper body ... and my training went very well, considering the circumstances," she recalled.
 Palmer was able to begin kicking with her legs about three weeks before the state meet.
 "I had to get my kick back and find my rhythm," she noted. "I wouldn't change it in any way. I was just glad I could swim and make something of my fall season."
 This season she had to deal with another injury, but only missed one meet as a result.
 "I had a stress reaction in my right fibula. ... It's the beginning of a stress fracture. We took precautionary steps so I wouldn't have to have surgery in the future," she said. 
 "I was in a boot for three weeks and last week I started up again and it was great," she added.
  Since the Patriots have been chasing, and winning, state championships for the last five seasons, Palmer said she doesn't feel pressure in a state meet setting. If anything, she likes the excitement.
 "Last year we definitely knew we had our work cut out for us. It was really close, and I think it will be really close this year. It will be exciting," she observed.
 As was the case last season, Palmer expects Sheyenne to make a strong bid for a state title.
 The Mustangs certainly indicated they mean business at the East Region meet, winning nine events and racking up 512 points to win the meet by over 200 points. 
 Greta Bellas and Tierney Howell were double winners for Sheyenne at the regional meet, while Bree Triplett and Lauren McDonagh picked up a win apiece. The Mustangs swept the relays.
 Likewise, Century won nine events in the West Region meet. Lexi Duchsherer doubled in the 50 freestyle and backstroke and Palmer won the individual medley and breaststroke. Sarah Dorrheim (200 freestyle) and Izzy Koebele (500 freestyle) also won open events for the Patriots.
 Duchsherer is the only senior in that group, a trend that is indicative of the entire team. 
 "Lexi Duchsherer and I were just talking about that in practice. We definitely have a lot of competition on our team. We have a lot of new people in our starting lineup and they're all fairly young," Palmer noted.
 Last season's state meet disappointment in the medley relay notwithstanding, Palmer said she still has a strong affinity for relays.
 "I love the feeling of being with my teammates and having them cheering me on. It's such a cool feeling," she noted. "You become close friends with the people you swim relays with. It takes a lot of pressure off and you can just have fun. You know your teammates will be there for you no matter what. They'll pick up the slack for you, because they know we have a job to do."
Be the first to know
Get local news delivered to your inbox!