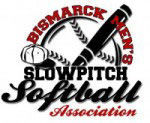 Slowpitch softball diamonds in Bismarck soon will be bustling.
Men's league play will begin Friday, May 29, while the women open up the following Monday (June 1).
Careful consideration went into whether or not there would be softball this summer.
"It was a very difficult decision," said Bismarck Men's Slowpitch Softball Association Chairman Roger Weigel. "Safety for everyone involved was our primary concern. We're following the North Dakota Smart Restart guidelines to maintain social distancing during league play."
Among the regulations being enacted:
1. Bench players will stand outside the dugouts.
2. Coin flips will be eliminated.
3. Postgame handshakes will be eliminated.
4. Ball/strike mat will be used, allowing the umpire to stand off to the side to prevent tight contact between batter, catcher and umpire. If the pitch hits the mat, it will be a strike.
"These are pretty common-sense measures we can put in place that will help everyone stay safe and allow us to meet the guidelines that are in place," Weigel said. "We think these things are doable. They're not going to get in the way of everyone getting outside and having fun playing softball."
Continuing COVID-19 concerns did little to dampen enthusiasm to get out on the diamonds. Weigel said 124 men's teams have registered to play, down just a couple from last season. Team sizes average between 13 and 15 players.
"It's going to be 80 degrees this week," Weigel said. "People want to get on the field and get their Vitamin D.
"We're excited to be able to see people out playing. We have lots of players involved. They want to get out there. We think it's very doable to have our season and do so safely."
Be the first to know
Get local news delivered to your inbox!