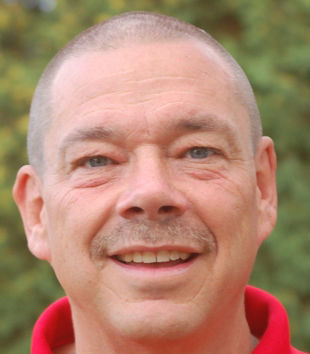 Mike Wolff often spends this week each summer babysitting. So in that regard, nothing's new.
 But instead of overseeing 115 or so umpires from several states, he's chasing around after his four-month-old grandson.
 "I have a new grandson so the timing couldn't have been better. I'm able to spend some time with him that would have been time lost during the month of June during tournament time," Wolf said.
 In a normal year, Wolff would be up to his eyeballs in schedules, barbecue, beer and umpires from all over the country. This is, after all, McQuade weekend.
 COVID-19 put a stop to that. A tiny virus did something that neither flood, storms nor financial meltdowns have been able to do since 1976. It gave Wolff some time off the weekend before Independence Day.
 "This week is probably the craziest week of the summer trying to get everything ready for the tournament," said Wolff, who is both umpire-in-chief and co-tournament director with Jack Jones.
 Earlier this spring, tournament directors looked at the protocols needed to keep everyone safe during the pandemic and decided the logistics made holding the tournament impossible.
 More than 400 teams had registered for the 45th annual mid-summer classic.
 While softball was the centerpiece, socializing by the thousands at diamonds all around Bismarck-Mandan, and at hotels and bars is just as big a draw.
 Wolff's den was another big gathering place -- for umpires.
 In addition to scheduling more than 100 umpires over three days and finding fill-ins as needed throughout the tournament, Wolff also played host to as many as 60 umpires for supper each night of the tournament.
 "We would cook for all those people after the games were over," Wolff said.
 In the days leading up to the tournament, Wolff would have up to six campers brought to his neighborhood. They would be home to as many as 25 umpires for the duration of the tournament.
 "People would lend us campers … about six campers we would have parked in the neighborhood. I've got really good neighbors," he said.
 And the neighborhood is as quiet this week as it's been in decades.
The McQuade tournament started with 103 teams in 1976 and surpassed 400 teams in 1985 and has been below that number just seven times since -- never lower than 378 and up to as many as 472 in 2010. Missouri River flooding in 2011 caused the McQuade to drop to 227 teams, which played while flood fighting was ongoing in Bismarck-Mandan.
 It wasn't easy to cancel the tournament for several reasons: one, many teams plan their summers around the McQuade. For many, it's bigger than their state tournaments; two, businesses count on thousands of players and fans filling hotels, motels, restaurants and bars; and three, charities throughout the community benefit from the funds raised. Last year's tournament raised $147,000.
 "We've been working hard on that and it's been going relatively well," Wolff said. "We're looking to raise between $3,500 and $4,000 just from the McQuade umpires. I'm hoping we can be at that $50,000 mark if not more."
  Fundraising efforts have included T-shirt sales, donated entry fees from teams and an online silent auction. A bat company produced a 45th anniversary commemorative bat with funds raised from the sales going to charities.
 This weekend will be one Wolff won't forget. He said he's given thought to going on Saturday night to the complex and setting up a grill in centerfield of Diamond 8 to have a beer and a brat and reminisce.
 "What was that quote? Somebody said it during a football broadcast when the Packers were getting beat at Lambeau Field," Wolff recalled. "The silence you hear is Lambeau Field. I said we will say 'The silence you hear on Saturday night is the McQuade Tournament.'"
Be the first to know
Get local news delivered to your inbox!