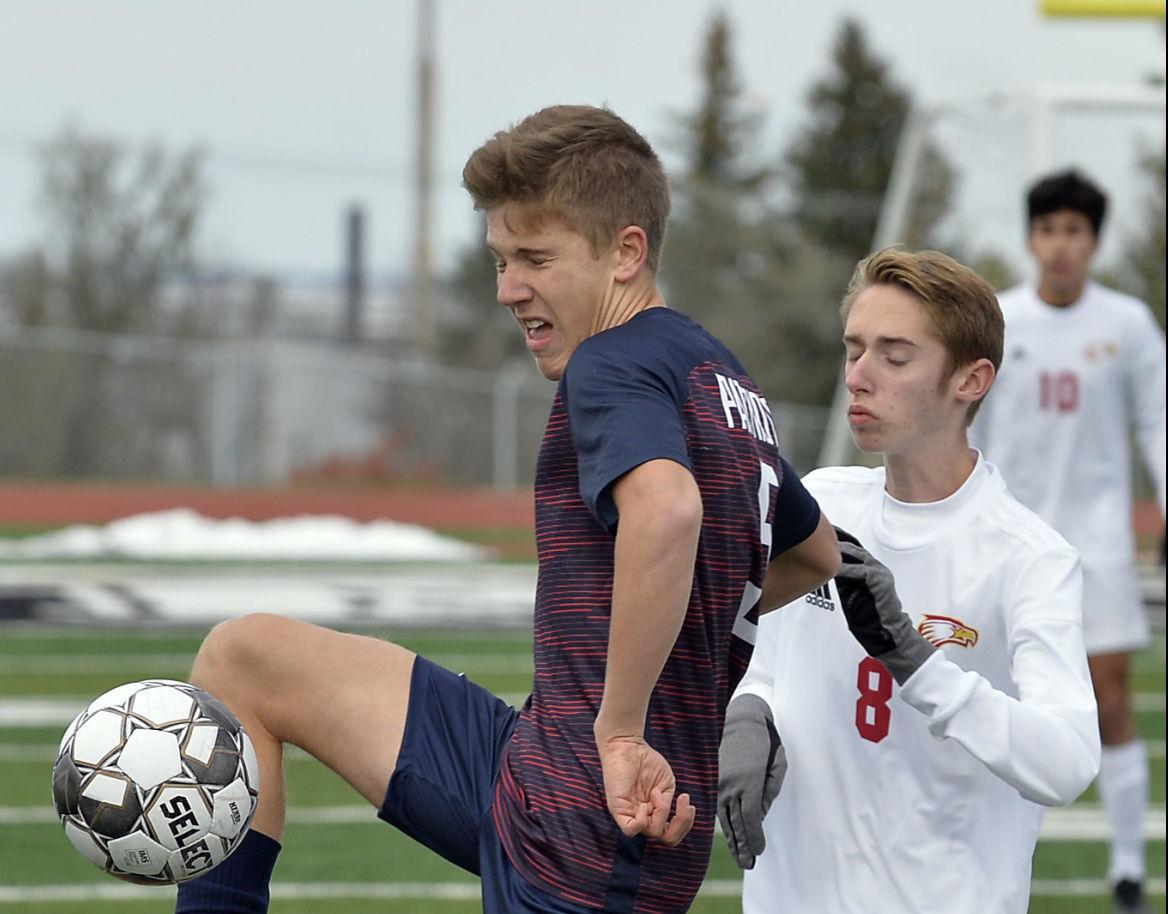 Three soccer teams remain unbeaten in the state with the stretch run fast approaching.
Two of them will be on the same turf tonight as Century and Legacy square off at the Bowl. First kick is set for 7:30 p.m.
"It's the kind of game you want to play in. It means something," Legacy coach Tom Marcis said.
A win for the Sabers would go a long way toward clinching the school's first trip to the state soccer tournament. The No. 1 and 2 seeds in the regular season automatically qualify for state, which this year will be played in Fargo Oct. 8-10.
"This group of guys gravitate toward more difficult matches," Century coach Ryan Okerson said. "And playing Legacy certainly qualifies. They're a good side. They're dangerous. It's an exciting matchup. It should be fun."
Both teams bring 5-0-2 records into the tilt. The Sabers and Patriots met in the season opener and played, fittingly, to a 1-1 tie. Legacy scored late to earn a point.
"Legacy transitions from defense to offense extremely quickly and they ended up catching us," Okerson said. "When you get two good teams like this, with a lot of talented kids, it's just a matter of who can close it out because you do expect it to be close and go down to the end."
Talent? There will be plenty of it.
Century has scored 34 times in seven games. Legacy has scored 10 fewer, but has conceded just five goals in seven games.
TJ Seidel, a four-year starter, is going out with a bang. Seidel has 12 goals, but that's literally just the half of it. The power-legged senior also is among the top place kickers in the state. He has made two field goals and nine extra points in the Sabers' first two football games.
"He's never rattled in any situation. Down a goal, up a goal, long field goal, short field goal, it doesn't matter," Marcis said of Seidel. "You just look at that 42-yard field goal against Century. There was a lot of pressure on that kick but he made it like it was nothing ... and it would've been good from 52 yards."
Few can finish like Seidel, but he also can pick out a pass.
"He doesn't just put his head down and dribble to try and score goals, he's very willing to make the pass," Marcis said. "He makes everyone around him better. He expects a lot out of his teammates, but he also expects a lot of himself."
Seidel has four assists, third-most on the team behind Dylan Ellingson's eight and Gabriel Saah's four. The Sabers will be without Saah, who is under quarantine. It's a big loss, but Marcis expects the star midfielder back for the Minot game on Sept. 15.
Legacy has been able to play through injuries, and keep winning. On top of missing Saah, junior midfielder Jack Byberg and senior midfielder Jacob Betz both suffered significant injuries.
Marcis said Ellingson and Saah have provided stellar play in the middle of the park for the Sabers. Luis Rivera, a junior, also drew praise after stepping in after the injury bug hit.
"You have to be able to make adjustments throughout the season," Marcis said. "Every team has injuries, it's how you respond to them is what ends up determining how your season goes."
Allowing very few goals also helps. 
The Sabers have one of the top goalies in the state in senior Lucas Weigel, a two-time all-state selection.
"Lucas is definitely solid back there," Marcis said.
Nicholas Burgess, Austyn Kraft and Gavin Raschke have played well in front of Weigel on the back line for the Sabers. They'll need to be on their game tonight against the Patriots.
Senior Kenneth Brako leads the Patriots' skilled attack. Brako has 10 goals and a pair of assists.
"He's very dynamic. He's a big-bodied kid with speed and he's very technical," Okerson said of Brako. "He's so good with the ball at his feet."
The Patriots come in waves. Niko Helderop, a returning all-state forward, has four goals and two assists. Chance Bowlinger already has seven goals. Anthony Cleary has scored five times and Kaiden Campbell, back for his sophomore season from Shattuck-St. Mary's in Minnesota, has three.
Century's finishing ability is obvious, but the buildup is the key.
"Our movement off the ball has gotten much better. When we pass the ball, we don't stand there to admire it," Okerson said. "We keep moving to another space, then get the ball back. It's causing a lot of problems for the opposing team."
The Patriots have tightened up defensively, too. After allowing eight goals in their first four games, they've conceded just once in their last three matches.
Casey Odegaard, Blake Backman, Parker Ehrman and Eric Niyonzima maintain order in front of goalie Ben Cleary. All four are capable going forward too. Backman has a pair of goals. Niyonzima, Ryan Ketterling and Collin Bock also have gotten on the score sheet.
After tonight, big games remain for both sides. 
Century travels to Minot (4-2-2) on Saturday.
Next Tuesday (Sept. 15) is another big night. The Sabers host Minot, while Century and defending state champion Bismarck (5-1-1) square off at the Bowl. The Demons have scored 36 goals in seven games.
"The quality is out there, no question," Okerson said. "You do need to lock into the next game on your schedule. If you start looking ahead, that can get you in trouble.
"That shouldn't be a problem (tonight). Legacy will have our full attention."
Be the first to know
Get local news delivered to your inbox!