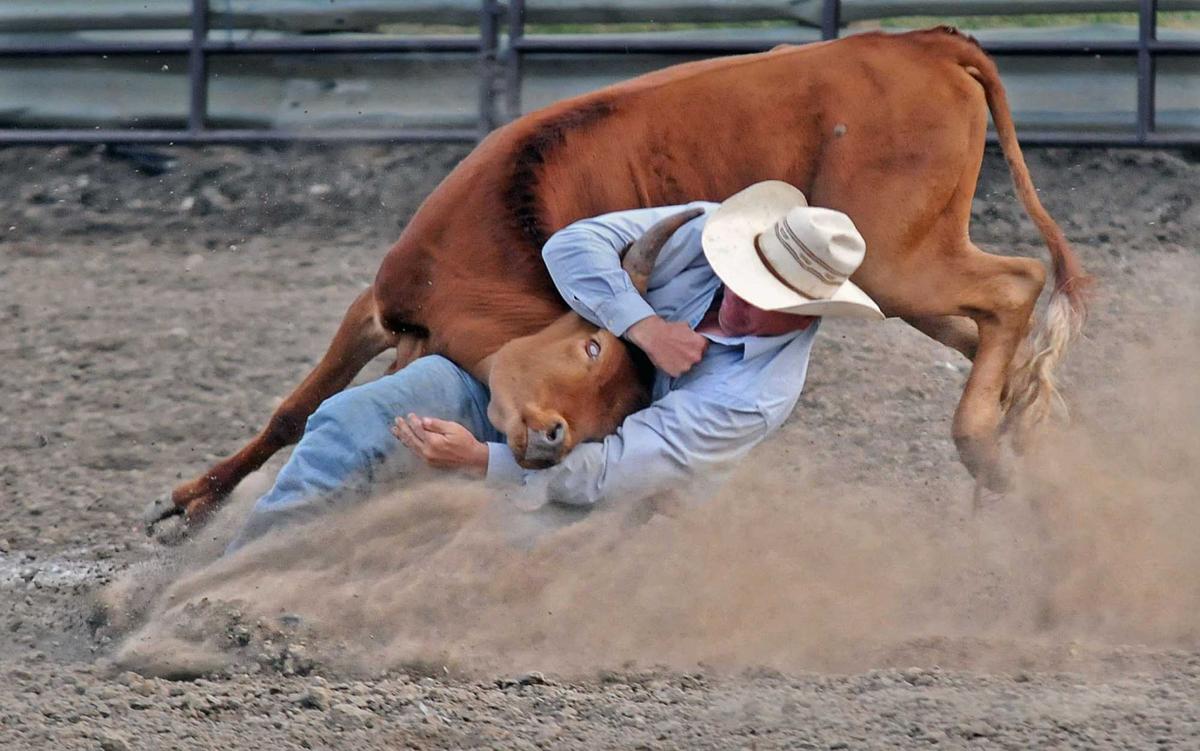 Rhen Richard's first trip to North Dakota was for pheasant hunting near Mott.
Sunday he was in the state on the hunt for much larger quarry.
Richard, a 28-year-old cowboy from Roosevelt, Utah, was one of 260 competitors in Sunday morning's slack events at the Mandan Rodeo Days rodeo at Centennial Park.
He put up a 9.5 in tie-down roping and, about an hour later, teamed up with Rich Skelton of Llano, Texas, to score a 5.8 in team roping. Following the slack competition, he ranked second in tie-down roping. He and Skelton sat third in team roping.
Richard, who has been on the pro rodeo scene since 2008, is just jumping back into competition after an injury that kept him sidelined for four months, including three months of bed rest.
"I was practicing (team roping) over the winter and cut my (right) thumb off. I was out for four months and on bed rest for three months," he recalled.
Richard said it was impossible to maintain any kind of fighting trim while abed, but he had no choice. His physician warned him that any strenuous physical activity could threaten the success of the reattachment.
The injury occurred Feb. 3. Richard returned to competition in early June. But only now is he seeking out major rodeos, and he's diving into the deep end during Cowboy Christmas. He competed in a rodeo on Molalla, Ore., on Saturday. Following Sunday's visit to Mandan, it was off to South Dakota on Sunday night, Alberta on Monday and Wyoming and Montana on Tuesday.
Richard won the all-around and tie-down roping championships at the 2007 National High School Finals rodeo, but said he's just as dedicated to team roping.
"Team roping and roping calves are both 50-50. I work at both events a lot. I wouldn't enter if I didn't think I had a chance to win," he said.
While it's not unusual to see a calf running free in tie-down roping, Richard said that should be a rarity.
"There are a lot of variables, but I want to get a time 85 to 90 percent of the time," he said. "I'm hoping to place at least 50 percent of the time. If I could place in 75 percent of the rodeos I go to, I'd be doing darned good."
No matter how talented he is, Richard said a calf roper's skills are wasted without a terrific horse.
"Eighty-five to 90 percent of your success is the horse. ... There are exceptions, but a top-level rodeo horse averages 15 years old," he noted.
Richard said it requires a major investment in training to prepare a horse for tie-down roping. Beyond the requisite skills, there's the matter of acclimating the horse to the rigors of rodeo travel.
You have free articles remaining.
"You can have a horse to the point where you think it's ready and then it takes another couple of years," he said. "The first year I hauled (Patron, his current horse) he was doing good, but he needed to be hauled another year before I felt he was solid."
Richard is coming off five straight seasons of winning in excess of $74,000. His PRCA biography has him at $81,497 for 2016, $57,480 in tie-down roping.
He won $85,075 in 2015, $86,668 in 2014, $95,182 in 2013, and $74,020 in 2012. His PRCA career earnings are $659,866.
Cowboy Christmas
Johna Cravens, among other things the media liaison for Mandan Rodeo Days, says Cowboy Christmas has a run of about 10 days this year.
She said Cowboy Christmas, the intensely crowded schedule of Independence Day-related rodeos, began last Wednesday.
"It's the heart of summer," Cravens observed.
Cravens said slack is a godsend for cowboys and cowgirls who are trying to pack as many rodeos as possible into their Cowboy Christmas schedule. Slack, the competition that takes place aside from the evening performances, consumed about four hours on Sunday morning.
"Designated slack time gives more people a chance to be in the rodeo. For example, competing in slack this morning allows them to go to Killdeer tonight," Cravens noted.
Over 250 competitors gathered at Centennial Park on Sunday morning for barrel racing, steer wrestling, tie-down roping and team roping. The morning session was open to spectators free of charge.
Cravens said slack is by no means a junior varsity event. Slack contestants compete on equal terms with the competitors who perform in the three evening sessions.
"It's overflow," she pointed out. "We have nearly 600 entrants, and that doesn't fit in three performances, unless you want a marathon. The overflow is usually timed events."
Although there are cowboys and cowgirls who prefer competing during the day and some who prefer evening competition, slack entrants are determined by random draw.
"After the draw they can trade performance and slack slots up to a deadline," Cravens said.
There were only about five such switches at Mandan this year.
Sunday morning's steer wrestling competition was especially keen, giving cowboys in the evening session some impressive times to consider. Six steer wrestlers did the deed in 4.6 seconds or faster, led by Jarrett New of Wimberley, Texas, at 4.1.
Other slack leaders were Bobbi Grann of Sheyenne (15.42 seconds in barrel racing), Jon Peek of Bismarck (9.2 seconds in tie-down roping) and the Oklahoma team of Cale Markham and Austin Rogers (5.3 in team roping).