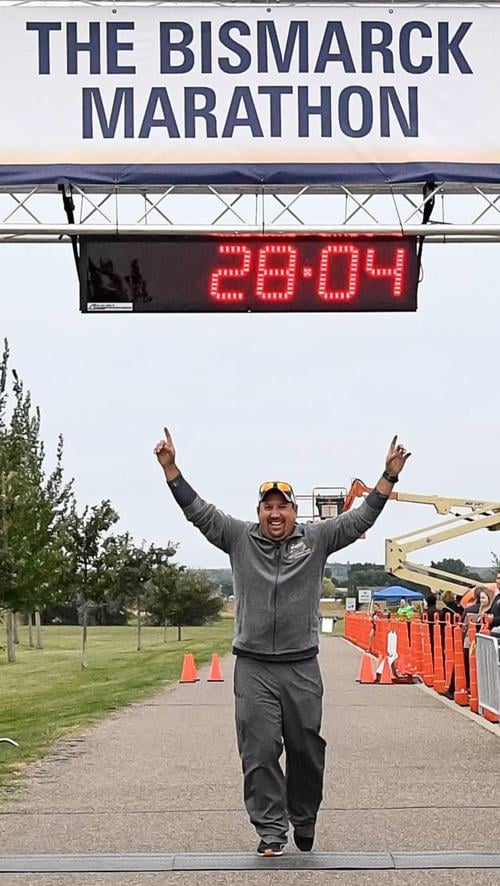 Marathons, for the most part, have suffered the same fate many 2020 sporting events have -- snuffed out by COVID-19.
New York City, Boston, Duluth, among several others, have been canceled.
Not so in North Dakota, however.
Both the Bismarck and Fargo Marathons are pressing forward with plans to run later this summer, with safety the primary concern.
"It's definitely been a different year," Bismarck Marathon Co-Race Director Dustin Erhardt said. "We've been working with race directors around our region and state along with local officials and sponsors to follow the safety guidelines to put on a fun and safe event.
"There's definitely a lot of unknown areas. Most years the weather is kind of the biggest thing we're concerned with. This year it's all about spacing people out and minimizing touch points. Our major consideration is safety."
The 40th Annual Bismarck Marathon is scheduled for Sept. 17-19 at Cottonwood Park. The Fargo Marathon is planned for Aug. 29.
Several safety precautions are being taken for this year's events, most notably races being held on three different days to avoid jamming people together.
All of the kids' events will be held on Thursday, Sept. 17. The 5K and 10K will be run on Friday (Sept. 18), with the full and half marathon on Saturday (Sept. 19).
On top of that, race starting times will be spaced out, and each race will have multiple wave starts.
"We just want to try and relieve some of that congestion you typically have at the beginning of races," said Erhardt, who is originally from Flasher. "With distance running, once you start the race, runners kind of naturally spread out."
The large social gatherings that typically take place after the marathon also have been scuttled.
"It's going to be: here's your water, here's your banana, here's your medal and that's it," Erhardt said. "We're not going to do those social activities after the races."
Registration was lagging initially, but began to pick up once it was announced that even if the race is canceled, participants would either get a refund or be able to apply the fee to the 2021 races.
"It had been quite slow prior to that," Erhardt said.
With a large number of races being canceled, the possibility of drawing runners from further away exists.
"It does look like we are starting to draw some people from out of state," he said. "The really big events are canceling because they attract hundreds of thousands of people. We certainly would welcome people from out of state if they want to come."
Out of state runners, or the more typical participants, will have to sign up before too long. Each race is capped at 500 to maintain social distancing. Additionally, prices for each race begin to increase on Wednesday (July 1).
Erhardt said they plan to make a final decision on Aug. 21. In the meantime, runners can keep pounding the pavement.
"That has been a big influence for us, is to just give people hope. It's hard to train for these events and it's even tougher when you don't have anything to look forward to," he said. "The mission of the Bismarck Marathon is to promote a healthy lifestyle and enhance wellness of our community and to assist some local charities in need.
"We're looking forward to a great weekend in September and we're going to do so safely."
Be the first to know
Get local news delivered to your inbox!