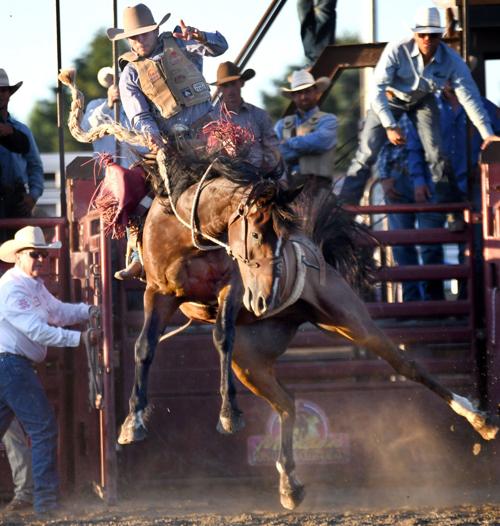 This year the week of Independence Day is anything but that.
 Rodeos by the score have fallen victim to the coronavirus outbreak that has plagued all walks of life. As a result, rodeo contestants were straining to make up for lost time at events on or around July 4.
 "Everybody is losing money because of the COVID-19," said tie-down roper Jake Pratt as he prepared to compete in the July 4 performance of the Mandan PRCA Rodeo at Centennial Park.
 Normally, Pratt and his family are on the go most of the year running to rodeos here, there and everywhere. This year, by contrast, has been really quiet.
 "I'd probably been to 10 rodeos before this week," Pratt estimated. "Usually we'd probably have been at 35 or 40 rodeos this year."
 Pratt has gone all-out during the Independence Day rodeo run. Mandan was his seventh rodeo on a junket that began June 30 at Oakley, Utah. Since then he and his family have made stops in Prescott, Ariz.; Cody, Wyo.; Belle Fourche, S.D.; Mobridge, S.D., and Killdeer. Following Saturday's stop at Mandan, they were headed for Bigfork, Mont., the final stop on their tour of middle America.
 At Mandan, Pratt needed to surpass a 7.3-second effort by Marty Yates of Stephenville, Texas, to have a shot at top money. Four competitors had secured their calf in under 8 seconds through Friday's performance.
 The Pratt entourage consists of Jake, his wife, Rainy, two boys, six and four years of age, and a horse. They tour with an Elite horse trailer towed by a Ford pickup.
 Pratt, 32, has been hard at it on the rodeo circuit since 2010. He said the travel gets tougher with age, but said the big-time mileage is still manageable.
 "It gets harder on your body," he said.
 "This week didn't go the way we planned ... so we'll go home and regroup," he added.
 Home is Stephenville, Texas.
 Growing up, in Ellensburg, Wash., the slender, 6-foot-4 Pratt competed in wrestling and football, but rodeo was by far his main interest. He quickly focused on roping.
 "Shoot, I don't know," he said as he pondered what drew him to roping. "It was probably who I was surrounded by. When I was younger the people around me were roping calves. So that's what I did, and I grew to love it."
 In college at the University of Wyoming in Laramie and Southeast Oklahoma State, Pratt continued with his roping career.
 Since he's focused on rodeo as a lifestyle, the 2018 season stands out.
 "I made the finals (National Finals Rodeo) and placed in seven of 10 rounds that year. That was a good year. I won almost $180,000. ... I was ninth in the world," he said. "I'd like to see a lot more of those years."
 "I can't say the same about this year," he added.
  Pratt said running around the country to rodeos is a massive undertaking, both physically and financially. The current eight-rodeo undertaking has a hefty price tag.
 "It will take four to five grand (in winnings) just to break even," he observed. 
 Pratt said he made money at Prescott and is awaiting the final results from Killdeer.
  When a cowboy qualifies for the NFR, rodeo becomes almost a 12-month-a-year undertaking. Otherwise, November and December are open before the cycle begins again.
  Pratt said the life of a rodeo vagabond has kept him in the black for a decade.
 "I've paid my bills, for sure. When you make the National Finals you can make a lot of money," he noted. "Otherwise it's just a wage and you get by."
 "This is something you have to love to do, because you spend a lot of money and you're gone a lot," he said.