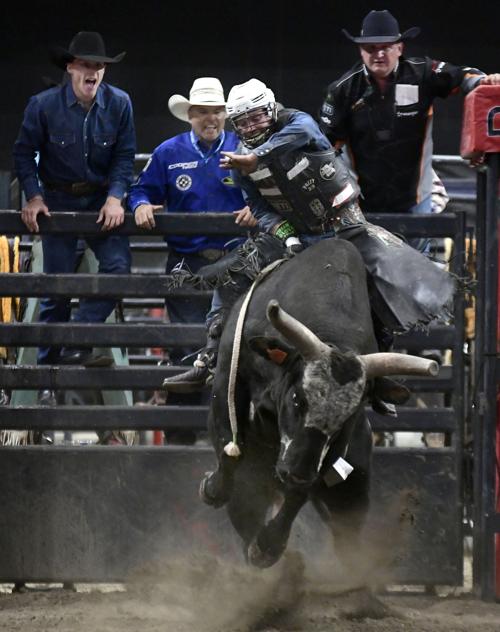 While cowboys around him were riding for the opportunity to qualify for the National Finals Rodeo and a chance to win a few hundred thousand dollars, South Dakota cowboy Jestyn Woodward was riding for an appearance fee on Saturday night as the Bucking Battle in Bismarck ended a two-night run at the Bismarck Event Center.
The 17-year-old from Custer was the only bull rider to make a qualified ride on Saturday, but he was not eligible for the more than $5,000 that went to the first-place rider.
Nevertheless, Woodward was happy to come away with a score of 88 points, which would have put him in second place, just a half point behind Chance Schott, who had an 88.5 on Friday.
"I'm happy with the score," Woodward said. "You normally get a lot of points on (a spinner), all you have to do is stay square. I have got (88) before, but not at a big event like this."
Schott had one of only two qualified rides in bulls. His 88.5 aboard Smooth Wreck on Friday set the standard. Only Gage Gay of Mandaree came close with an 87, also on Friday, and Woodward.
"I'm only 17, so I'm just in this as kind of a wild card deal to get to ride in a pro show," Woodward explained. "I love traveling and getting into big events."
Big events are nothing new to some of the hands that rode over the weekend.
While some of the top PRCA talent turned out (did not ride), others were on hand to give the bulls, saddle broncs and barebacks their best shots. Many riders are on the bubble of qualifying for the NFR (the top 15 in money won at the end of September qualify), while others are hoping to solidify their standings. Bareback riders Orin Larsen and Caleb Bennett will take different paths to the NFR.
Larsen, who won Saturday's performance and the Bucking Battle title with an 88 on Pejuta Haka will likely jump one of two places from his current ninth-place PRCA standing. Cole Franks had established the score to beat with an 87.5 on Friday. Bennett and Richie Champion equaled that on Saturday.
Pejuta Haka surprised Larsen out of the gate and the Inglis, Manitoba, cowboy adjusted on the fly.
"I had him and won on him at Kadoka (S.D.), but he was a lot ranker and came around really tight and really strong and that surprised me," Larsen said. "I just went back to the basics. As long as you follow the basics you'll win a lot of money."
Larsen hopes to keep winning.
"It's been about a month and a half since I've been home. I have about three or four more rodeos (in Texas, Nebraska, Utah and California), then I'll be at home for a while," he said.
Bennett said a slight change-up by Spirit World halfway through his ride may have cost him the bigger money payout. He finished in a three-way tie with 87.5.
"That was a cool horse. I knew he would be good," Bennett said. "About three seconds into that he kind of came around on like a flat whirl. That one empty whirl and kick we had cost me a win in this deal. I think we could have been 89."
Bennett, of Corvallis, Mont., entered the weekend third in the standings with $135,308 in earnings. Tilden Hooper is second with $155,514 and Tim O'Connell leads with $156,056. With the amount of money to be made in Las Vegas, Bennett said he is looking forward to taking a break.
"I'm cutting back. This is my only one this week and the only place I go next week is Salinas, California, then I'm done till the NFR," said Bennett, an eight-time NFR qualifier who has won 13 times in 2021 to bring his career earnings to $1.5 million. "I have separated ribs and some nerve damage in my neck and shoulders. I'm looking forward to a couple of months off."
Three-time NFR qualifier Chase Brooks rode James Bond to an 89 on Friday and that score held up. The closest ride on Saturday belonged to Meeting Creek, Alberta's Layton Green, who scored an 85 on Disco Inferno.
With the win, Brooks will leap over Zeke Thurston into fifth place in the world standings.