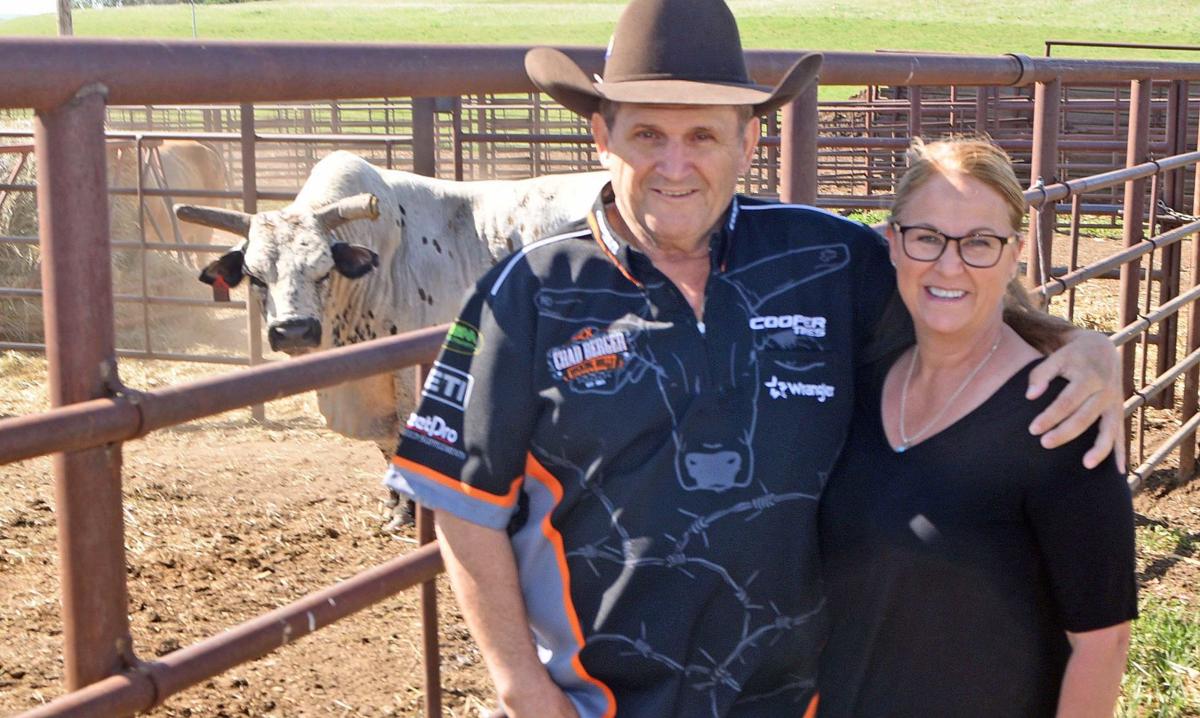 Chad Berger is a tough man.
You don't get to be the best stock contractor of rodeo bulls in the world without being tough.
And you don't live through open-heart surgery, a second open-heart surgery to repair the first and a third surgery to install a pacemaker -- all within a matter of days -- without being tough.
What does the nine-time PBR stock contractor of the year do soon after getting home from the Twin Cities? He checks on his bulls, of course.
"My daughter drove me up the hill to the feed lot and I stood outside the gate by the corral and sorted all the cattle, just standing outside the fence," Berger said. "Today, I went up and looked at my cattle and told them which ones I want where. That's about all I got done today. It's ugly. I hate taking it easy."
That was indeed the easiest part of Berger's last two weeks. There were times between May 29 and June 7 that he wasn't sure he would walk out of Abbott Northwestern Hospital in Minneapolis and return to see his grandchildren.
Berger knew something was wrong when he couldn't go, go, go like he used to. He found out he had developed hypertrophic cardiomyopathy, a thickening of the heart muscles that makes it hard to pump blood. He underwent a process in which doctors shave away part of the thickened tissue.
 "On (May) 29th at 6 o'clock in the morning they did surgery and the son of a bucks cut too much of my heart out and put a patch in," Berger said. "They put me back together and then I coughed so hard, I tore the patch out of my heart. On the 31st, I damn near died. The doctor finally figured out what happened and they had to take me back down and bust me wide open again after they had everything wired up and shut."
Soon after the second surgery, a pacemaker was inserted that will regulate the rhythm of his heart.
"That's the only thing keeping me going is the pacemaker," Berger said.
An already trying time was made worse by strict hospital visitation rules in place during the COVID-19 pandemic. He would not be allowed a visit from his wife after he went down for the first surgery, with one exception.
"They said on Friday when I had the first surgery, Sarah would have to leave and wait until I got out," Berger said, referring to his wife. "They said the only way she was getting in there before I get out was if it looked like I wasn't going to make it."
He was shocked to see her on the May 31st prior to the second surgery.
"They wheeled her in my room and I thought, this ain't going to happen,'" Berger recalled. "When you get put in that position, I don't know what everybody else does, but I got to fighting for it. I don't want nothing to do with that."
Berger said he doesn't remember anything between the last day of May and June 2, when he finally started coming around.
"Friday, June 5th at 4 o'clock is a date I'll never forget," Berger said of his release from the hospital to a friend's place in the Twin Cities area.
He returned home on June 7, riding 500 miles with two stops to get back to his beloved ranch near Mandan.
"There ain't no medicine in the world better than that -- to be home," Berger said. "I can't do anything."
"I was born and raised in Mandan and I'm going to die in Mandan. I was never so glad to cross the Missouri River than I was the other day."
For the next six weeks, Berger won't be able to lift more than gallon of milk. He can't drive for four weeks.
"I can't do a lot but force myself to get up and walk around a little bit," Berger said.
Berger is looking forward to rodeos in the future. But even the tough-as-nails cowboy isn't immune from reflection.
"I'll tell you one thing," he said. "When you lay there and they bring your wife in to see you, for the … last … when you wake up, you don't know if you're going to be with your grandpas or your grandchildren. I'm just glad I ended up with my grandchildren."
Be the first to know
Get local news delivered to your inbox!