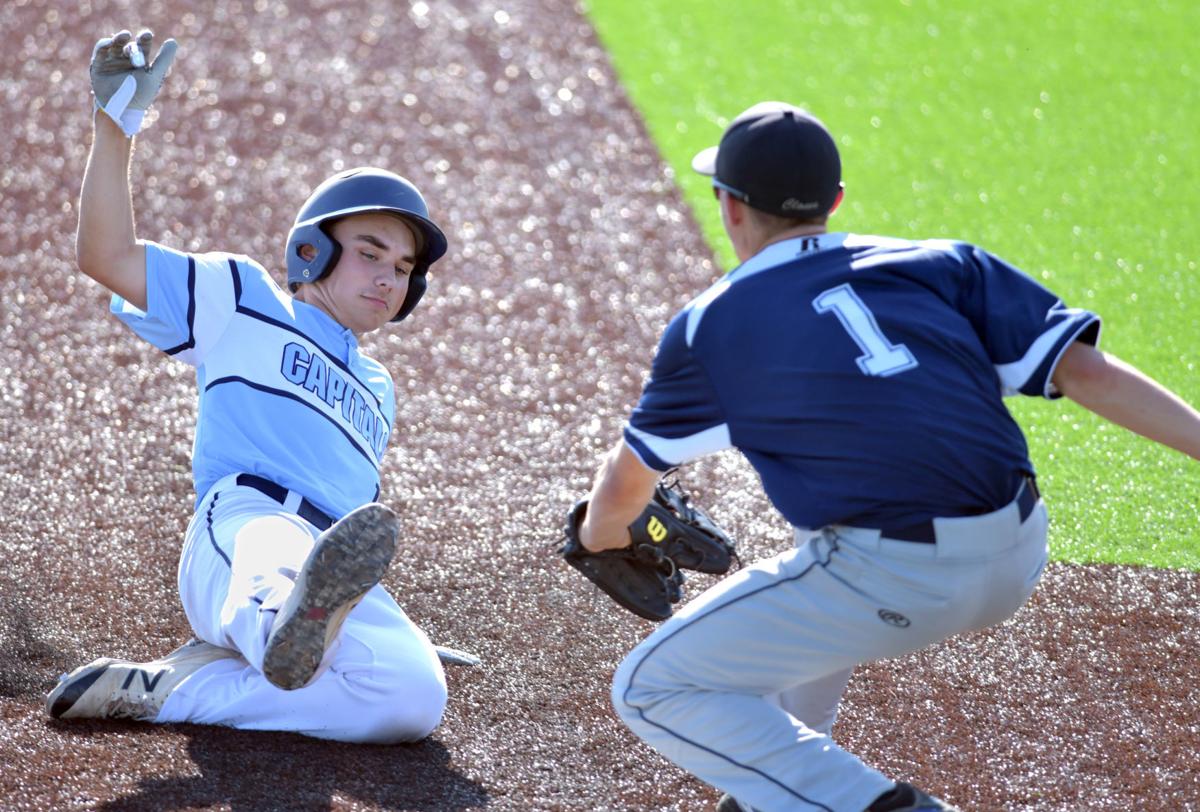 The Beulah Cyclones and Bismarck Capitals ventured into uncharted territory on Thursday and learned something.
 During a split in an American Legion baseball twin bill at Dwyer Field, it became evident a team can survive offensively with an eight-man lineup, but not defensively.
 The Cyclones played the entire doubleheader with eight men.
 "It definitely affected our defense more," Beulah coach Alec Battest said after losing 10-0 and winning 6-4. "I know we missed a lot of plays that would normally be made because our outfielders played really deep. ... And it didn't help us to play on turf, because the balls move so fast."
 Most of the time the Cyclones used only two outfielders, and they were deployed way back to keep balls from getting into the alleys.
 Battest, who spoke between games, said Beulah's 10-0, 10-run-rule shortened loss in the first game had little to do with his eight-man lineup. Every time the ninth spot in the batting order came up, the Cyclones were charged with an automatic out.
 "Offensively we just struggled today, and having eight guys doesn't excuse that," he noted.
 Beulah managed just one hit off Capitals right-hander Josh Lardy in the first game. Aaron Ripplinger beat out a chopper to third base for the lone Cyclone safety. 
 Lardy walked one, fanned four and plunked a pair of Beulah batters. He needed only 51 pitches to do the deed, 37 of them strikes.
 The visitors got on track in the second game, which didn't count in the West Region standings, swatting eight hits, three of them in a four-run third inning.
 Battest said spray charts would have been worth a king's ransom as he attempted to deploy his eight-man defense wisely.
 "We played (the Capitals) in a doubleheader in Beulah earlier this year, so I had some idea (of their tendencies), but mostly it was guesswork," he said. "I kind of let the outfielders decide, and if I thought they were in the wrong place, I'd move them.
 "Spray charts would have been very helpful."
You have free articles remaining.
 This is the first time this season the Cyclones have found themselves in such dire straits.
 "This is the first time I've ever seen it," said Battest, a veteran catcher who played high school and Legion ball in Beulah, juco ball at Bismarck State College and plans to play baseball at the University of Mary. "We've played with nine a couple of times, but we've always been able to bring up a Babe Ruth player or two."
 That option was denied Beulah on Thursday, however, with the Babe Ruth team involved in their tournament season.
 Battest said Thursday's manpower shortage was the result of a perfect storm of sorts.
 "Our second baseman was injured in the Shrine football game last week, our usual catcher was on an AAU basketball trip ... and our shortstop is on vacation. This is the first day he's missed all year," Battest noted.
 Battest said the 10-0 first-game drubbing reflects unfairly on Ripplinger, who absorbed a lot of punishment that really wasn't his doing.
 "What sucks is he's one our better pitchers," the coach said. "He made a lot of good pitches, and we couldn't make the plays because we were out of position."
 The Capitals reached Ripplinger for nine hits in the first game with Lardy and Reese Trottier each popping a single and double. Trottier knocked in four runs and Cole Baumiller drilled a three-run double in the fourth inning. Josh Kolling singled twice.
 Ripplinger walked only one man, but surrendered five unearned runs, the result of three Cyclone errors.
 With the first-game victory, the Capitals upped their West Region record to 8-6. Beulah dipped to 5-9. The Caps stand 16-12 overall, while Beulah has a 15-12 log.
 Battest said his players made the best of what could have been a real downer.
 "The kids had a good attitude and did their best," he said. 
 Both teams have completed regional play.
 The West Region Class A tournament begins Tuesday, July 23 at Minot.