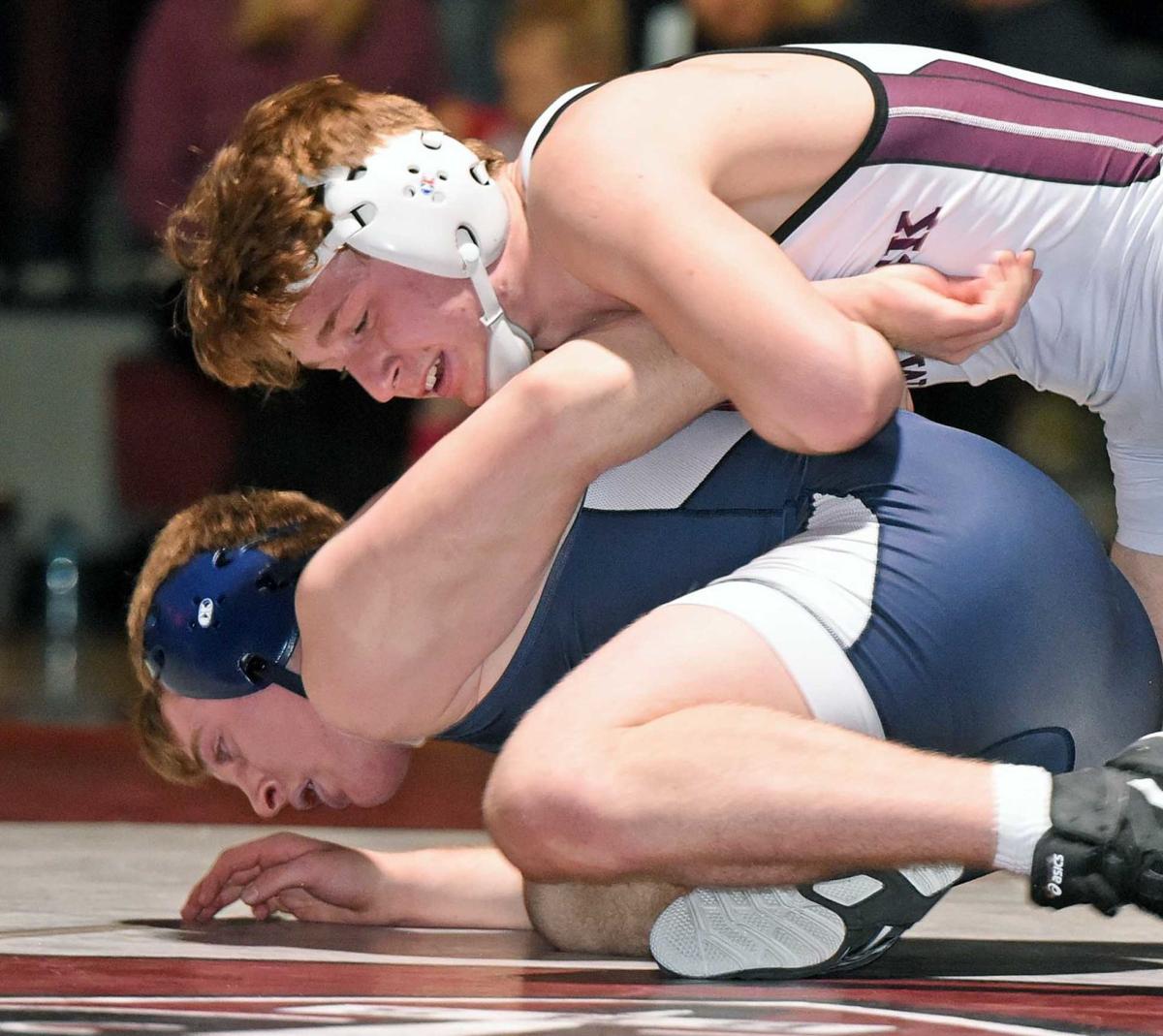 There's been lots of wrestling chatter in this coronavirus-plagued season.
Cock your ear and you'll hear talk about scheduling inequities, loss of tournaments, state tournament seedings and lack of regionals.
Now Jeff Schumacher, who shares Bismarck's head coaching duties with Mark Lardy, says that's all history.
"We're going down there with what we've got, and it's time to wrestle. There are no excuses," he said as he looked ahead to today's first round of action at the Fargodome.
Class A competition within the 32-slot brackets begins at 3:30 p.m. today and continues Saturday. Saturday is reserved for the dual tournament.
With the West and East region tournaments shut down this season, there has been no winnowing process. All teams will be permitted to bring full lineups, which will mean considerably more matches and a corresponding increase in scoring.
In 1988 and 1989 when the Class A tournament was essentially an all-comers tournament, point totals reached record levels. Century won with 290 points in 1988, a record that still stands. Bismarck claimed the title with 256.5 points the next year.
Bismarck, with five previous state champions and four other returning state placers in its lineup, appears capable of challenging that record.
Schumacher mulls the possibilities and says "Possibly. I'll put it this way. We'd like to chase it."
BHS is the most decorated school in North Dakota wrestling with 37 state individual tournament championships. The Demons have won 16 of the 21 state dual tournaments, which began in 2000.
The Demons are after a second straight dual title and a fourth consecutive individual tournament championship.
Should BHS come anywhere near their coaches' expectations, two more first-place trophies would be assured.
"If we had a great tournament, we could have eight in the finals," he said.
Should a challenge arise, Lardy said it's more likely to occur in the individual tournament rather than in duals.
Nobody has gotten closer than 18 points to the Demons in 12 duals.
"In a tournament there are more teams to spread the points out," he observed. "... If things go horribly for us you could see somebody chasing us. We have a lot of confidence in our guys, but you never want to say it (a challenge) is not possible."
In decades as a BHS wrestler and coach, Schumacher has learned Demon maroon tends to bring out the best in opponents.
"I think everybody tries to up their game against us. ... We're No. 1, and everyone looks at us as being a target," he said.
Lardy said the state tournament is arriving at the right time in terms of health factors.
"We're getting healthy. We had a few bumps and bruises, but we're to the point where we're pretty close to full-strength again," he said.
Huus got a late start due to knee surgery and Wilfried Tanefeu missed some duals due to a tender hamstring, but Lardy says both are ready to go full bore.
"Considering the competition in our (wrestling) room, I think they're ready," he noted.
What's holding the Demons, and other schools, for that matter, back is a dearth of high-intensity competition that comes in tournaments like the Bismarck Rotary, Rumble on the Red and the Rapid City, S.D., Invitational.
"The lack of events this year is the hardest thing we've had to deal with," Lardy noted. "We're going two or three weeks sometimes (without competition), and that's not easy on the guys. They just want competitive events."
No BHS wrestler has more than 16 decisions on his record. In a normal year, a lot of wrestlers would have that many bouts behind them before the Christmas break.
Schumacher said wrestlers get better by looking for trouble, not by facing a menu of conference-only competition.
"We want to meet state champions out of South Dakota, Minnesota and Montana," he said.
While neither Lardy nor Schumacher looks upon the loss of the West Region tournament as a disaster, they agree it has value. They cite "learning and earning" advantages.
"For some people it's an earning situation, but this year everybody makes it to the state tournament," Schumacher said.
"That earning part shows you earned your way to state," Lardy added.
"Learning" pertains to the evaluation that goes on during the season as a whole, and in the regional tournament in particular.
"That's what the WDA is all about. You have an event where you can evaluate a bunch of matches," Schumacher said.
One more time
The 2021 state tournament has an amazing pool of prior champions. Ten Class A wrestlers are looking for additional championship hardware.
Bismarck heads the list with five: L.J. Araujo, the 106-pound champion who has moved to 125, Christian Tanefeu (113), Wilfried Tanefeu (120), Isaiah Huus (182 to 195) and Brandt Kringlie (152 in 2019 to 182).
The others are Reece Barnhardt of St. Mary's (126 to 132), Jacob Thomas of Fargo South (132 to 145), Clay Radenz of Century (138), Troy Berg of Dickinson (145 to 152) and Truman Werremeyer of Fargo Davies (220).
Barnhardt is chasing a fourth state championship and the Tanefeu twins are in pursuit of their third. Barnhardt has placed five straight years, beginning in 2016. He placed sixth at 106 pounds as a seventh-grader, moved up to second at 106 in 2017 and claimed titles at 113, 120 and 126 the last three seasons.