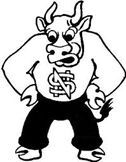 It's been a long but steady climb the last few years for the New Salem-Almont wrestling program.
 With a fourth, a sixth and two runner-up finishes in the last four seasons, the Holsteins have become a consistent contender, but the crowning achievement still awaits.
 "We've finished second a couple of times, but we've never won a state championship," said Dave Wolding, in his seventh season as head wrestling coach at the Morton County school.
  Wolding and his team definitely want to end the championship drought that stretches back to the beginning of North Dakota wrestling. But there's more to their quest than winning that elusive championship.
 When action begins at the state high school tournament on Thursday at the Fargodome, the Holsteins want to win one for, not the Gipper, but for Dale Beckman. Beckman, Wolding's predecessor as the NSA head coach, has invested decades in New Salem wrestling, from the kids team on up.
 "Coach Beckman has been coaching here since the 1970s, and we want to put one together for him, that's for sure," Wolding said. "That's my ultimate goal.
 "I'd sure like for him to see a state championship for New Salem. He's put so much time into our program, and the kids want one for him, also. ... He doesn't miss anything wrestling."
 Wolding isn't crowing about a guaranteed championship, but he isn't dismissing the possibility, either.
 New Salem-Almont goes into the tournament as the No. 2-seeded Class B dual team behind Lisbon. Lisbon has won the last four state tournament championships and the last two dual titles.
  Wolding puts his current group of wrestlers in the same class as the NSA team that racked up 152 points in 2019. They placed second, 26 points behind Lisbon.
 "I think we had a really good shot when we were second a couple of years ago. ... We had four in the finals (champions Clay Gerhardt and Tayt Wolding and runners-up Chauncey Dittus and Josh Irwin) that year. We were leading for a while and kind of petered out at the end," Wolding recalled. "I think we have as good a shot this year, but we had a lot of horsepower that year. We were second in duals and second in individual. Lisbon won the individual and Lisbon won the duals. Lisbon has been our nemesis."
 Lisbon's Broncos have been everyone's nemesis for quite a spell. And there's more to come if the seeding is anywhere near the mark. 
 The Broncos return five placers from last year's team, which outgunned runner-up South Border 223-197. New Salem was fourth with 125.5.
 Lisbon's returning nucleus includes two state champions. Greenly Boeden won at 138 and Jordan Sours took the 160-pound title. Other returning placers are Michael Nelson and Jaden Schmitz, third at 113 and 152, respectively, and Carter Wallner, sixth at 106.
 Thus far, Lisbon has won 16 of 17 duals and finished well ahead of the pack in the two tournaments it entered. The Broncos won their own tournament by 64 points over runner-up Carrington and finished with a 39-point edge on second-place finisher South Border at Napoleon.
 New Salem-Almont is perfect in 15 duals and has three tournament titles to its credit. The Holsteins and South Border went 1-2 at Linton, NSA outscoring the Mustangs 161-127. At Hettinger, the Holsteins won with 194.5 points to outdistance Sturgis, S.D., by 28. NSA scored 252 points to win the Harvey Division of the Panther Booster tourney by 120 points. Beulah-Hazen was second with 132.
 Wolding said the victory at Linton in mid-December put the Holsteins on the right track.
 "In the Linton tournament I think we put up 161 points. That tournament showed us we have the opportunity to put up some points. Don't get me wrong, if you put Lisbon and Carrington in that tournament it would be a little bit different," he said.
The Holsteins return a state champion in Cole Gerhardt, who took 106-pound honors last year. Their other returning placers are Ty Wolding, fifth at 152, Wyatt Engwicht, sixth at 113, and Cody Irwin and A.J. Heins, seventh at 126 and 285, respectively.
 Engwicht, 23-0, and Heins, 15-0, take unblemished records into the state tournament.
  Although talented, NSA is a young team with just two seniors, neither of whom is in the team's dual lineup.
 South Border has wrestled a rugged schedule. The Mustangs have won two tournaments, one with 197.5 points in Casselton and the other with 173 points in Minot. South Border finished second to NSA at Linton and was the runner-up to Lisbon at Napoleon. 
 The Mustangs have an 11-1 dual record that includes a split with Lisbon. South Border won 34-30 in early January and Lisbon prevailed 37-24 in the regional dual tournament.
 Six placers, three of them state finalists, return to the Mustang lineup from last year's state runner-up team. Marshall Lindgren claimed a state title at 120 pounds last winter, while Jonathan Shockley was second at 138 and Nathan Schauer was the 195-pound runner-up. Tristan Lepp and Charles Herr were fifth-place finishers at 106 and 113, respectively, and 182-pounder Ashton Peterson placed sixth.
 Wolding has a healthy respect for Lisbon and South Border, but the list doesn't stop there.
 "Velva and Carrington are going to put up some nice points at the state tournament, and Pembina County (North) put up a lot of points at the Rugby tournament," he observed. 
 Pembina County North won the Rugby Division of the Panther Booster tournament.
 "In a normal year we've seen everybody, so it's easier to figure out how things can shake out," he noted.
  Indeed, due to the pandemic-shortened season NSA and Lisbon haven't met, either in a dual or a tournament setting.
 "Everybody's schedule is a tossup this year," Wolding noted. "They were unable to get where we were and we weren't able to get where they were. ... They've got a very solid returning core."
 The regional tournaments were canceled due to coronavirus considerations and the state tournament has been restructured.
 Because the winnowing process of the regionals was absent, the Class B individual tournament will be huge, with 32-man brackets. 
 "In years past 16 kids went to the state tournament (in each weight class). This year we've doubled the kids. Everybody is bringing their whole team. ... They'll seed the top eight and draw everything else in," Wolding said. 
 Another noticeable change this year will be the separation of Class A and Class B during the individual tournament. Class B competition will take place in the morning with Class A taking over in the afternoon.
 Also, the dual tournaments will be wrestled on the final day in their entirety. Wrestlers will not have to toggle between dual and tournament competition all three days of the tournament.
 Wolding likes having the dual tournament set aside for the final day, but he's not so keen on having his wrestlers hitting the mats at 9 a.m.
 "We've got to have our guys ready to wrestle at 9 a.m. It's definitely not a schedule any Class B coach is enjoying, that's for sure," he said. "The last two weeks we've practiced at 6 a.m. with a little workout in the afternoon. The guys are used to getting up in the morning now."
 The Holsteins haven't wrestled since Jan. 30, which leaves an abnormally long break before the state tournament. 
 Wolding said he's not worried about the long break because of the atmosphere in the Holstein wrestling room.
 "We're pretty much ready to go. It seems like we're healthy and the kids sure have a good attitude heading into the state tournament," he observed. "Our attitude is we're a bad draw for anybody. We have a young group of guys who are just ready to let her fly."