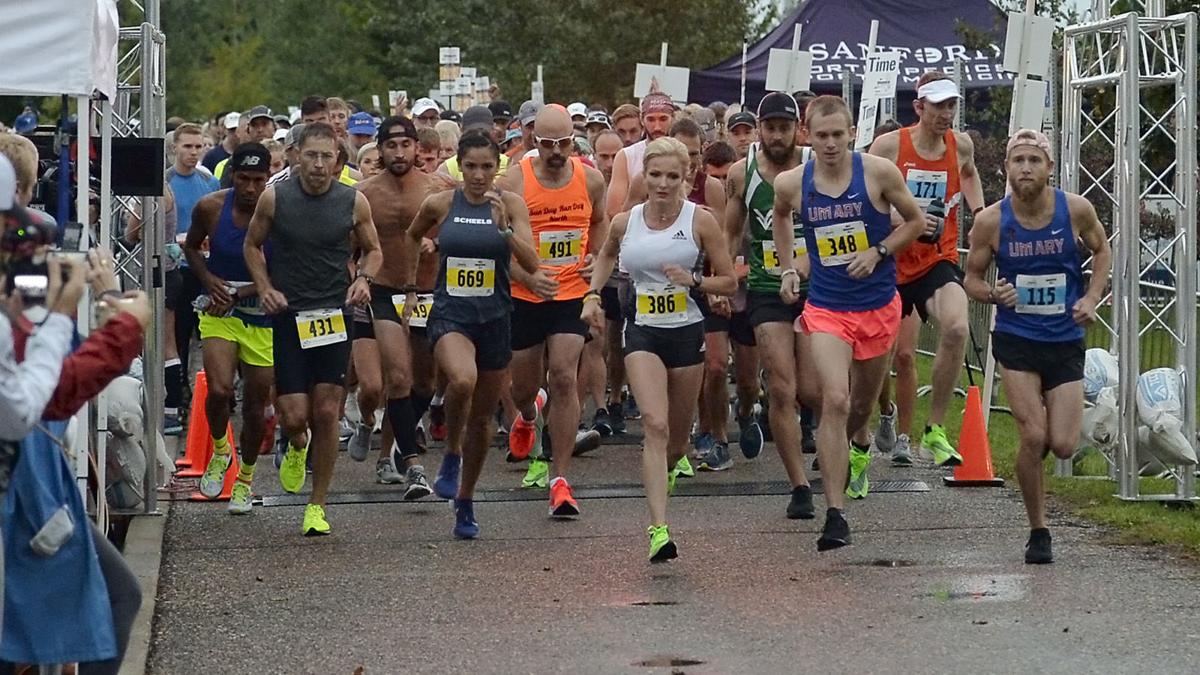 Cesar Mireles and Jaiden Schuette had different reasons for running the Bismarck Marathon for the first time on Saturday. But their results were exactly the same as both earned victories in relatively "easy" fashion.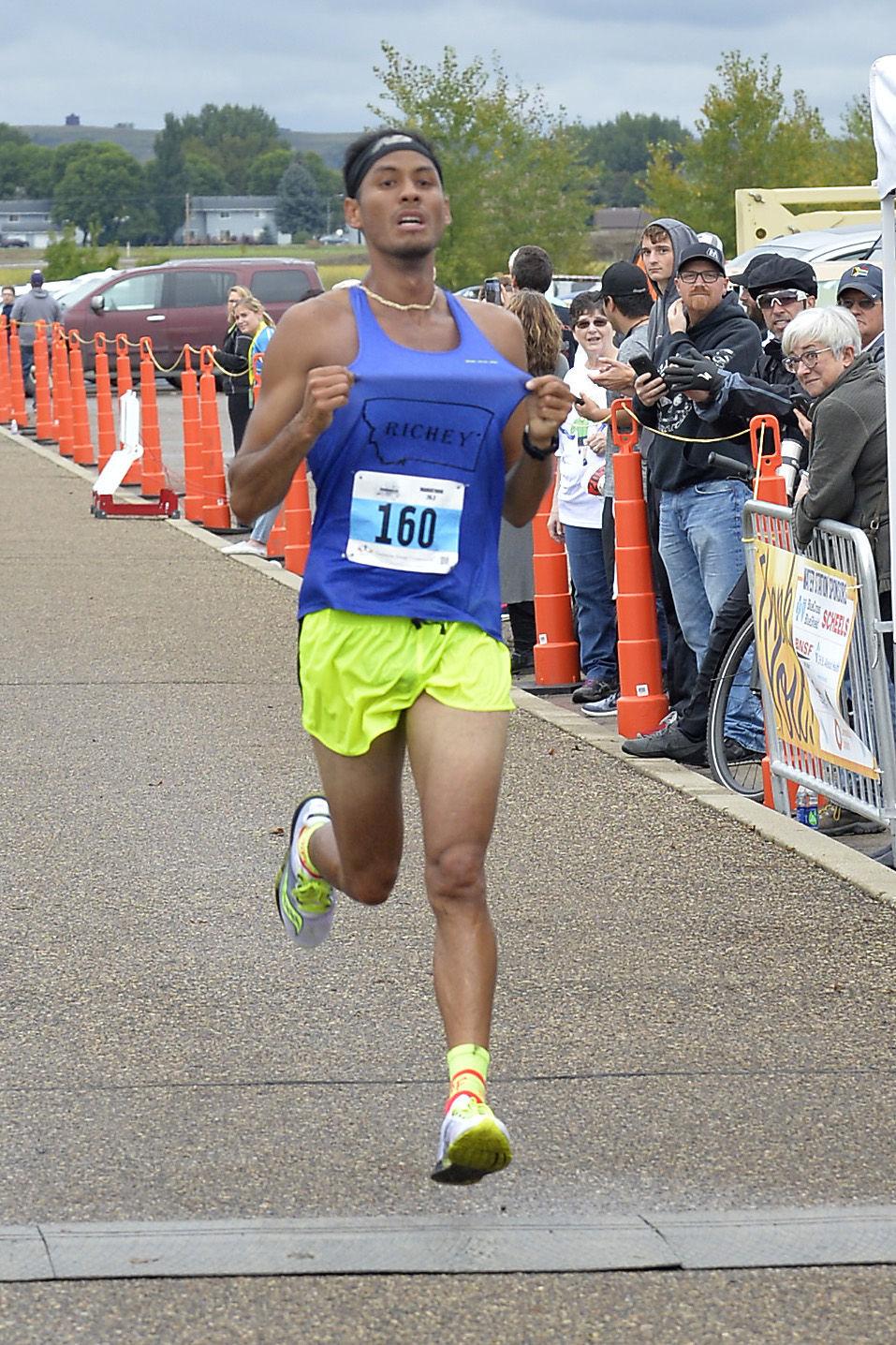 Mireles, a teacher and distance runner from Mexicali, Mexico, now living in Richey, Mont., took the lead a little more than halfway through the race and posted a 2:32:50 to beat runner-up Brent Blaylock of Kansas City by more than 16 minutes. What started out as a training run for the New York City Marathon became a winning effort almost by accident.
Schuette, a nursing student who just finished a running career at the University of Mary, ran a 3:17:51, which was nearly 15 minutes ahead of second-place Jamie Sheahan of South Burlington, Vt. It was here first – and likely last – marathon.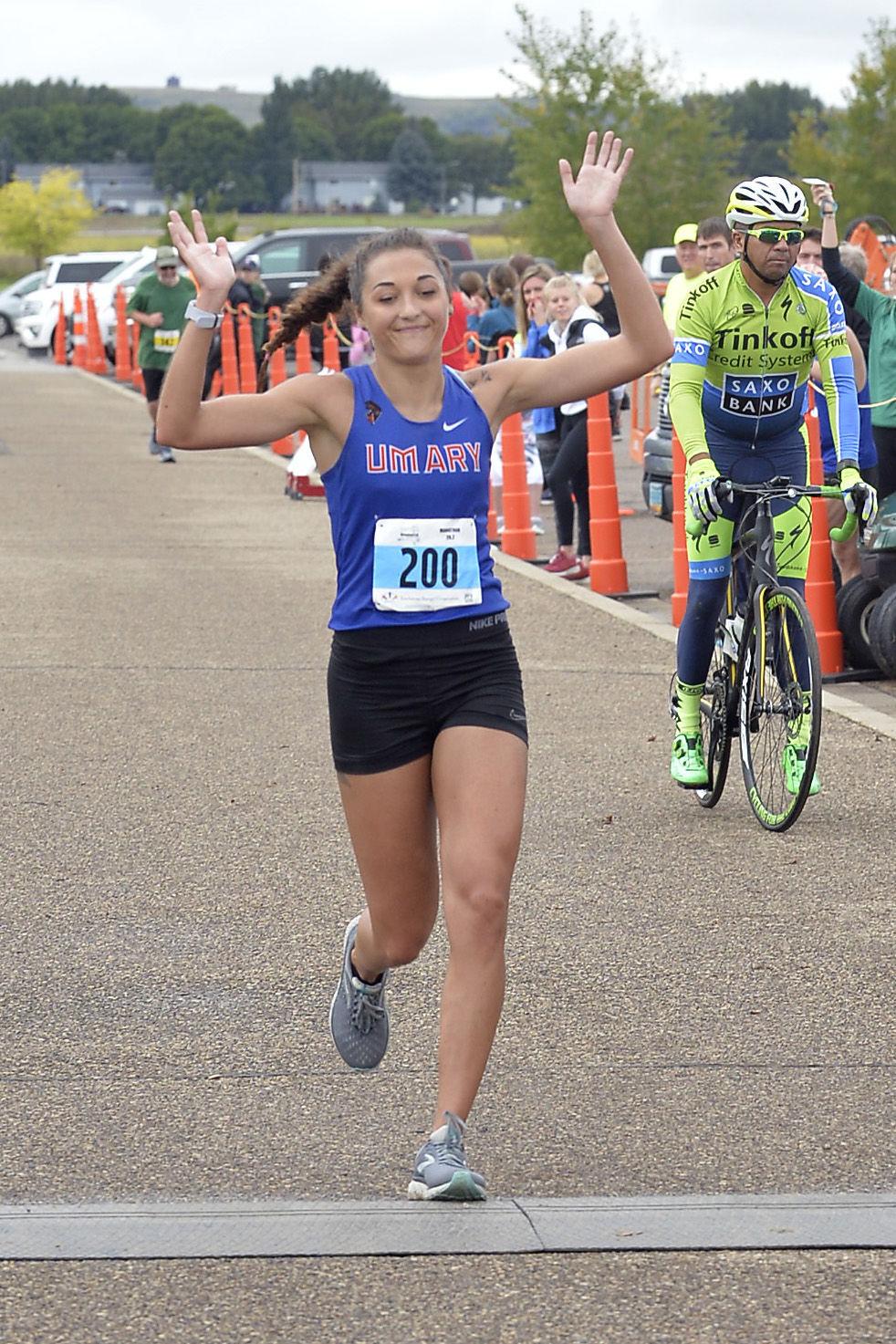 Mireles holds Bismarck's half-marathon record (1:45:39) from 2013 – his only other appearance in Bismarck. He had a plan of attack for Saturday's Bismarck Marathon. Then a voice in his head told him to pick up the pace a little. That voice belonged to Ismael Arzola, who had early won the 5K in a course-record time of 15:45 and headed back onto the course to motivate his running mate.
"This was supposed to be a training run but with my competitive drive I just couldn't let it go," Mireles said.
What had Arzola told Mireles?
"He jogged a little bit with me and we counted the leader (2018 winner Zach McBride) was a a minute ten ahead at 10 miles," Mireles said. "We started picking it up and I said 'Ismael we need to slow down, we have more than half a race to go.' But we started gaining on the guy and thought if he went out too hard, we would catch him. He said 'you got him. If you don't beat him, we're not going to get Dairy Queen tonight.'"
McBride posted a 1:15.41 at the 13-mile mark with Mireles about 45 seconds behind By the 18-mile mark, Mireles could already taste the Blizzard thanks to a three-minute lead.
"My plan was to go out way slower," Mireles said. "I wanted to go out 6:05 or 6:08 through the first 20 miles. I wanted to push the last six miles. All I wanted was under 2:45."
Arzola, a high school and community college classmate of Mireles, had plenty of time to get back out to the course after shattering the course record in the 5K by nearly three minutes. It was his second Bismarck win, coming on the heels of last year's win in the half marathon (1:13:00). "I was planning to do the 10K, but where my fitness is at, the 5K was better," Arzola said.
Schuette, meanwhile, was battling herself down the stretch. After crossing the finish line, she collapsed a needed several minutes in the first aid tent to regain her feet.
"It was a lot harder than I thought," Schuette said. "I knew it was going to be really hard but I figured since I was done running collegiately, I might as well try it right away before I get out of shape."
Schuette said the pace was fast early. "I went out a little fast and think I paid for it," she said.
She began paying physically and questioning herself mentally near the midpoint.
"When I got about halfway, it seemed like it took a long time to get that far," Schuette explained. "Then at 17 (miles), I went down. I couldn't feel my legs so I walked a little bit. Then I just came back and wanted to finish it. I think running collegiately helped me be mentally tough. That's what this race was, staying mentally tough."
Sheahan, who was third at the first four splits, finished second in a time of 3:32:38.
Given her success, will Schuette run another marathon? "As of now," she said, "probably not … But you never know."
Craig Alland (34:36) and Alyson Downs (36:40) were winners in the 5K walk, while Julie Bosch (22:03) joined Arzola as winners in the 5K run.
Kyle Downs (35:10) and Heather Horner (39:24) were 10K winners.
Half marathon winners were Derek Myers (1:14.17) and Val Curtis (1:17.56).