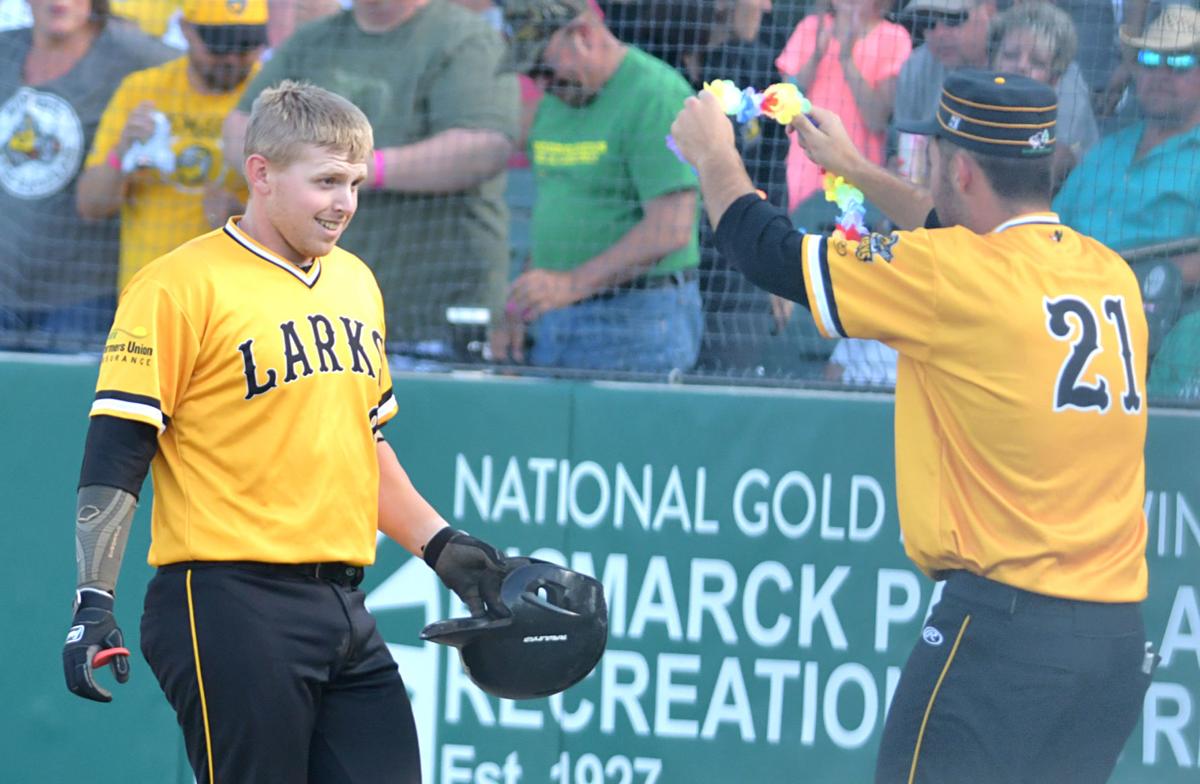 The Bismarck Larks will be happy to see the Mankato MoonDogs heading east on I-94.
The MoonDogs have had the Larks' number this season, and Mankato made itself at home this week at Municipal Ballpark. The MoonDogs spotted the Larks an early three-run lead but rallied for a 9-5 Northwoods League victory on Saturday in front of 1,816 fans.
That helped Mankato finish off a sweep of the four-game series to open the second half of the season. The MoonDogs have won seven of eight games against the Larks this season, already clinching a win in the season series between the two teams.
 "They've been swinging it well, they pitched it well – kudos to them. They did a good job," Larks manager Sean Repay said.
Brody Tanksley clubbed a three-run homer to give Bismarck an early lead, but the long ball led Mankato's comeback.
The MoonDogs hit four homers – two of them by Josh Elvir – to score seven runs.
The Larks got on the board first. Tanksley teed off on the first pitch he saw from Mankato starter Jack Schneider for a two-out, three-run homer to deep left in the bottom of the second, giving Bismarck a 3-0 lead.
The MoonDogs' catcher answered in the top of the third. After No. 9 hitter James Gargano lined a single to short left for Mankato's first hit of the game, Cuba Bess blasted a two-run, two-out shot to center, pulling the MoonDogs within a run at 3-2.
Mankato took the lead in the top of the sixth. Bess drew a leadoff walk and Elvir lofted a high fly ball over the right-field fence for a two-run homer, his fourth of the season, putting the MoonDogs in front 4-3.
Corey Treyes (0-1), making his first start for the Larks, pitched well but gave up a pair of two-run homers. He allowed six runs – five earned – on six hits, walking two and striking out two.
"He's done a good job.," Repay said. "The long ball has haunted him a little bit, even out of the bullpen but he gave us a shot, kept it within reach.
You have free articles remaining.
"The long ball is what it is That guy had a good night. Any time you hit two home runs ... Hat's off to him. He put two good swings to get two balls out of here. It's pretty impressive."
Mankato added to the lead when Sean Ross drove in one run with a two-out double to deep left off reliever Zach Harlan. A second run came home on a Larks error and the MoonDogs led the Larks 6-3 after 5 ½ innings.
Elvir did it again in the seventh. After Bess reached on a one-out single, Elvir drilled a two-run homer to right for an 8-3 lead. It was the fifth homer of the season, and the second in two innings for the junior from Angelo State (Texas).
The Larks took advantage of a pair of MoonDog errors to score two unearned runs in the bottom of the eighth, but Michael Perez turned an inning-ending 6, 6-3 double play to get Mankato out of the jam still leading by three runs at 8-5 going to the ninth.
Jake Moberg led off the ninth with a solo homer off reliever Fernando Diaz Jr., making it 9-5.
After allowing the early homer, Schneider kept the Larks in check, allowing only four hits over five shutout innings following Tanksley's blast.
Schneider (2-0) held Bismarck to three runs on six hits over seven innings, walking one and striking out four.
"We've got to manufacture runs in between," Repay said. "Early, we've got to get on, especially when we've got momentum – we've got to go out and build it back to manufacture runs in between early in the game and late in the game.
"Those middle innings, we've got to do a little better job of just manufacturing some runs and scraping some across to keep the game within reach or bury a team. We just have to get better at those areas."
The Larks (20-20, 0-4 second half) open a two-game series on Sunday at 3:05 p.m. against St. Cloud while Mankato (19-21, 4-0 second half) travels to Willmar.
"We have to build momentum," Repay said. "We can't allow teams to come in here and sweep us at home, especially in a four-game set, that's a tough way to start.
"We have to come better tomorrow. St. Cloud is on a roll now, too. They came into today 3-0, they're going to be tough. And they had our number last time we were here, so we've got to come ready for a fight and try to put up a 'W.'"