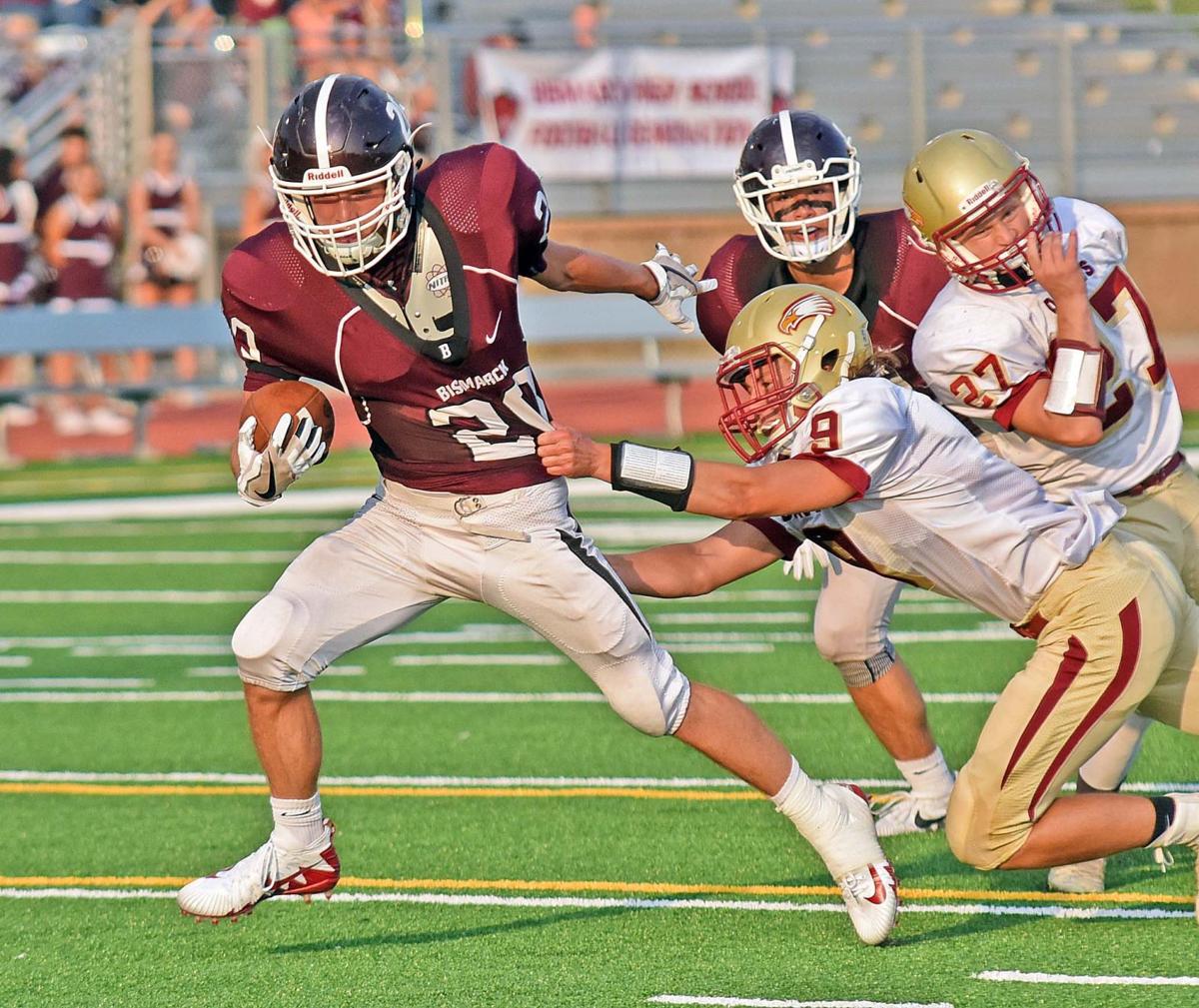 Bismarck High quarterback Will Madler wasn't perfect on Saturday night, but he was pretty darn close.
The 5-foot-9, 165-pound junior completed 14 of 15 passes for 197 yards and two touchdowns while leading the Demons to a convincing 48-20 season-opening victory over the Fargo Davies Eagles at the Community Bowl. Madler, who started last season as a sophomore, racked up 161 yards on 12-for-13 passing in the first half as Bismarck rolled to a 34-6 lead.
"We're very impressed with what Will did tonight, and the way he handled himself. He was cool, calm and collected out there," said Bismarck coach Mark Gibson. "He was very comfortable and that's something we expect from him. He did a great job throwing the football and running the offense."
Madler found six different receivers on opening night. Tanner Davis led the way with four catches for 67 yards. Tate Doppler caught three passes for 69 yards.
"It's great having so many receivers that I can go to," Madler said. "It keeps the defense on its heels. Six different guys caught passes tonight, but it doesn't stop there. We have more we can put out there."
"We're as good as we've ever been on the perimeter," Gibson added. "We have a lot of reliable receivers and a kid who can put the ball on the money. And we also have a kid in the backfield who can run the ball well and open up our passing game."
That "kid in the backfield" is senior running back Jalen Sprecher, who carried 11 times for 131 yards and three touchdowns.
Davies scored first, with Johnson Jones bursting into the end zone from three yards out with 9:14 remaining in the first quarter. The run capped a game-opening five-play, 80-yard drive.
However, it was all Demons from there.
After the ensuing kickoff, Bismarck marched 56 yards to paydirt in five plays, scoring on an 11-yard run by Sprecher. The extra point was blocked and it was 6-6 with 7:16 left in the first.
After a promising Davies drive ended with a Bismarck fumble recovery in the end zone, the Demons drove 80 yards and scored on Madler's one-yard sneak. The first of six Zac Schmidt extra points made it 13-6.
Sprecher's 37-yard punt return to the Eagles' 33 set up his seven-yard TD run. Later, he broke loose for 56 yards and his third touchdown of the night.
A five-yard scoring pass from Madler to Matt Tolliey with 1:55 remaining closed the first-half scoring.
Five first-half possessions, five touchdowns.
"We played good disciplined football. We got on a roll because we were able to mix the pass and the run so well," Madler said. "The O-line deserves a lot of credit. They opened up huge holes for our running backs and did a good job protecting me."
Madler had a hand in both third-quarter touchdowns, scoring on a one-yard keeper and throwing a five-yard pass to Tolliey.
Davies running back Brett Vetter tallied twice in the fourth quarter, the first on a 57-yard run, and the second on a 38-yard pass from quarterback Jesse Forknell.
The Demons' defense allowed 222 yards passing -- 175 in the first half -- but sacked the Davies' quarterbacks seven times.
"We came out flat defensively, giving up an early score, but we got better as the game went on," Gibson said. "Our defense needs a lot of work, but they're learning."
The Demons will visit West Fargo on Friday night.