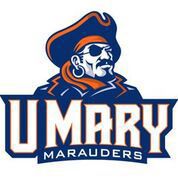 All eight St. Cloud State players put points on the board in the first half as the Huskies raced out to an 18-point halftime lead and coasted to an 88-56 Northern Sun Intercollegiate Conference win over the University of Mary Friday in St. Cloud, Minn.
The Marauders' four-game winning streak ended under a flurry of turnovers (13 of their 19 in the first half). The Huskies scored 21 points off turnovers.
"We just didn't handle that pressure," U-Mary coach Joe Kittell said. "The guys with the ball on their hands didn't handle it and we weren't aggressive when we broke it. It wasn't one guy, it was 12, including me and we just weren't ready for that."
Ole Miss transfer Illya Tyrtyshnik had 20 points and seven rebounds for the Huskies, who took a big halftime lead then shot 62 percent from the field in the second half to pull away.
The Marauders took a 5-0 lead right off the tip, but the Huskies answered with a 19-3 run. It was 19-12 when St. Cloud put together an 11-0 run to take control of the game. It was 39-21 at the half.
Andrija Blatancic scored 19 points and grabbed six rebounds for St. Cloud. Caleb Donaldson tossed in 11 points and Ethan Schuemer added 10. Trevon Marshall had eight points to go with 11 assists.
St. Cloud's inside game dominated, outscoring the Marauders 50-20 and outrebounding U-Mary 34-26.
Jaylan White led U-Mary with 11 points and Matt Kreklow chipped in 10 to go with a team-high seven rebounds.
St. Cloud has won four straight games against the Marauders, whose last win over the Huskies was Feb. 10, 2017. U-Mary has won at St. Cloud State since Feb. 21, 2015.
You have free articles remaining.
U-Mary concludes its weekend road trip tonight at Minnesota-Duluth.
Women
U-Mary 60, St. Cloud St. 51
Cassie Askvig continued her strong play Friday, scoring 21 points to lead the Marauders to their eighth straight win despite a game that statistically favored the homestanding St. Cloud State.
The Marauders extended their winning streak to seven games despite being badly outrebounded and outscored 17-2 in second-chance points.
"We should have not won probably when you look at that boxscore because they got 14 more shot attempts," U-Mary coach Rick Neumann said. "But in wins, (St. Cloud) averages 22 free throws a game. In their two losses they got to the line eight times. Tonight, they got their eight times. We emphasized we had to keep them from getting to the free throw line."
U-Mary was 12-for-15 from the line while the Huskies went 4-for-8. Askvig and Maci Williams were each 4-for-4.
The Huskies outrebounded the Marauders 38-27, including a whopping 14-3 advantage on the offensive end. Nikki Kilboten had 10 boards while Lexi Schneider had nine rebounds and 13 points for the Marauders.
Katrina Theis led the Huskies in scoring with 16 points.
"I'm just so proud of our girls, such a tough win in a tough environment," Neumann said.
U-Mary will have a share of the NSIC North Division lead when it plays at Minnesota-Duluth tonight.