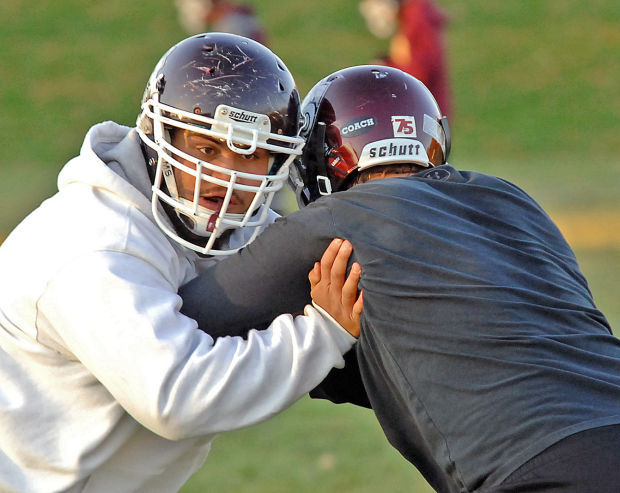 To opposing defenses, Bismarck's offensive line must look like a Mack truck coming across the line of scrimmage.
And in that context, Zach Scalzo is the bulldog grill ornament. At 6-foot-1 and 290 pounds, Scalzo is designed to provide lots of running room for the Demons' intractable ground game.
Scalzo at right tackle and Jordan Rau at left guard are the veteran seniors who anchor the BHS offensive line. They're joined by Luke Keller at left tackle, Jaren Olson at right guard, Jordan Rau, at left guard and Sam Neubauer at center.
Olson moved into the line when all-state senior guard Jaden Friedt suffered a knee injury in Bismarck's regular-season finale against Minot.
As it now stands, that quintet adds up to nearly 1,200 pounds of prime athletic beef.
They'll be in the middle of the fray today when top-ranked Bismarck takes on archrival Century in a 6 p.m. Class AAA playoff semifinal at the Community Bowl. Century is ranked third.
Today's other semifinal matchup has second-ranked Minot at No. 4 Fargo South.
During the 15-year Mark Gibson era at BHS, the running game has been king. That makes Scalzo feel right at home.
"I like running plays," Scalzo said. "I don't really like standing up and pass blocking. I like going out and hitting a guy."
He and his buddies in the interior five are obviously hitting early and often. Bismarck has piled up 2,571 rushing yards this year en route to a 10-0 record. That comes out to 257.1 yards per game or 6.4 yards per carry,
The main beneficiary of the hogs' hard work has been senior tailback Ricardo Galindo, who leads the West Region in rushing (1,257 yards) and scoring (23 touchdowns).
In addition, junior fullback Noah DuBord has picked up 566 yards and three TDs. Galindo's backup, junior Dalton Sanders, has covered 314 yards and has scored four times.
Numbers like that tell Scalzo that the offensive line is showing up ready to play.
"We like the pressure to perform," Scalzo said. "... If our line doesn't perform as well as we should be able to play, it'll be harder to move the ball."
Underperformance hasn't been a problem. The Demons haven't rushed for fewer than 165 yards this season and have exceeded 200 in eight of their 10 games.
Throw in an unusually strong passing game and the Demons lead the region in scoring (40.3 points per game) and yardage (383.1).
A pair of juniors, quarterback Hayden Gibson and wide receiver Jon Tharaldsen, have combined to create a formidable passing combination. The Demons rank second in the West in passing (126 yards per game) and have scored 13 touchdowns through the air.
Gibson ranks second in the region in passing yardage and third in total offense. Tharaldsen leads the region with 713 receiving yards and has scored 11 touchdowns.
Graduation tore apart the BHS team that had won back-to-back championships in 2011 and 2012 and put together a 17-game winning streak. Only seven starters returned — three on offense and four on defense.
Scalzo knew there was a lot of work to be done, but he entered the season optimistic.
"I thought we'd do well. I didn't think we'd be able to automatically win it. I knew we had to work our butts off," he said.
Yet here the Demons are, unbeaten and in the semifinals.
"I didn't think we'd have an undefeated season. I had a feeling we'd be a good team, but not an amazingly good team," he said. "It would be nice to finish the (unbeaten) run, but we have to come to every game ready to play."
Scalzo's assessment is that the Demons have made steady improvement week to week.
"As a team I feel we've gotten better every week," he said. "A couple of games I've taken a step back, but I came out twice as hard the next week to try and get moving forward again."
Bismarck defeated West Fargo 34-21 and Century outlasted Fargo Davies 31-28 in last week's quarterfinal round.
Century paid heavily for its victory over Davies. Quarterback Dalton Feeney suffered an injury to his throwing arm in the third quarter and won't be available today.
BHS and Century met four weeks ago in a regular-season game, the Demons winning 26-7 in a clash of unbeatens. They've also met in the last two state championship games.
Though BHS and CHS are cross-town archrivals, Scalzo said he's setting that business aside tonight. To him, it's all about survival in the playoffs.
"You always want to go out and play every game 100 percent. ... We're treating the game as we would for any good team," Scalzo said. "They're a good team all-around, so we're going to have to come out and perform."
The Demons are the state's only undefeated AAA team. They've beaten all three of the teams still remaining in the playoffs. Scalzo said that's by no means an invitation to overconfidence.
"We all have to come out and play 100 percent on the field and hold nothing back because anything can happen," he said. "... (The playoffs) are our toughest games of the year."
n NOTES: Bismarck has won its last five encounters with Century, defeating the Patriots twice each of the previous two years. ... Century's last win was a 20-14 verdict in 2010. ... Bismarck holds a 31-11 advantage in the series, which dates back to Century's opening in 1975. ... Since the Bowl opened for football in 1997, Bismarck has won 16 of 20 games against Century.