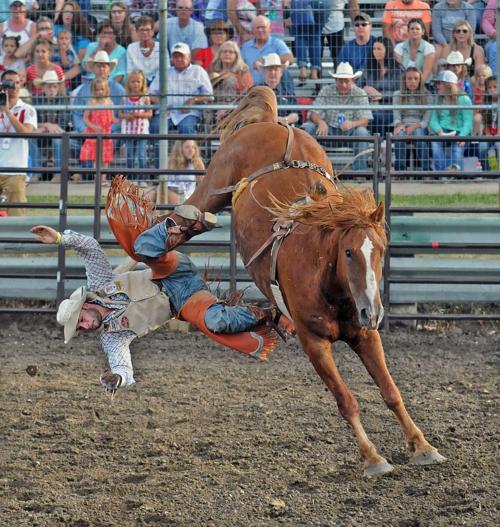 Tommy Cook looked history squarely in the eye Tuesday night, and history blinked.
 Cook, of Waller, Texas, has been entering the Mandan Rodeo Days Rodeo since 1996 with modest success. Cowboy Christmas, generally, hasn't been much of a money-maker for him. And this year, he'd competed in eight Independence Day-related rodeos without a payoff.
 Tuesday night that all changed. Cook threw his steer in 4.0 seconds for the night's best score. He also moved into second place in the overall standings at the Mandan rodeo.
 So Cook, a 52-year-old veteran of rodeos, finally got his Cowboy Christmas gift.
 Cook, a 6-foot, 220-pounder, said rodeo has been a way of life for him as long as he can remember.
 "I've been doing it all my life," he recalled. "My dad (Sonny Cook) rodeoed, he was a calf roper," Cook said. "I started out roping calves and picked up steer wrestling in high school for a second event. I had a really bad accident (in 1985) that hurt my left arm."
You have free articles remaining.
 Cook said he continued to compete in both events after the mishap, but after awhile he could see that steer wrestling was where he had greater opportunity.
 "I perfected my steer wrestling skills because I wasn't as sharp at roping anymore," he recalled.
 He's been to two National Finals Rodeos, the most recent in 1999, both in steer wrestling.
  This was Cook's best showing at Mandan, but he said he's still got his sights set on winning here just once.
 "I've come close to winning, just like tonight. They give one of the prettiest belt buckles (to event champions), and I've wanted one for a long time," he said.
 Cook's 4.0 put him in a three-way tie for runner-up money behind Aaron Vosler of Cheyenne, Wyo., who scored a 3.7 on Sunday.
 Other event winners in the three-day event were Weston Garrett of Gillette, Wyo., (86 points in bareback), Logan Hofer of Magrath, Alberta (8.5 seconds in tie-down roping), Wade Sundell of Coleman, Okla. (90 points in saddle bronc) and Kellan and Jhett Johnson of Casper, Wyo. (4.5 seconds in team roping). Bull riding and barrel racing were incomplete at press time.
 Sundell and his closest saddle bronc challenger, Chad Ferley of Oelrichs, S.D., both posted their scores on the same horse, Chirrikawa. Ferley tallied an 85.5 on Tuesday.