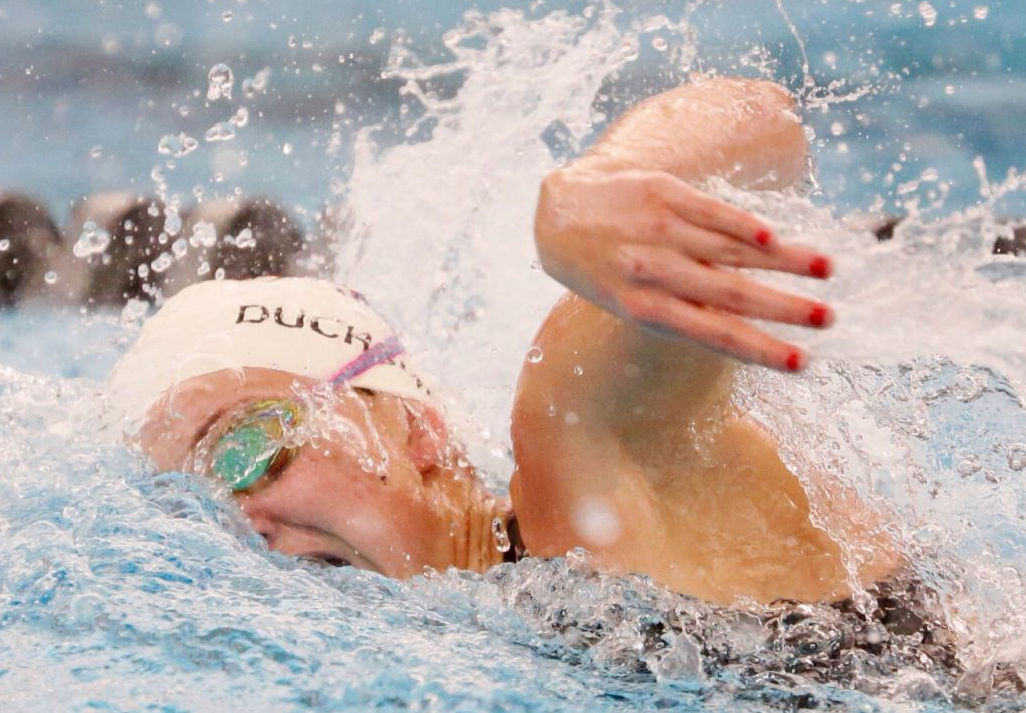 Kathy Aspaas mixed things up for Century's swimming and diving practice on Wednesday.
Instead of jumping in the pool, the Patriots were flying around at Sky Zone, the trampoline park in North Bismarck. Requiring only the team's juniors and seniors to attend, she made the workout optional for everyone else. When the final tally was counted, 42 athletes were bouncing around.
Needless to say, enthusiasm in the Century swimming dynasty remains strong.
"It was a difficult workout for them, but they were having fun doing it," Aspaas said. "It was neat to see so many of the kids there."
Numbers remain strong for the Patriots, who have won four straight state titles. This year's count is just a tick under 50, which is the highest so far.
"That is one of the nice things about having success is that it encourages younger kid to want to get involved," Aspaas said. "It's one of those sports you can do basically your whole life. There are just so many positives."
Even after losing a handful of top-notch swimmers, Century can again match its quantity with quality.
Lexi Duchsherer tops the list. Last November as a sophomore, she went 4-for-4 at state, winning the 50- and 100-freestyles, and contributing to two winning relays. Century swept the relays en route to finishing 119 points ahead of second-place Minot.
"(Lexi) has tremendous talent and she's extremely competitive," Aspaas said.
Several other state-placers return.
Seniors Andrea Frank and Avery Meyhoff are like so many on the roster – versatile and capable of competing in numerous events.
Paige Keller is the top-scoring junior returning, after Duchsherer, and will be a major point-getter this fall.
Among several promising sophomores, Sarah Dorrheim and Erin Palmer have already swam to plenty of success. Palmer is pulling the ultimate double-duty. She's also the No. 5-ranked cross country runner in Class A.
"Erin is an outstanding athlete," Aspaas said. "Cross country is her top priority, but I'm very happy she's able to fit us in. She swam very well this summer."
As usual, the Patriots were able to hit the water running, so to speak.
"We have so many girls compete and train all summer. They come in ready to go," Aspaas said. "We have outstanding athletes. They're very committed. They know how to manage their time and keep their grades up. We do have great kids."
The season starts on Friday at 3:30 p.m. with a six-team dual event at the Bismarck Aquatic and Wellness Center, which includes a twist.
Instead of the traditional meet order, the first three events will be drawn out of a hat and that will continue through the duration, with breaks after three sets of races. The relays will remain in their normal place in the lineup.
"I always feel bad for the breaststrokers because they're always last," Aspaas said. "I guess they could still end up last depending on how the draw goes, but we're going to try something different. It's always fun to mix things up a little bit."
On Saturday, things get even busier. The 10-team Bismarck Invite, featuring every team from the West Region plus Fargo Davies, West Fargo and West Fargo Sheyenne, starts at 10 a.m., with a return to the traditional meet order.
Be the first to know
Get local news delivered to your inbox!