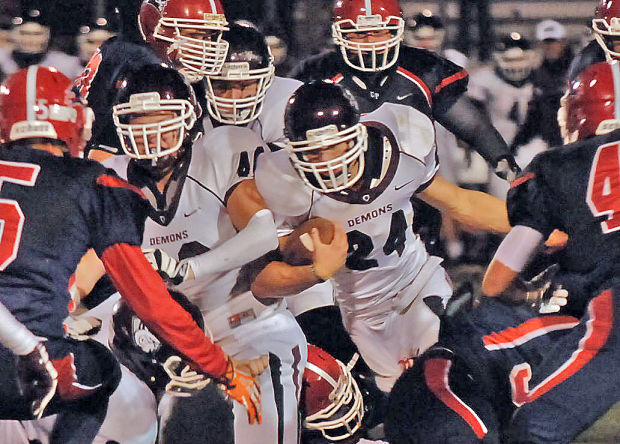 On a completely awful night, the Bismarck Demons played a complete game.
Undefeated and top-ranked Bismarck benefitted from contributions by the offense, defense and special teams to down Century 26-7 Friday night in a battle between the top two Class AAA teams at a rainy, wind-swept Community Bowl.
With the victory, BHS improved to 7-0 with 24 straight victories. Century slipped to 5-1 with a 3-1 West Region mark. Bismarck stands 4-0 in the region.
The game began with winds of 25 mph out of the west northwest and were gusting well beyond 30 mph by game's end.
Bismarck won the coin toss and chose the wind to the game's first touchdown on a 23-yard run by tailback Ricardo Galindo. Galindo a 5-toot-7, 160-pound senior, finished the night with 173 yards on 38 carries and three touchdowns.
BHS coach Mark Gibson said winning the coin toss and kicking off with the wind gave the Demons a big advantage.
"A big thing was us getting the coin flip," Gibson said. "But there were a few times we drove the ball against the wind, too."
With the wind in its face, Century punted three times in the first quarter.
Taking advantage of a 6-yard Century punt into the wind, the Demons took over at the Patriot 31 on their first possession.
A 4-yard pass completion and two carries by tailback Ricky Galindo got the Demons into the end zone. A 23-yard burst through the left side by Galindo closed the drive with 9:51 to play in the first half. Alex Seibel's conversion kick was wide to the right, bouncing off the goal post upright.
Bismarck bucked the wind for its second score, marching 51 yards in 11 plays — 10 of them runs. Galindo closed the march from 6 yards out, going wide right and scoring standing up. A two-point conversion put the Demons ahead 14-0 at the half.
Century wasn't able to mount a threat until its final possession of the first half.
The Patriots took possession at the BHS 30 following a 16-yard wind-buffeted punt.
Quarterback Dalton Feeney threw 11 times in that series, connecting with Aaron Doan for 12 yards and getting a 15-yard interference call.
Doan's catch took the Patriots to the BHS 3-yard line, but a pair of penalties moved the ball to the BHS 13 with :35 to play, Four incompletions later, Century lost the ball on downs at the 13.
Century coach Ron Wingenbach said those penalties were costly. The Patriots were flagged eight times for 52 yards.
"Our penalties really hurt us tonight," Wingenbach said. "… There's no excuse for that at this point in the season."
The Patriots dodged a bullet when a 49-yard Demons drive stalled at the 1-yard line in the third period.
Bismarck's final two scores came like a thunderbolt, just over a minute apart early in the final period.
The Demons drove 50 yards in five plays, the last a 5-yard run by Galindo, to take a 20-6 lead with 10:46 left in the game.
Sixty-three seconds later, with Century punting from its own 19, Isaac Walth blocked the kick. The ball rolled into the end zone, where Stanley Jones recovered for Bismarck's fourth TD.
Galindo accounted for the bulk of Bismarck's offense. The Demons totaled 174 yards on the ground and 22 through the air on seven passes. The whistling winds took a toll on both passing games. Feeney was 3-for-18 for 32 yards. The Patriots gained just 72 yards on the ground in 34 attempts.
Galindo said 38 carries made for a long night's work, but he was ready for more.
"I could take the ball a couple more times," he said. "As long as coach Gibson wants me to run, my engine will keep going."
Galindo said the most pleasing aspect of the victory over Century was the way all phases of the team contributed.
"It was a complete effort for our whole team. … They came to the field to play," Galindo said. "Our whole team played great. I think we took a couple steps forward tonight."
Gibson echoed Galindo's analysis.
"When you play a team like Century you've got to fire on all cylinders, and I think we did that tonight" Gibson said.
"We got some breaks here and there … but we'll definitely take this one," he added. "… I'm sure that's a team we'll see along the road again."
Seibel led a BHS defense that put the clamps on a Century running attack that entered the game averaging 227 yards. Seibel was in on 10 tackles. Seibel said the nasty wind simplified things for the Demon defense.
"We were thinking they'd be a passing team, but with the wind they probably had to run the ball more," Seibel said. "You have to give it up for our defensive line. Without them we couldn't have made the plays we did."
Seibel said Friday's game was a landmark for the Demon defense.
"After the Fargo South game (a 55-49 victory), we've been working on tackling, and obviously it's paid off. The defense has been standing up. There aren't just a few guys making plays. Everyone is helping."
Century has little time to dwell on its first loss. The Patriots head for Minot next week to take on the third-ranked Magicians.
"I told the kids they have 12 hours to think about this one, and then they have to put it in the rearview mirror and get ready for Minot," Wingenbach said.
B — Ricardo Galindo 23 run (kick failed), 9:51
B — Galindo 6 run (Jacob Schulz pass from Hayden Gibson), 5:57
B — Galindo 5 run (kick failed), 10:46
B — Stanley Jones recovered blocked punt in end zone (pass failed), 9:43
C — Hunter Babeck 1 run (Cyril Nagurski kick), 2:48
Rushes-yards 46-174 34-72
Comp-att-int 3-7-0 3-18-0
Penalties-yards 5-45 8-52
Rushing: B — Ricardo Galindo 38-173, Noah DuBord 4-19, Hayden Gibson 3-1, Tanner Hegre 1-minus 19. C — Hunter Babeck 24-55, Preston Romfo 3-9, Dalton Feeney 7-8.
Passing: B — Gibson 3-7-0, 22 yards. C — Feeney 3-18-0, 32.
Receiving: B — Jon Tharaldsen 2-11, Jacob Schulz 1-11. C — Babeck 2-20, Aaron Doan 1-12.
Records: B 4-0 West Region, 7-0 overall; C 3-1, 5-1.