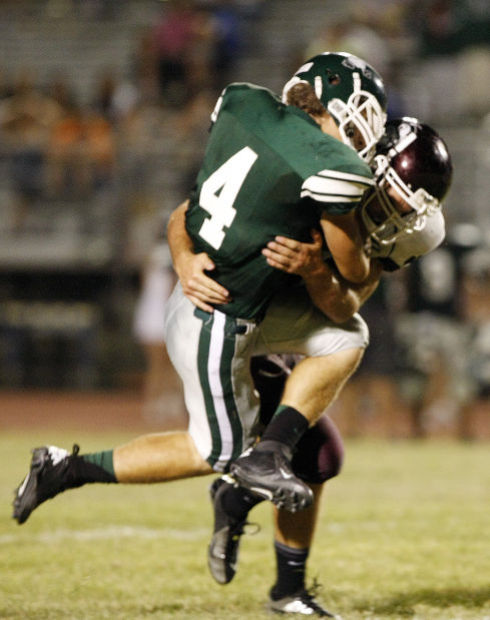 WEST FARGO — Bismarck hasn't had to play with much urgency during the second half of games the last two seasons, but on Friday that's exactly what the Demons were forced to do.
West Fargo pushed Bismarck in a Week 2 football matchup, but two key scoring drives in the second half helped the North Dakota Class AAA, No. 1-ranked Demons defeat the Packers 31-14 at West Fargo High School.
With the victory, Bismarck (2-0) extends its winning streak to 19 games. The winning streak dates back to the 2011 regular season.
West Fargo tested that streak last season in the AAA semifinals and did so again on Friday. The Packers held leads over the Demons on two separate occasions during the first half.
With 2 minutes and 46 seconds left to play in the first half, Bismarck senior tight end Stanley Jones ran in an 11-yard touchdown, allowing the Demons to go into halftime up 17-14.
"We are a young team, and we aren't very mature," Bismarck head coach Mark Gibson said. "Our kids found out what it is like to take a bus trip, play in the heat and play a team that was ready to play. We gave them a lot of confidence early, but hats off to our kids for responding."
West Fargo (0-2) was unable to get its offense moving in the second half, but the Demons were able to extend their lead with two 60-yard scoring drives.
The first was executed in seven plays and was capped by a 19-yard touchdown by Noah DuBord. The second was a 13-play clock killer that ended with junior quarterback Hayden Gibson running in a 1-yard touchdown with 1:40 left to play.
Dubord finished with 142 yards rushing on 24 carries. Gibson rushed seven times for 20 yards and two touchdowns.
"They challenged us," DuBord said of the Packers. "We fought back and played a lot better in the second half. Our line did a great job, and it all just flowed together for us."
West Fargo's Jacob Blotsky returned the game's opening kickoff 81 yards to the Bismarck 1-yard line. Sam Olsen scored on a 1-yard carry a play later, and after a failed pass for a 2-point conversion, the Packers were up 6-0.
Senior quarterback Jacob Hoy gave the Packers a 14-10 lead, running in a 63-yard touchdown on the first play from scrimmage of the second quarter.
Hoy carried the ball five times for 75 yards and caught two passes for 17 yards.
"I'm really pleased," West Fargo head coach Jay Gibson said. "You would think the opposite with a game that ended 31-14, but we played so much better than last week. We were playing the best team in the state and we hung with them for a long time."
WF — Olsen 1 run (pass failed)
B —Gibson 1 run (Olson kick)
WF — Hoy 63 run (Hoy pass from Cameron)
B — Jones 11 run (Olson kick)
B — Dubord 19 run (Olson kick)
B — Gibson 1 run (Olson kick)
RUSHING: B, Dubord 24-142, Gibson 7-20, Bauer 9-31, DelaBarre 5-16, Ford 7-23, Jones 1-11. WF, Olsen 4-7, Hoy 5-75, Helland-Davis 3-(-4), Cameron 4-11, Raphael 5-3, Ekerberg 3-29.
PASSING: B, Gibson 4-11-2–29. WF, Hoy 1-1-0–14, Cameron 3-9-0–48.
RECEIVING: B, Schulz 1-10, Sease 1-3, Hegre 1-6, Hellebust 1-10. WF, Rindy 1-14, Hoy 2-17, Gilbertson 1-31.