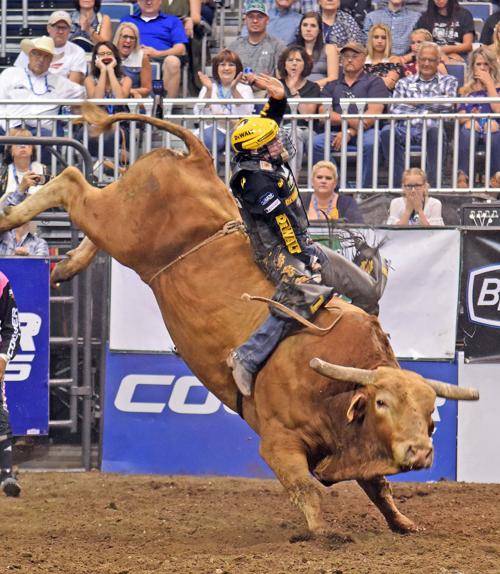 Cooper Davis saved the best for last Friday night.
The 2016 PBR World Champion was the only of 13 bull riders to stay on his beast to win $25,000 at the opening night of the $100,000 Match of Champions at the Bismarck Event Center.
Davis was scheduled as the last rider and put on a clinic on top of the feisty bull, Stretch. In collecting the top prize of the night, Davis also registered the best score of the entire show with a mark of 91.5.
"He's a small bull, but he's got a big heart," the Jasper, Texas rider said. "He bucked hard the whole time."
Two-time world champion J.B. Mauney had a re-ride after Davis' stellar showing, but was unable to stay aboard. Mauney appeared to be banged up after being launched into the chute by Livin' Large on his first attempt.
On Saturday night, all 13 riders get another crack at $25,000 and the grand prize of $50,000 for the best combined score, which Davis has a clear inside track at. The winner also takes home a $45,000 belt buckle and a $12,000 saddle.
TRIPLETT CONQUERS SHOULDER SURGERY
Last November, Chad Triplett had to go under the knife after suffering a significant shoulder injury.
About six months later the Columbia Falls, Mont., native is back on the top of his game – and one of the best bulls going.
You have free articles remaining.
Triplett posted the top score in four sections of bull riding in advance of the $100,000 Match of Champions on Friday night.
Triplett's 89.5 points on Beaver Creel Beau from seven-time Stock Contractor of the Year Chad Berger topped the field, earning him valuable season points and a silver spur.
"It's huge. Chad puts on a such a great event. There's tons of money up for grabs and some awesome prizes, this spur is sweet," Triplett said. "You have to come to an event like this if you're one of the best bull riders or want to be one of the best.
"There's world champions here … all the big name guys are here. This is the place to be."
Triplett said he's 100 percent after surgery to repair a torn labrum which required cutting out a chunk of bone and inserting two screws.
"Being a bull rider you're always sore, you just have to deal with it," he said. "I feel like a 100 (percent). I'm happy to be here."
It was a bit of revenge, too.
"You're just trying to get forward and trying your butt off," Triplett said. "That bull's bucked me off twice, it was time to get back at him."
Notes
Texas was the home state of 15 of the bull riders competing Friday night, most of any state. Montana produced five including 2017 PBR World Champion Jess Lockwood and his brother Jake. … Seven competitors are from Brazil, including three-time world champion Silvano Alves. ... Renato Nunes of Brazil came out of retirement for the event, but was unable to register a score on top of Red Bandana. Nunes led Team Brazil to the world team title last week in Australia. ... Clint Hill, the famed Secret Service agent, who protected Jackie Kennedy after President John F. Kennedy was assassinated in Dallas in 1963, was honored before the action began. Hill was born in Larimore, N.D., and went to high school in Washburn. Hill served under five Presidents from Dwight D. Eisenhower to Gerald Ford.