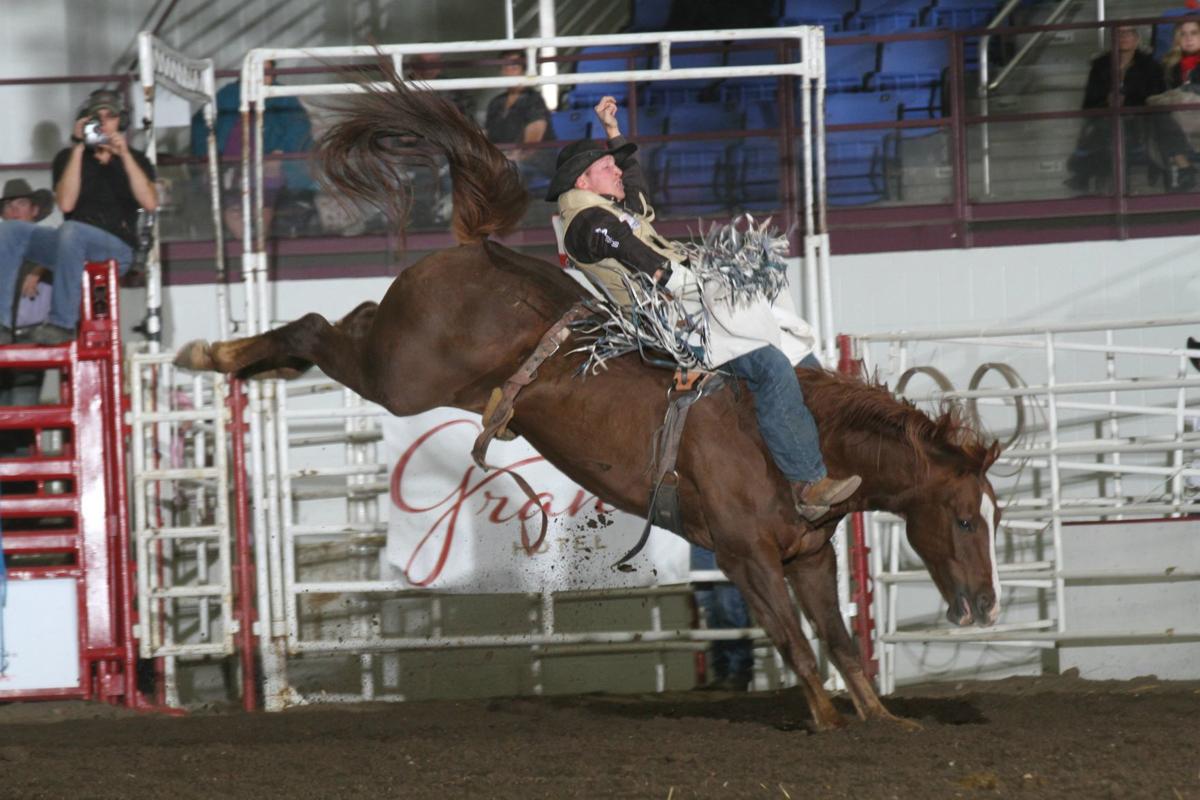 One of the top bareback riders in pro rodeo, Ty Breuer is used to getting banged around.
Typically, however, it's on the back of a bucking bronco.
Last month in Saint George, Utah, the Mandan rodeo star walked away from a different kind of harrowing event.
In Utah for the Dixie Roundup, Breuer was traveling with fellow bareback riders Steven Dent and Tanner Aus. The trio was stopped at an intersection in Dent's van when a driver, doing 45 miles per hour, ran a stop light and plowed into the vehicle occupied by Breuer, Aus and Dent.
The van flipped onto its side, causing a total loss to Dent's rodeo-sponsored "decked out" ride. 
Somehow, Breuer, Aus and Dent escaped major injury. In fact, in true rodeo fashion, all three rode broncs later that night at the Dixie Roundup. Still, it was nothing short of a miracle things did not end up much worse.
"The good Lord was looking over us for sure," Breuer said. "The woman that hit us wouldn't get out of her car at first. She was crying and at one point said, 'is anybody alive?'
"We were able to crawl out of the van over the door and over the air bag. It made a guy step back and think, 'holy cow, that could have been a lot worse.' We were pretty blessed to be able to walk away."
Breuer suspected all three likely suffered some level of concussion, but not enough to keep them from competing later that night. In an odd twist, the driver that was at fault in the accident was a rodeo fan and had planned to attend the Dixie Roundup that night.
Following the rodeo in Utah, Breuer headed for Pendleton, Ore., the next night where he finished tied for second to seal his third straight trip to the National Finals Rodeo, the Super Bowl of rodeo.
Breuer currently ranks 12th in bareback in the PRCA World Standings with nearly $92,000 in prize money. Only the top 14 in the standings qualify for the NFR, which runs Dec. 6-15 in Las Vegas. Breuer has qualified for the NFR four times in his career.
About two weeks after Breuer's dangerous incident, another of his traveling partners -- J.R. Vezain -- suffered a devastating injury. At a rodeo in Pasadena, Texas, Vezain had a bronc flip and land on top of him, breaking his back and requiring surgery.
"We'd been rodeoing together all summer," Breuer said of Vezain. "It was a bad deal. We're definitely thinking about him a lot and praying for him.
To date in 2018, Breuer has rung up eight wins as he heads to Minot this weekend for the finale of the Badlands Circuit Finals Rodeo, which encompasses 24 rodeos in North and South Dakota. Breuer holds a commanding lead of more than $9,000 over Blake Smith.
"It's been a pretty good year overall," Breuer said. "You always wish you could've done a little better here or there, but for the most part I can't complain."
The Badlands Circuit Finals features rodeos at 7 p.m. on Friday and Saturday and 1:30 p.m. on Sunday in Minot. Breuer enjoys competing in North Dakota where he is always one of the main attractions. It also provides a level of convenience opposed to crisscrossing the country week after week.
"To be able to sleep in your own bed, then go rodeo that night, then be able to be back in your own bed the same night is awesome," Breuer said. "The support we get from the fans in North Dakota is great. I'm very appreciative of it."
After the Badlands Circuit Finals this weekend, Breuer plans to take a little time off before ramping up training for the NFR.
"I'm looking forward to staying home with the family and doing some work around here," he said. "I'll probably enter a rodeo in between, but it's nice to get a break and be able to spend time with the family."
Be the first to know
Get local news delivered to your inbox!