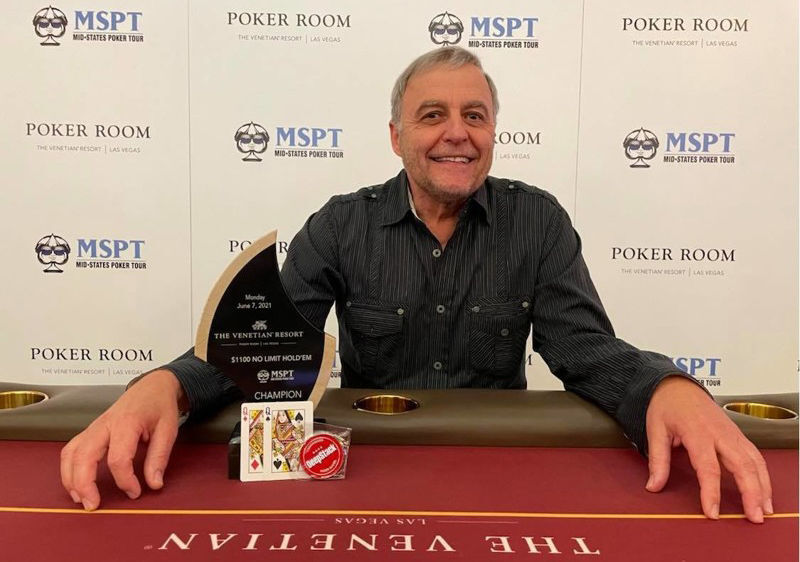 Harlen Miller skipped his niece's wedding last weekend to play poker in Vegas.
Turns out, both ended up big winners.
Miller, who lives in Mandan and grew up in St. Anthony, overcame long-shot odds late to win $367,801 at the Mid-Stakes Poker Tour Venetian $1,100 Main Event on Tuesday in Las Vegas.
The 63-year-old retired former office supply company owner, hit a king on the river with 8-to-1 odds at the time of the flop to beat Ryan Dodd, a pro poker player, who had to settle for second place and nearly $237,000. Miller was sitting on pocket queens to Dodd's ace-jack. After Dodd got a 10 on the turn, only a king or a queen could save Miller. He got the king for a straight.
Miller's niece, Macie Vogel of Bismarck, was getting married in Montana, but Miller had to follow his gut to Sin City.
"I just had a really strong feeling about this tournament. I had to go," Miller said. "I don't really know what it was, but I thought I could take it down, or get real close to it.
"I can get (Macie) a better wedding present now."
Even without Harlen in attendance, there was still plenty of Miller representation at the matrimony. Harlen Miller has 12 sisters and six brothers, with no twins.
"I figured if one was missing, it wouldn't hurt anything," said the affable Harlen Miller, who works in foster care now.
Miller's mother Irene is 94 years old and will participate in the Settler's Day parade Saturday in Center.
Miller has been playing poker for about 15 years, he estimated, but it's been profitable. He's won over $500,000.
"The first one was the Bismarck Elks were having a Texas hold 'em tournament. I didn't know what I was doing," he said. "I brought a crib sheet so I would know what poker hand beat the next poker hand."
While many poker pros get deep into percentages and analytics, similar to saber geeks in baseball while playing, Miller is old school.
"I kinda go by my gut," he said. "The cards don't know those percentages."
The tournament in Las Vegas had a $1,100 buy in and featured 2,790 players. He started playing on Thursday and by Monday had qualified for the final table -- last nine players -- and at worst $40,385. Of the last nine players, four were pros.
In the final head-to-head, Dodd held a 56 million to 8 million chip advantage before he was "Harlenized."
"Around here I play a lot of RPT (Roughrider Poker Tour) tournaments and I kind of have the reputation for the miracle card," Miller said. "They call that getting, "Harlenized."
Good fortune factored into his win, as it always does in poker.
"There were a few hands where I should've been out of the tournament but for some reason that didn't happen," he said.
He was more than happy to share the wealth in the immediate aftermath of his win.
"I guess one of the highlights of the whole thing was when it was over, I handed out a few hundred dollar bills to some of the homeless," Miller said. "You could tell how thankful they were. It felt pretty good to be able to do that."
Some of the money will go to family as well. He has two sons, plus grandchildren.
"I'll be able to enhance their college funds," he said, "and I have to get Macie that gift."