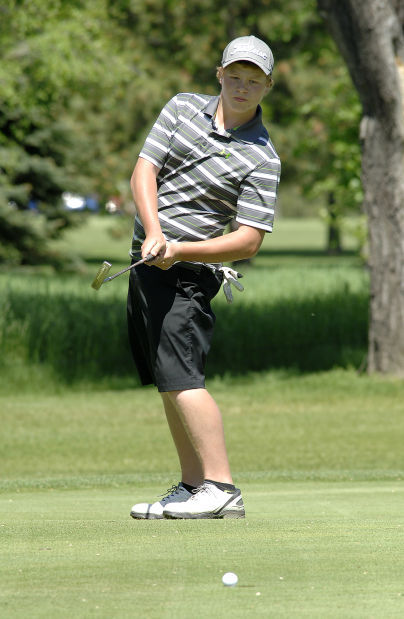 It would be easy to get intimidated with golfers like Jake DeForest and Nick Myhre hitting off the tees.
DeForest claimed medalist honors at the Class A boys state tournament while Myhre won the Class B tourney this spring. DeForest is from St. Mary's and Myhre is from Rolette.
Jack McClintock welcomed the challenge on Tuesday afternoon during the first day of the NDGA boys junior championship. McClintock carded a 1-over 70 to lead the pack at Tom O'Leary Golf Course.
The tournament wraps up today at Tom O'Leary.
DeForest, Myhre and Colton Murphy of Mandan are in a three-way tie for second place with a 73.
"I think I can compete with them pretty well," said McClintock, who will be a senior at Rugby High School in the fall. "Nick and I go back and forth all year. We are in the same region in high school. It's pretty even out there.
"They are good golfers. They just didn't have as good of a day as I had. They aren't too far out of it. They can come back."
McClintock didn't come out of nowhere. He placed eighth at this year's Class B state tournament and finished in third place as a sophomore.
McClintock had never played Tom O'Leary before Monday. He golfed the front nine on Monday to try to familiarize himself with the course.
He benefitted from three birdies on holes No. 1, 11 and 15 Tuesday.
"I've been shooting pretty good scores lately," McClintock said. "I didn't play as good as my score showed. I could have played better. I made a couple birdies I shouldn't have. I think my putting was pretty good. My driver was straight and consistent off the tee.
"It was a beautiful day to golf. There was no wind at all. It was one of the best days you could have for golf."
McClintock's focus for today will be trying to hold on to his three-stroke lead.
"I'm going to play it safe and try to maintain my lead," McClintock said. "I want to hit the greens and make a few birdies, if I can."
Kathleen Marsh of Fargo leads the girls division with a 75. Sierra Bennion is in second with a 79.
The girls tee off today at 9:30 a.m. while the boys start at 10:08.
1. Jack McClintock 70. 2. (tie) Jake DeForest Nick Myhre, Colton Murphy 73. 5. (tie) Matt Schirado and Connor Hellman 74. 7. Josh Steen 75. 8. Taran Albright 76. 9. Adam Van Raden 77. 10. Jordan Christianson 80. 11. (tie) Zach Aasen and Kendric Heck 82. 13. Ryan Clancy 86. 14. Victor Fleck 88. 15. Seth Hetzel 90. 16. David Bachmeier 91. 17. Cole Svihovec 93. 18. Gehrig Geiss 95. 19. Adnrew Hopkins 96. 20. Tyce Halter 105. 21. Cole Christianson 118. 22. Jaxon Lundeen 126.
1. Kathleen Marsh 75. 2. Sierra Bennion 79. 3. Jennifer Marsh 81. 4. Katie Kasper 87. 5. Sydnie Mongeon 93. 6. Cortnie Mongeon 116.