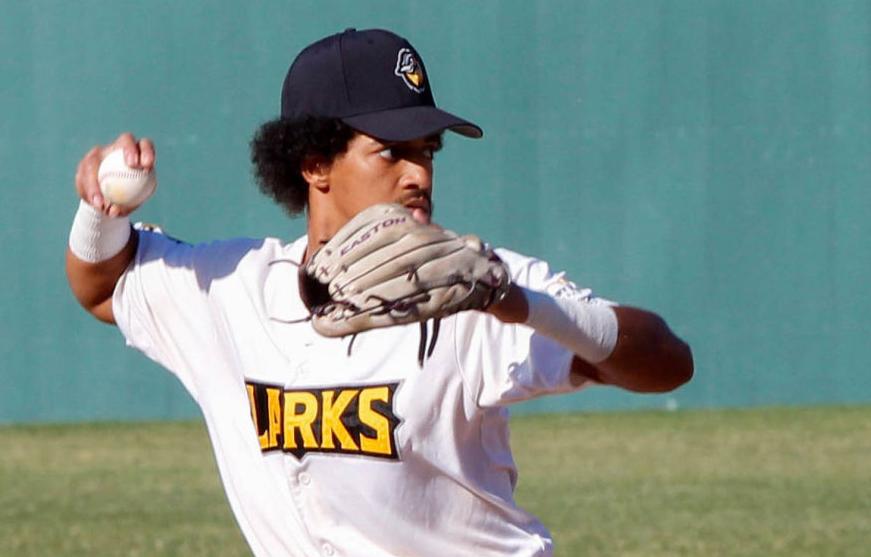 Kamron Willman is from California. He's played D-I college baseball in Kansas and soon will do so in New Mexico. But, the Northwoods League All-Star had a blast in Bismarck this summer.
The Larks' top hitter did not know what to expect when his buddy from Bakersfield, Larks assistant coach Joey Cooper, convinced him to play summer ball in North Dakota. For Willman, it's been a home run.
"It's been so much fun. Just a great group of guys here. Coaching staff is awesome and of course the city and these fans are unbelievable," Willman said. "Being from California and playing in Kansas the last two years, I didn't really know what to expect coming out to Bismarck, North Dakota, but I've been treated so well. It's been an experience I'll never forget."
Willman's last game as a Lark was Tuesday night in Mankato as the starting shortstop for the Great Plains team in the NWL All-Star Game. After playing the past two seasons at Kansas State for the Wildcats, Willman is transferring to New Mexico to play for former North Dakota State head coach Tod Brown with the Lobos. Before he heads to Albuquerque for fall ball, he has some loose ends to tie up in Manhattan.
"My lease is up, so that's the main reason I have to leave so early," he said. "I have to move out, clean all that up. Then I'm going to go back home for a couple weeks to see my family, then drive out to New Mexico."
Larks manager Will Flynt said from the start that Willman was an impact player. He did not disappoint.
"Kam has to leave, but it was great to have him here," Flynt said. "Terrific ball player. Everyone could see that, but just an awesome kid. He's just a talented all-around dude."
After hitting .295 with three home runs and 24 RBIs for Kansas State during the college season, Willman brought that same stick to Bismarck. He led the Larks with a .307 batting average. In 22 games, he drove in 22 runs and scored 18 times.
Willman, who also excelled in the classroom at Kansas State, earning Academic All-Big 12 First Team honors this past season while studying communications, brings an honest assessment each day to the ballpark.
"I just feel like I can improve at everything. I can get stronger and faster. I can be a better hitter ... add more range in the field — just everything. You can't ever think like you got it all figured out. It don't work like that," he said. "The game respects those that grind, so that's what I'm going to continue to do."
Willman has the look of a pro. At 6-foot-3, 175-pounds, he has a smooth right-handed swing and fluid motions in the field.
"At some point in my life, I want to be able to call myself a professional baseball player. Every day that's what I'm working toward," he said. "I feel blessed to be able to play this game and I'm going to give everything I can to get the most out of it, wherever that leads."
He hopes the next step toward a pro career is at New Mexico, where Brown was hired last month after leading the Bison to their first NCAA tournament.
"Coach Brown has a really good baseball mind. He got NDSU to regionals, so he clearly knows what he's doing and what it takes to build a strong program," Willman said. "He's really excited to get everybody out there. I'm just looking forward to helping that group of guys win ball games."
He said his time in the Northwoods League exceeded his expectations in more ways than one.
"It's been a blast being here. The Northwoods League, this is a grind, but if you want to play at the next level, this is the type of stuff you need because this is how it is," Willman said. "Everything in Bismarck was great. I'm so appreciative of how I was treated. I have to thank my host family, Johnny and Adrian, they made this experience 10 times better. They're really good people. To have somewhere safe and chill to go after a long day of baseball, I can't thank them enough.
"I had just an awesome time here. Could not have asked for anything more."