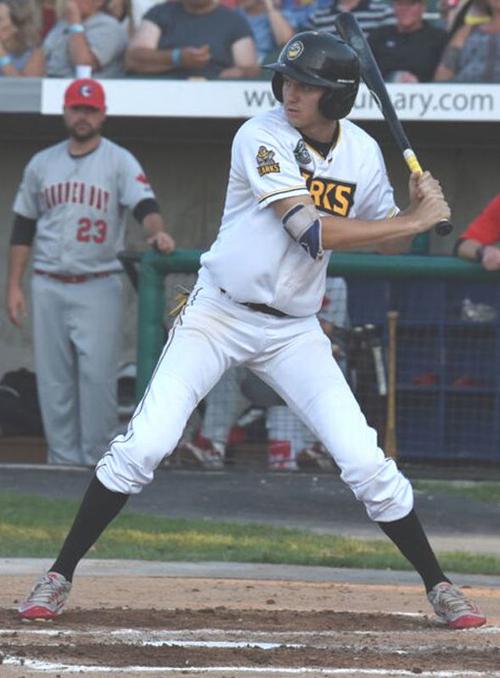 On the final night of the Northwoods League season last August, the Bismarck Larks paused the game in the ninth inning to pull fan-favorite outfielder Wyatt Ulrich off the field to a farewell ovation from the fans in his last game as a Lark.
 Ulrich, from NCAA Division III St. John's (Minn.) University, had spent three years proving his skills against players from larger NCAA Division I and II programs.
 On a sunny August afternoon, his run was finally over. He came off the field to a hug from former coach Sean Repay in the last Larks game for both player and coach.
 "They decided to take me out in the ninth inning in front of everyone. It was awesome. It brought me to tears," Ulrich said.
 With hugs, handshakes and postgame photos, Ulrich's Larks career had come to an end. Then, nine months later, it didn't.
 When COVID-19 wiped out St. John's 2020 baseball season, the NCAA granted spring athletes another year of eligibility. That meant Ulrich would get an extra year of college ball and he will play it with the Richmond Sypders, an NCAA Division I university.
With his college career still alive, he needed somewhere to play this summer. There was only one place Ulrich considered.
 "I just want to play baseball, it's plain and simple to me, and I love Bismarck," Ulrich said. "I fell in love right away. Everything about it seems like home. And I need somewhere to play."
Ulrich and the Larks season opener is six days away.
"He is the mayor," Flynt said with a laugh of Ulrich. "I knew pretty much what Wyatt was just by talking to (Richmond coach Tracy Woodson). He loves having him. The kid knows how to put the ball in play and use his speed. He saw one video and said I want this kid."
 Flynt said his only goal for Ulrich this year is to have fun.
 "You can't forget to have fun. A lot of coaches don't want kids to have fun," Flynt said. "He's going to be a leader. To have him show these guys what a great place this is."
 And to remind them how easy this season will be when the games pile up but travel doesn't. Ulrich has three years of grueling Northwoods League bus travel behind him.
 "Wyatt's going to enjoy this. He's going to have more fun, and he's going to be a guy going 'you don't know what we had to go through. This is awesome.'"
Two other teams, one of Thunder Bay (Ontario) Border Cats players and the other featuring some other players sought by the Larks and those that contacted the team when their seasons -- like the Cape Cod League -- were canceled.
 The three teams will play 48 games each over 72 nights at Bismarck Municipal Ballpark.
 Ulrich showed up in 2017 on a temporary contract and stuck with the Larks that whole inaugural season. He hit .246 in 55 games, banging out 48 hits and scoring 31 runs. That season, Ulrich drove in 17 runs, walked 33 times.
 The Northwoods League prides itself on developing players for the next level. Sometimes that development takes a little more time that people think it should.
 In early 2018, Repay made a tough decision to cut Ulrich after the temporary contract was up.
"I didn't play too well at the end of the contract. He just said he had to fill the roster with throwing people. He said the first person to leave, I'd be the one he'd call," Ulrich said. "I had just got home for one or two days and I came back."
 Ulrich hit .257 in 51 games after his return. He had 46 hits, scored 34 runs, drove in 18 runs and stole 10 bases. But that was just a tune-up for what would come in 2019. That season, Ulrich -- an all-star selection -- drove in the only two runs for the Great Plains team at the all-star game.
 When Ulrich left the field that August day, he was hitting .323 (26th in the league for average). He was tied for the league lead in runs scored (69 in 70 games), third in stolen bases (32), tied for fourth in hits (82), sixth in walks (52), tied for sixth in triples (4) and tied for 14th in runs batted in (40).
 In the field, Ulrich led all centerfielders with seven assists.
 It would have been a glorious ending, until COVID-19 threw everybody a curveball.
 "I assumed no one was going to work, summer-team wise, around the country, but I saw that John (general manager John Bollinger) was trying to figure out ways to get around it and be safe at the same time," Ulrich said. "John and his crew found a way to get it done. I'm thankful. I need to play some baseball."
 Ulrich doesn't think there has ever been a four-year player in the Northwoods League. There certainly won't be a five-year player.
 Ulrich understands this summer and next spring might be it. Unless he has a season like last year.
 "I still have a dream of playing baseball professionally and if I make it and eventually get cut, they'll have to pry me off the field," Ulrich said. "I have a degree in accounting and finance and I'll be able to get a masters. I'll probably work at a firm. Not sure what I'll be doing other than working with money."
Be the first to know
Get local news delivered to your inbox!