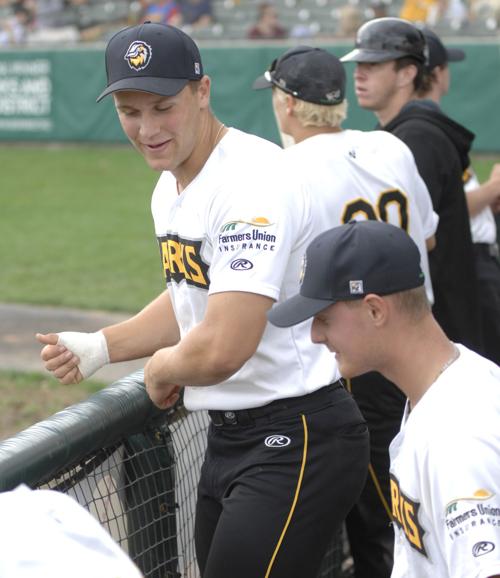 Cole Hage is from Fargo, but he's been knocking the cover off the baseball in Bismarck this summer.
Hage homered twice for Fargo Post 2 at Municipal Ballpark during the summer season, including a key two-run shot in the state Class AAA Senior Babe Ruth championship game on Aug. 8 against West Fargo. Post 2 won that game, and the state title, 5-4. He also went deep playing the Bismarck Governors here in June.
About a week after the Babe Ruth season ended, Hage found himself back in Bismarck, this time with the Larks. The uniform has changed, but the results have not. In seven Northwoods League games, Hage is hitting .409, following a 1-for-4 outing in Sunday's 2-1 win over the Mandan Flickertails.
"I knew I'd see some good pitching and that's what makes it fun," Hage said. "In Legion there are some good pitchers but not where every game you're going to see guys throwing upper 8s, which is what I really need. It's been a challenge because I haven't seen that before. In order to get to the next level that's the kind of pitching I need to see."
Hage, an all-state baseball player and an all-region basketball selection at Fargo Davies, has played primarily first base for the Larks, but also has pitched. Will Flynt, Larks manager, has been very impressed.
"The kid's a stud," Flynt said of Hage. "He can run. He's got a good arm. We've seen how he swings it. He's a beast."
Hage is headed to Columbia to play D-I baseball in the Ivy League, although he'll remain in Fargo to take classes online in the fall due to COVID-19-related restrictions.
Hage is excited to eventually head east.
"The family culture of the team and the coaches are awesome. I really wanted to go where it was like a family, where the team does everything together," Hage said. "Then with it being in New York City and of course the type of education you get, and I loved the (baseball) field ... all of that kind of melded together and it was tough to beat. It's like Disneyland."
Flynt sees serious upside for Hage, who is built like a rock.
"The kid, as far as (pro) prospects, besides (Noah) Kandel, he's it for me," the Larks' manager said. "He's very coachable, he's like clay, you can mold guys like that. I'm really impressed. I love this guy."
Hage will finish out the Northwoods League season, which is down to its final week, with the Larks. After Monday and Tuesday night's games, the Larks and Flickertails will play a best-of-three series for the North Dakota pod title, starting on Wednesday.
Andrew Brooks, a pitcher at the University of Mary, got the win on Sunday for the Larks with two scoreless innings of relief. Brooks has a 2.60 earned run average in 17 1/3 innings with 26 strikeouts for the Larks.
"Andrew's been really good," Flynt said. "I think this summer has been great for him and Paxton (Miller). I think they're going to kill it next season (for U-Mary)."
Sunday's game only had 10 hits combined. Tommy Wellen fired three scoreless innings for the Larks. Dak Finley tossed two clean frames.
Flickertails' pitcher Hunter Cooper was excellent in a losing effort. Cooper allowed just two runs -- one earned -- over seven strong innings for Mandan.
Not only have the rosters experienced heavy turnover this summer, so too now have the coaching staffs. Flynt will manage the Flickertails Monday night against the Bull Moose, a team he also is responsible for.
"I got to coach them (Saturday), it was fun. They're good kids, a little goofy, but really good kids," Flynt said of the Flickertails. "The guys that are here, they're getting after it, they're getting better, and hey, they're having fun. That's the biggest thing."