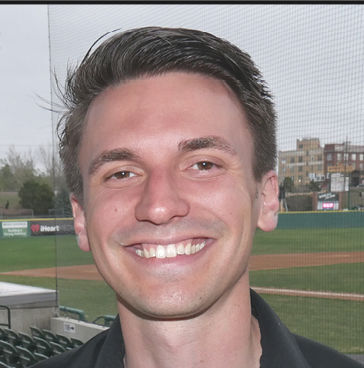 Last summer's Northwoods League season was like an obstacle course for John Bollinger and the Bismarck Larks.
Expenses were up, revenues were down, but in their fourth season, the Larks were still able to turn a profit during a pandemic. More importantly to the perpetually upbeat and energetic Bollinger, there was still plenty of fun at the ballpark.
"We did what we always set out to do, and that's to use fun to make a difference," said the Larks general manager. "In the span of six weeks, we planned a whole new season. We had three teams, two of which we didn't know where the players were going to come from. We had to see where our fans were at. Where our sponsors were at. I was just so proud of our entire community, the teams and our staff with the Larks.
"It wasn't our best year (financially). We don't want to have to do that again, ideally. But we did what we set out to do, so from that point, mission accomplished."
From mid-June through early September, the Larks, Bismarck Bull Moose and Mandan Flickertails each played 48 games. Even more impressively, Larks manager Will Flynt and Bollinger effectively filled all three teams twice after the first wave of players returned to their colleges and universities in early August.
"It was like two different summers," Bollinger said. "Will deserves so much credit. It was like he had to recruit six teams. Just based on the unique nature of the season, with Covid-related stuff and everything else, he was constantly looking for players. It was incredible. He was always able to find 19-to-21-year-olds that wanted to play.
"He was able to keep pulling rabbits out of the hat."
Needless to say, the Larks are hoping for a return to normalcy next season, or at last something close to it. Along those lines, the Northwoods League released its 2021 schedule on Tuesday. Optimistic as it may seem right now, all 23 teams are scheduled to play the typical 72-game schedule, 36 at home and 36 on the road.
"The Northwoods League dictates the schedule and they are planning to get back to some sense of normal. Things change so quickly, but they are moving forward with the schedule and that's exciting," Bollinger said. "Obviously, we're going through a tough time right now with Covid in North Dakota and our community, but over the next few months with the vaccine and how things are progressing, the experts are saying things could get back to normal possibly by the summer.
"We're always going to err on the side of caution, and safety will always come first. But we're going to plan to start the season on time. If we have to adjust, we will. We've proven we can do that."
The Larks are scheduled to begin the season on May 31 against the Willmar Stingers. Flynt, as usual, is full steam ahead. Bollinger said 23 players are already lined up for the roster, including a large batch of returners.
"Guys love playing for Will," Bollinger said. "Will's a baseball nomad. I was talking to him the other day. He's playing in a league in Texas and had just pitched three games in the same day, this 60-year-old guy. He's one of a kind. His home is at the ballpark."
Next season's schedule for the Larks features 14 home games in June and July, and six more in August. The nine-team Northwoods Division includes  the Larks, Duluth Huskies, Eau Claire Express, La Crosse Loggers, Mankato MoonDogs, Rochester Honkers, St. Cloud Rox, Thunder Bay Border Cats, Waterloo Bucks and Willmar Stingers.
"We just want to thank our fans for helping us get through last year. It was tough, but we are so thankful for the support we have in Bismarck, Mandan and the surrounding area," Bollinger said. "We're really excited for 2021. Hopefully we'll get to see everybody back at the ballpark next summer, safely."