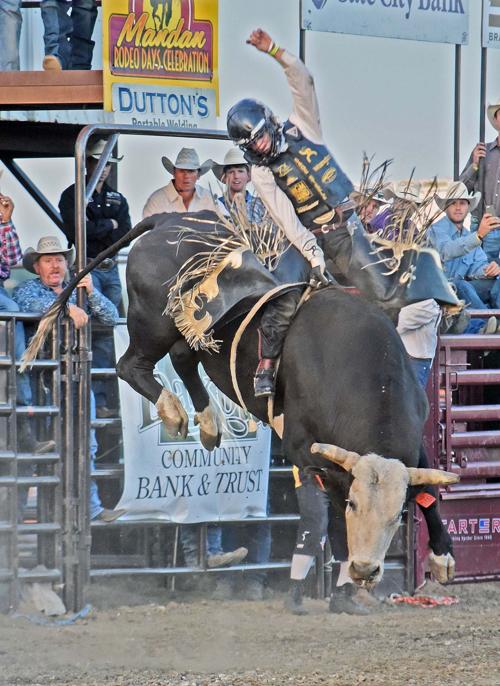 Sage Kimzey has experienced more thrills than your average 22-year-old.
Cripes, he's probably known more thrills than your average retiree.
 Still, there is always room for more. And Saturday night at the Mandan Rodeo Days Xtreme Bulls competition was one of them.
 Kimzey, a cowboy from Strong City, Okla., won the 40-rider Extreme Bulls competition with a score of 88. He took a victory lap and then bettered a world-class bull named Pearl Harbor in a $20,000 challenge match. It all occurred on a 97-minute span at the Dacotah Speedway grounds.
 The anticipation was worse than the doing, according to Kimzey. He said his date with Pearl Harbor, who has only been ridden once in the last two years, has been on his mind since it was arranged.
 "It wasn't that hard for me (to focus) tonight ... but I couldn't sleep for a week," he said. "All I could think about was getting on Pearl."
 Kimzey figured he earned $27,500 between the challenge match and his share of the Xtreme Bulls competition. Plus a commemorative rifle and a set of spurs.
 The bulls had the upper hand in the early going. Only two cowboys scored in the first section of competitors. Tim Bingham of Honeyville, Utah, was the first man to make it the full eight seconds, scoring a 75.75. Garrett Tribble of Bristow, Okla., followed quickly with an 85.5 on Pile Driver.
 Tribble, who checks in a 5-foot-6 and 145 pounds, said he was confident an 85.5 would earn him some money, possibly enough to pay for his six-stop Independence Day tour.
 "I thought I should place pretty good, because there had only been a couple of bulls ridden so far," Tribble observed. "Some nights 85 and a half will win."
 But not on Saturday. Kimzey, competing in the second of four sections, posted his 88 atop Big Black Cat to knock Tribble off the top of the standings just a few minutes later.
You have free articles remaining.
 So for the 20-year-old Tribble, it's off to Cody, Wyo., today and other stops in Montana, Utah and Oregon in the next few days.
 Kimzey plans to stay in Mandan to compete in the bull riding at today's full rodeo before heading to Minnesota, Oregon and Wyoming.
 Tribble said he'd never encountered Pile Driver before, but he'd done his homework.
 "This is the first time I've been on him, but I've seen video of him and I talked to a buddy who's been on him," he said. "You want them to buck ... and he's been in (Professional Bull Riding) short rounds, so he's a pretty good bull."
 Kimzey knew he was getting a handful in Pearl Harbor, a six-year-old bull that had been ridden just four times, most recently in April. The nearly one-ton bull has a 91 percent success rate at throwing cowboys.
 However, Kimzey, at 22, also has sparkling resume. He's a three-time world PRCA bull riding champion, the first title coming his rookie year when he was an 18-year-old.
 The clock had barely started on his battle with Pearl Harbor when Kimzey, a 5-7, 140-pounder, knew he'd cleared the biggest hurdle.
 "I left the chute with him good, and after his first jump I knew I had a good chance," he recalled.
 Late in the ride, Kimzey began to tip to the right, but he said there was no way he was going to let go of the tether so close to the finish.
 "I was pretty sure I could hang on," he said. "When you tip to the right and you're a right-handed rider you have a little leverage."
 For the books, Kimzey's ride on Pearl Harbor was scored at 92. He said he's probably had about 20 90s in his professional career.
 "Whenever you get a 92 its pretty special. It's one of the biggest scores of my career on one of the biggest stages," he said. "... And I have the memory of the awesome crowd in Mandan."
 Regular rodeo performances are scheduled today, Monday and Tuesday. All three rodeos will begin at 7:30 p.m. at the Dacotah Speedway grounds.