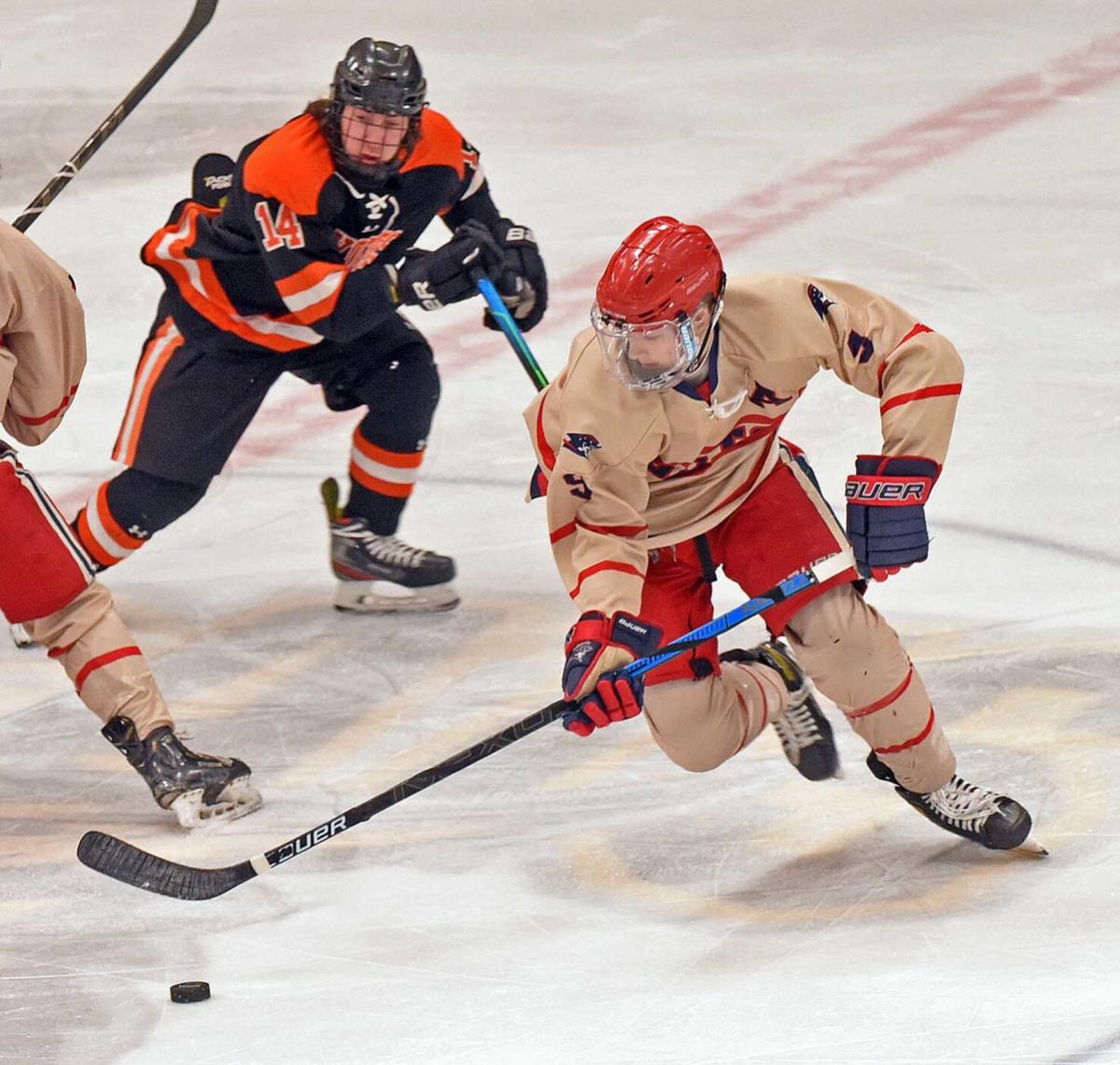 Century, and three other teams, start the state hockey tournament in unusual locations tonight -- at home.
The Patriots, Minot, Grand Forks Red River and heavy tournament favorite Grand Forks Central, get to host quarterfinal games on home ice. It's one of a couple pandemic-related adjustments to this year's tournament. The other of note being no consolation games. The losing teams tonight are done.
Tonight's winners head to Ralph Engelstad Arena in Grand Forks for the semifinals on Friday. The championship game, scheduled for a 9 p.m. start, and the third-place game, will be played on Saturday.
"It's different for sure, but after our semifinal win over Williston we knew we'd get to play at home on Tuesday," Century coach Troy Olson said. "That's definitely a positive. We weren't sure we'd even get to this point in the season. We're happy to be playing."
The Patriots, who have won 12 games in a row, host West Fargo tonight at VFW Sports Center. The puck drops at 5 p.m.
West Fargo went into the East Region tournament with a 5-13 record and No. 7 seed, but upset fourth-seeded Fargo Davies in a state-qualifier on Saturday to earn the 200-mile bus trip to Bismarck.
With no crossover games this season, scouting reports will lack the detail of normal seasons. Olson said his team's short prep time will be centered on themselves.
"The top four teams over there had been beating up on the rest of the conference for most of the season, so that definitely was a surprise," he said. "Give West Fargo credit. Obviously they're playing well right now, but we're not really concerned with who they put in front of us. Our focus is on ourselves and what we need to do."
The Patriots have scored 91 goals and allowed just 33 thanks in large part to a productive senior class.
Of their top nine scorers -- Colton Schulte (23 goals, 17 assists, 40 points), Alex Samardzic (14-16--30), Cullen Curl (7-18--25), Dawson Shirley (10-13--23), Cru Walker (7-8--15), Kieffer Long (7-7--14), Kadin Kisse (4-8--12) and Ryan Keup (6-3--9) -- eight are seniors.
"The seniors have been great. A lot of them came up through the JV ranks. It's awesome to see the staff developing those kids," Olson said. "When those kids put their mind to it, they've shown they can be pretty dang good. It's been fun to see them do well and grow into really good leaders for our team."
Century has three capable goalies, all juniors. Casey Odegaard is undefeated in 10 starts, including a shutout in the West Region championship game in Minot against the Magicians on Saturday.
Olson is hoping for more of the same from his team, which has not lost since Jan. 8.
"Just go in and do what we do well and obviously figure some things out playing a new team for the first time," he said. "We're playing pretty well right now and hopefully we can continue that."
Half of tonight's quarterfinals will be played at Purpur Arena in Grand Forks. Central (19-2) hosts Bottineau-Rugby (9-9). The Braves ended Bismarck High's 31-year state tournament streak with a 2-1 win on Saturday in Minot.
On the season, Central has scored 117 goals and allowed 29. 
At 4:30 p.m., Grand Forks Red River (17-5) welcomes Williston (10-8). The Coyotes are in the state tournament for the first time since the 2009-10 season. 
Minot (16-3) also gets a home game, hosting 13-7 Fargo South-Shanley.