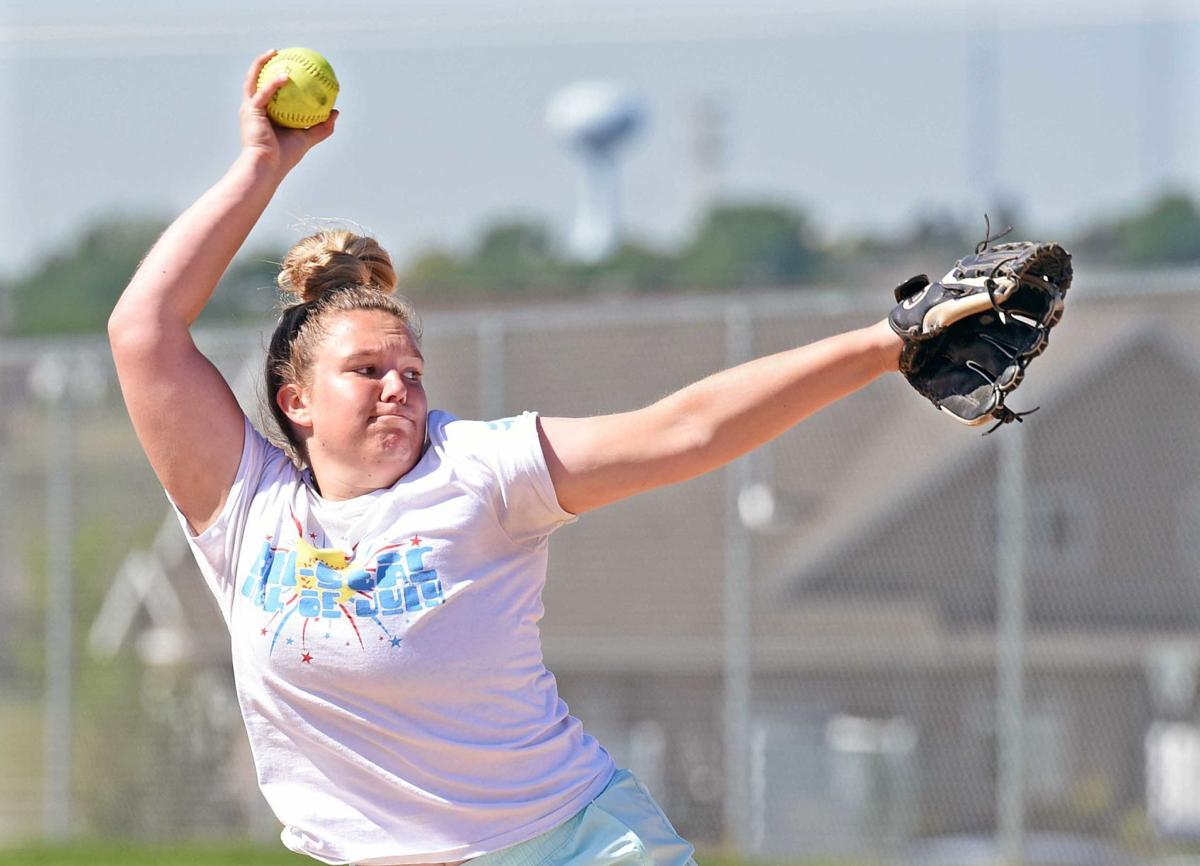 Maddy Zander's senior season softball stats pop off the page.
The recent St. Mary's High School graduate, who stars for West Region tournament champion Century, had a 17-3 record on the mound, and a .519 batting average at the plate with 10 home runs.
Zander pitched 115 of the Patriots' 201 2/3 innings this season, striking out 183 batters. At the plate, she drove in 41 runs and scored 44 times. The eye-popping numbers go on and on for the University of Jamestown recruit.
Century head coach Kevin Ziegler said Zander is an ace in every way.
"She's the most down-to-earth kid you're going to find. In terms of what you'd want from a team leader, you could not ask for anything more," Ziegler said. "She's unique in that she brings a calming effect to the younger kids. They look up to her. She's incredibly smart about softball. She's like having another coach out there, who happens to be this incredibly talented player." 
When asked a question, Zander not only answers, she explains. Considering her positive and upbeat demeanor, it seems fitting she plans to study elementary education and coaching while playing softball for the Jimmies.
Zander, who moved with her family from Mandan to Bismarck when she was 10 years old, has been a key cog for the Patriots for a half decade. She was on the varsity team as a seventh grader and has been Century's top pitcher since her eighth-grade season. This weekend's state tournament in Mandan represents the end of an era for the Patriots and Zander.
"It's a little bittersweet. I've kind of grown up in a Century softball uniform. I've loved it and I'm grateful for every opportunity," she said. "This season has been a blessing. Last year because of COVID, those seniors didn't get to have a season at all. We're very thankful to get one more week."
Had there been a softball season in 2020, Zander would have been watching from the dugout. She tore the ACL in her right knee during the basketball season of her junior year. She was not cleared for full athletic activity until mid-November of 2020.
"I had a little different road just with the rehab and trying to get through that was a challenge," she said. "You just try to remain positive, and I think the thing that I took from it was the mental part of knowing what you're doing is difficult, but it's going to be worth it in the end."
Maddy and her dad, Doug, who she credits with her love of softball, went back to the basics, like they did when they'd play catch in the backyard in the beginning.
"We started small and worked our way up," she said. "Even though I was limited physically for that period of time, there's still things you could learn and work on in terms of the fundamentals. 
"It was kind of like when I was a kid with my dad when we'd spend that time together just the two of us. That's where it started. It was just a fun thing to do with my dad and it grew from there."
It's grown into a career for the record books, Ziegler said.
"You look at what she's accomplished, and without the COVID year, some of the numbers she would have put up, they would not have been broken," Ziegler said. "In terms of Century softball, there haven't been many players like Maddy."
For her part, Zander doesn't focus on the individual awards, which includes being named the West Region Outstanding Senior Athlete. She does embrace being a team leader and the expectations that come with being a player for whom other teams prepare.
"I love talking about softball and strategies that come up during different situations. I think that's my responsibility, to be there for my teammates to offer support and encouragement," she said. "The first thing you want to try to do is be a good teammate, have good team chemistry and have fun. Above everything else we want to have fun."
Century (26-7) faces Grand Forks Red River (12-12) in the final quarterfinal game today at Fort Lincoln Field in Mandan.
Zander had to shoulder even a larger load with injuries to No. 2 pitcher Brooklyn Morris and fellow slugger Malee Wittenberg. Morris is 4-0 in 33 innings on the mound, plus a .494 batting average with three homers. Wittenberg has slugged six bombs and has a team-best 48 RBI to go with a .494 batting average. Both players are expected to play this weekend.
The Patriots also have leaned on Halle Mattern (.485, 3 HR, 33 RBI) and Lexi Duchsherer (.422, 1 HR, 33 RBI, 7 SB).
Century started preparing early for what figures to be a sweltering weekend with temps expected to approach 100 degrees every day of the tournament.
"We started Monday drinking water just to be prepared," she said. "We've worked hard all season and now we just have to relax and enjoy it."