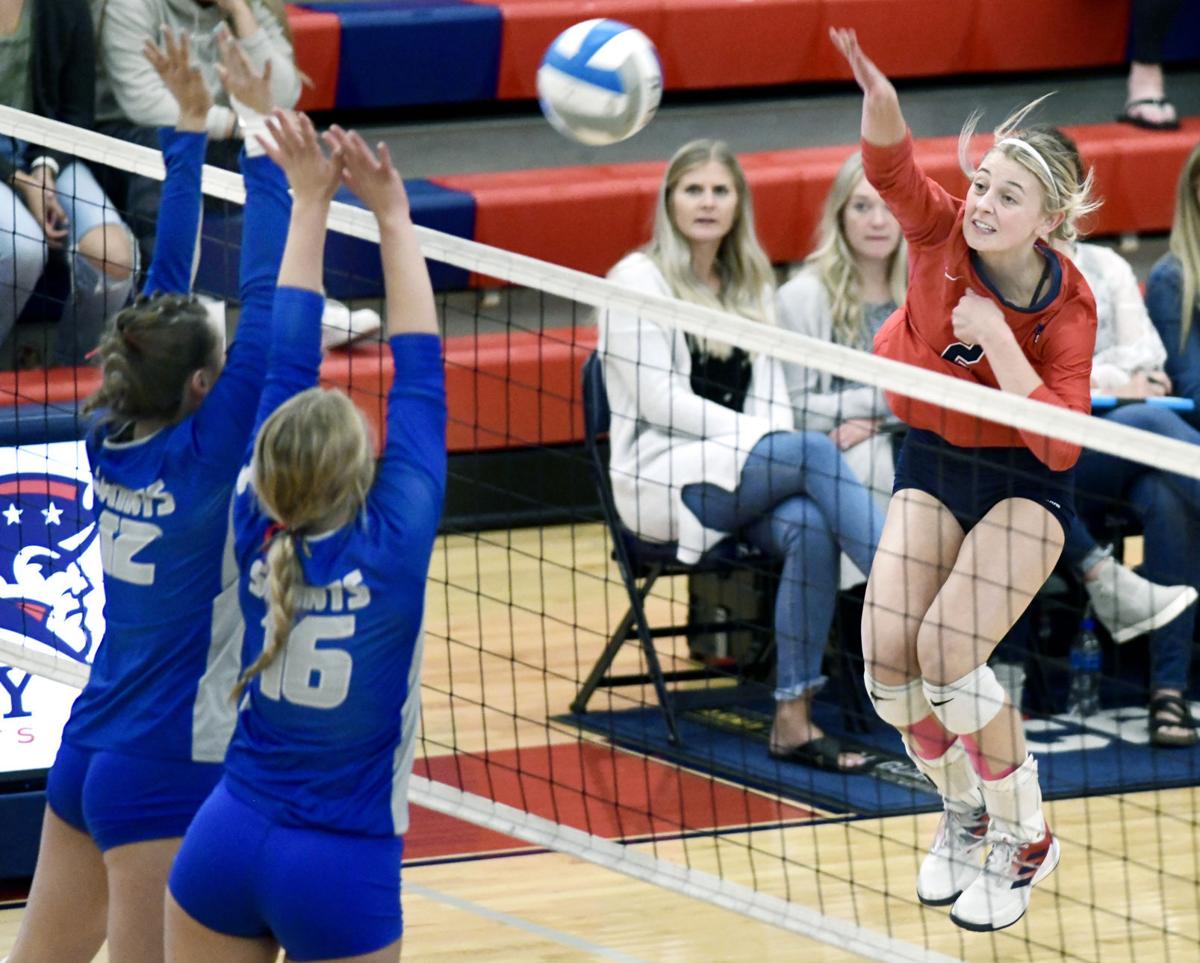 Driving themselves to avoid complacency was key in Century's 3-0 victory against St. Mary's, and it showed in their consistency throughout the match.
"Our big thing coming into this game was focus, energy, and concentrating on the little things," Patriots junior outside hitter Logan Nissley said. "We wanted to come in with a lot of energy."
Energy has not been lacking for No. 1-ranked Century this year, as they have built an 12-0 record early on in the season, and it was omnipresent throughout their 25-12, 25-18, 25-9 victory on Tuesday.
"Our girls were running some different rotations and we had some people back that haven't been playing together in a while," Century head coach Jamie Zastoupil said. "We put runs of three together and we played our fast-paced style."
A back-and-forth opening set had its momentum seized by Nissley and fellow junior Claire Bauman, as the two started slamming their powerful shots to the floor of Olson Gym.
"We blocked really well, got a lot of touches on the ball at the net, had a good serve-receive, and our back row passed well," Zastoupil said. "The girls ran routes well, controlled the pace of the game and had fun."
The turning point of the match came in the second set as the Saints were hanging tough and keeping the Patriots from the kind of run that ended their hopes in the first set.
"We got a little complacent in the second set," Nissley said. "When we did that last Thursday in Minot, we lost the third set, so our focus was on pushing through and keeping our energy high."
Several big St. Mary's blocks put them temporarily into the lead, before the Patriots surged back in front and finished off the second set with their 25th point.
"St. Mary's had a lot of grit and fight and went after the ball hard," Zastoupil said. "They got touches up at the net and slowed the ball down. They were playing together, shifting together and that was good for them."
Several service errors started Century off slow in the third set, but they quickly rectified their mistakes and scored points in bunches.
"We're at our best when we have energy," Nissley said. "We just have to keep our energy up and not get complacent when we're on those kinds of runs."
Complacency was nowhere to be found in the third set. A massive kill from Nissley ended the night in a clean sweep, sending the Patriot fans in attendance into raucous applause.
While her team did end the night defeated, Saints head coach Erica Trom thought there were lessons for her team to take away from a match with the undefeated Patriots.
"We need to work on getting our block closed all the time. That makes a big difference; when you leave a gap it throws our whole team defense off," she said. "The girls played their hearts out, they were running after every ball no matter what the score was, and stayed mentally tough."
Bauman and Nissley drove Century's offense, with Bauman tallying 12 kills and 2.5 blocks. Nissley filled up the score sheet with 10 kills, 18 digs, a block and two aces.
Junior middle hitter Mykendra Messer was St. Mary's spark plug, notching six kills, four blocks and four digs.
Both teams are on the road on Thursday. St. Mary's heads to Turtle Mountain. Century travels to Jamestown to face the second-ranked Blue Jays.