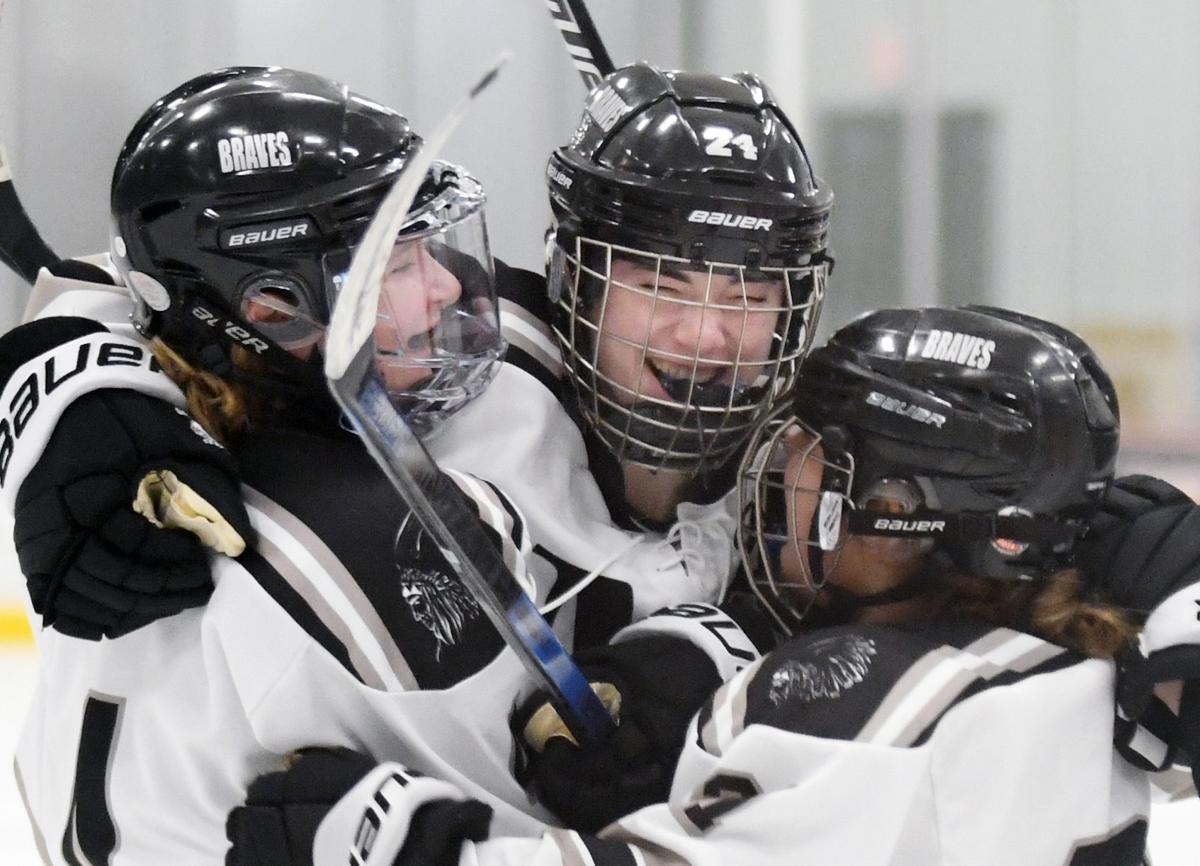 When junior defenseman Breanna Helbling suited up for Tuesday's hockey game with Dickinson, she had no idea what lay in store. She just knew Mandan needed a win.
 Well, she got the victory, and a lot more.
 Helbling, a third-year varsity player, scored three goals amid Mandan's 11-2 victory over Dickinson at the Starion Sports Complex. It's hard to imagine how she could have been more surprised.
 "I had my first varsity goal today, and my first hat trick," Helbling said.
 It was a long time in coming.
 "I've been on the varsity since my eighth-grade year, but I was injured my entire freshman year," she noted.
 The winning Braves didn't waste too many opportunities, scoring on 11 of the 27 shots sent Dickinson goalie Tierney Yoder's way. Dickinson managed just 11 shots on net.
 "My first two (goals) my teammates got it to me on the blue line," Helbling said. "The last one was a lucky bounce off the boards, and I had a breakaway all the way down. It was a great opportunity."
 Margaux Kautzmann and Maci Berg scored the first two goals and Helbling added two as Mandan opened a 4-1 lead in the first period. Berg also finished the game with a hat trick.
 Berg, Ana Ross, Helbling, Kenlee Edland and Ross again found the range in the second period, extending Mandan's lead to 9-2.
You have free articles remaining.
 Berg and Belle Holle tucked away Mandan's final two goals with the running clock mercy rule in effect for the final 17 minutes.
 Taia Klaman and Mataya Mortensen scored for the Midgets in the first and second periods, respectively.
Mandan won for the fourth time in its last six starts, pushing its point total to 18. That puts the Braves in a four-way tie for third place in the statewide standings with Bismarck, Grand Forks and Devils Lake. The top eight teams advance to the state tournament.
Thus, every point is valuable, according to Helbling.
 "These are really important points to us," she observed.
 There were only four seniors on the ice in Tuesday's game, two on each team.
  Mandan's girls hockey program was hit hard with at least a half-dozen seniors graduating last spring. That makes the two seniors, Helbling and three other juniors the nucleus that must show the younger players the ropes.
 "We're a really young team, and throughout the season we're getting more comfortable with one another," Helbling said.
  On the other end of the building, Dickinson coach Al Takle said the Midgets, 1-9-1 on the season, are fighting a similar battle.
 "This time of year we're fighting it a little bit. ... We had an all-state goalie (Baylee Kram) graduate last year, and that's a big difference," he observed. "We lost four other seniors who contributed, too, so we're trying to patch it together."
 Dickinson placed fifth in the state tournament last winter with a 13-11-0 record.
 Both teams return to action later in the week. Mandan plays host to Bismarck on Friday, and Dickinson visits Minot on Saturday.