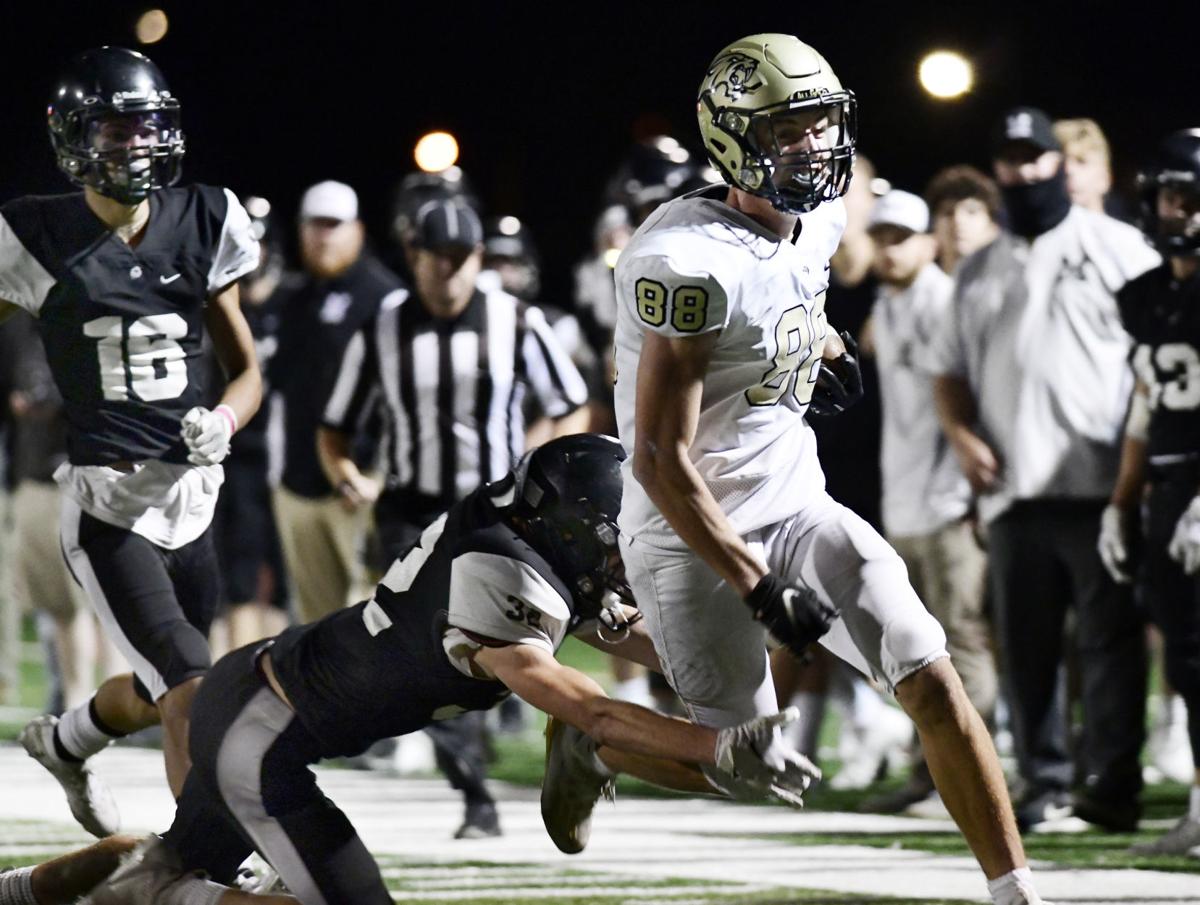 Legacy had been on the wrong side of a couple last-possession losses this season.
Friday night in Mandan, the Sabers were able to flip the script.
Legacy's defense came up with the decisive stop on a two-point play in overtime to earn a gutty 21-20 OT win over the Braves at Starion Sports Complex.
"When we play Todd's team, we know it's going to be knock down, drag out for 48 minutes," Legacy coach Chris Clements said. "Tonight it was 48 and more."
Both teams scored on their only OT possession.
Clay Feland found Sam Link open in the corner of the end zone for a 7-yard TD catch. The Sabers initially lined up to go for 2, but after a Mandan timeout, Clements reconsidered and sent out TJ Seidel for the kick.
"You take a lot of things into consideration. You listen to your coaches and just ultimately have to make the call," Clements said.
Mandan had a quick answer.
On second down, Jayce Lowman squeezed a throw through a tight window to Aaron Grubb for an 11-yard touchdown. Mandan coach Todd Sheldon chose to go for 2, but Legacy played the run heavy and there was nowhere to go.
"It's kind of a chess match there. We're trying to read their minds, thinking they were going to play the off-tackle play, but they shot the A gap and made a great play," Sheldon said. "We wanted to put it in the hands of our kids, Legacy just made a great call."
Overtime was needed after both teams scored late in the fourth quarter.
Lowman hit Tyler Thilmony on an inside route to give the Braves a 13-7 lead. Sarah Burgum's PAT kick made it 14-7. It was part of a huge game for Thilmony. He had 11 catches for 113 yards and an interception.
The Sabers came right back. After Nick Kupfer returned the kick 30 yards to the 40 yard line, Max Barrett went 33 yards on a screen pass. On the next play, Feland went to Kupfer for a 28-yard touchdown. It was the second score of the game for the UND commit, who had another monster night. Kupfer caught six passes for 128 yards.
"We had some big-time players make some big-time plays and in a game like this against a tough team like Mandan, you need that," Clements said.
The Braves got on the scoreboard first and needed just four snaps to do it.
James Barnhardt broke off a 30-yard run, breaking several tackles along the way, to the Legacy 5-yard line. Two players later, the 5-10, 185-pound senior battering ram pounded it in from 3 yards out to make it 6-0. Burgum's PAT kick made it 7-0.
Legacy drove deep into Mandan territory on its next possession, but Treys Tietz baited Clay Feland into a deep corner throw and stepped in front for an interception.
Feland kept throwing, though.
After a 16-yard run by Barrett put the Sabers at midfield, Feland went to Kupfer. The throw was high, but it was no problem for the 6-3 Kupfer, who high-pointed the ball, made two tacklers miss then raced into the end zone for a 50-yard touchdown.
Despite just 14 first-half points, there were plenty of fireworks.
Thilmony turned in a sparkling one-handed catch for the Braves, covering 31 yards. Later, Thilmony ended a promising Legacy drive with an interception. The shifty 6-0, 155-pound receiver returned the pick to the Legacy 20-yard line, but an illegal block brought the ball back to midfield. Mandan got to Legacy's 20 yard line on the ensuing drive, but the drive stalled at the 20 as time expired.
"We felt like we left a few opportunities out there with a couple fumbles and just things here and there. We haven't been a big turnover team this season," Sheldon said. "The kids battled. We expected a tight game and that's what we got. Really proud of the kids. We gave ourselves a shot, just came up about a yard short."
It was a big step toward the playoffs for the Sabers in what was in effect a must-win game.
"It's huge, no question," Clements said. "We've had a tough road to hoe playing teams like Century, Bismarck, Jamestown … those are really good football teams. We just talked about, OK, let's find a way. Tonight, I thought our coaches made a lot of great calls and the kids made some really big plays … we're just really happy right now to get this one in the win column."
Get in the game with our Prep Sports Newsletter
Sent weekly directly to your inbox!