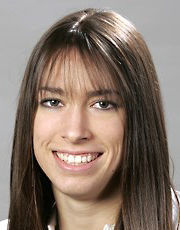 Kelsey Reimnitz lives an eclectic life.
Whether it's working on a watermelon farm in Central America, teaching English in Vietnam or simply traveling to Australia, the former Bismarck High basketball, cross country and track standout enjoys life untethered.
"When the weather is miserable here, a cheap (plane) ticket, some sun and I'm good," she said.
Reimnitz's "unconventional" life does include plenty of stability. Especially come fall and spring. Since 2017, she's been an assistant cross country and track coach at Legacy High. On Monday, the school announced she has been hired as the head coach of the Sabers girls cross country team.
"I'm really excited about the opportunity. I know the kids, they know me. I'm hoping to grow with the program," Reimnitz said. "I've really enjoyed coaching at Legacy. They've been great to me. I love everyone there."
After graduating from BHS in 2008, Reimnitz went onto a successful track career at Cornell University, an Ivy League school located in Ithaca, N.Y., which competes at the NCAA Division I level. Competing in the sprints, Reimnitz was a three-time Ivy League champion in the 4x400-meter relay. She also won a pair of ECAC championships.
She earned her degree in sociology from Cornell before spending one season as a graduate assistant basketball coach at the University of Mary. Then she got bit by the "traveling bug."
"I went to Thailand and ended up teaching English in Vietnam and loved it," she said. "Since then I've kind of been in a pattern of travel, come back, travel, come back. I travel a lot. I'm a big fan of it."
Now 30, Reimnitz is working toward getting her teaching degree, which may result in a more traditional lifestyle.
"Legacy is a great place," she said. "That is a possibility."
She said coaching basketball also interests her, but her focus is on cross country now. Like everyone else she's hoping there will be a season come fall.
"I'm trying to stay positive. Cross country, you can naturally kind of socially distance yourself," Reimnitz said. "It was such a bummer to not have a spring season. Those kids work so hard, then not to have it was really tough. Hopefully, things keep trending in the right direction and we'll be able to get out there this fall."
Get in the game with our Prep Sports Newsletter
Sent weekly directly to your inbox!