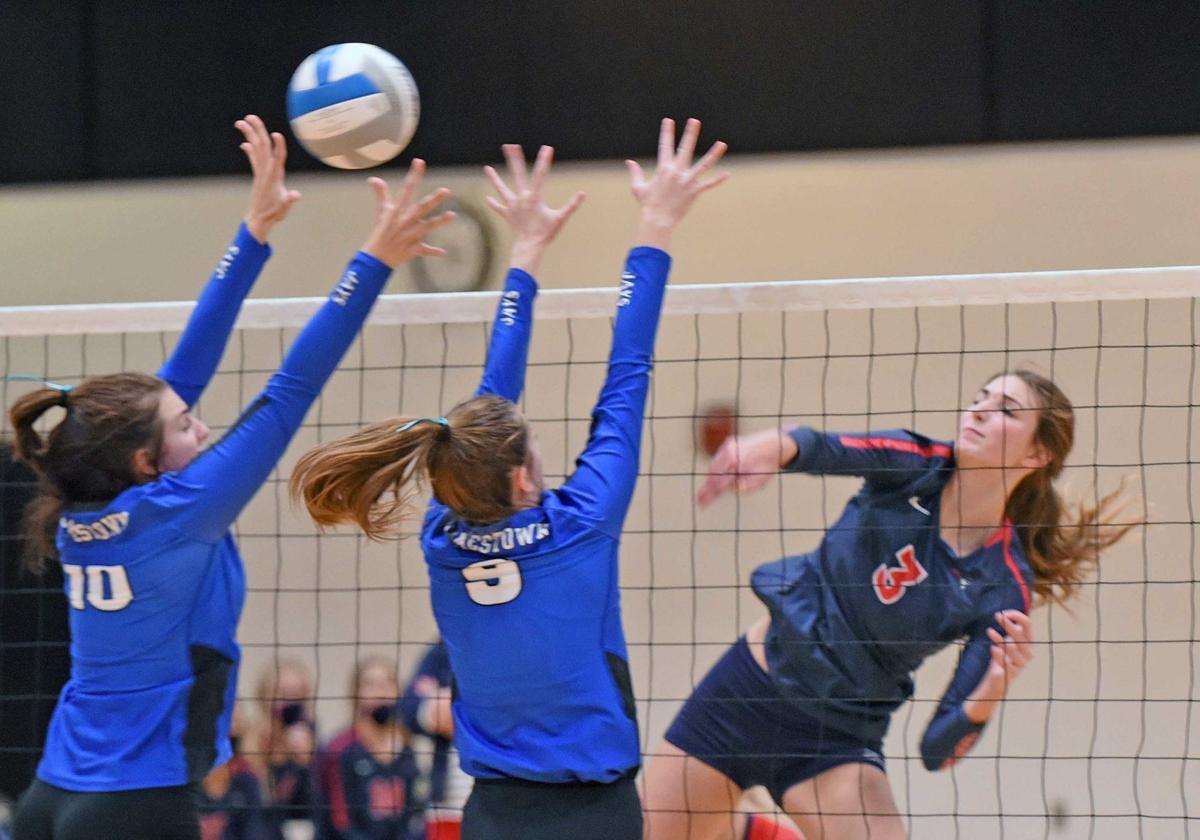 When you have a two-time all-state athlete who ups her game, you've got trouble. That's what Jamestown dealt with in Saturday's championship match in the West Region volleyball tournament.
There were times when Century's 5-10 senior all-state standout Julia Fitterer simply could not be stopped Saturday. She pounded out 21 kills while leading the Patriots to a 3-1 victory over Jamestown for the tournament title at Legacy High School's Haussler gym.
She saved the best for last, dealing eight counters in the fourth and final set as the Patriots capped off a 25-19, 21-25, 25-19, 25-19 victory.
Earlier in the day, Legacy and Mandan earned state tournament berths. Legacy downed St. Mary's 3-2 and Mandan defeated Bismarck 3-1 in state qualifiers. Century and Jamestown advanced by virtue of their positions in the regional title game.
As a fourth-year varsity player who has two state championships and a runner-up finish to her credit, Fitterer knows she's expected to lead.
"I try to show up in big games because I know my teammates are relying on me," she said.
Fitterer had four kills in Saturday's first set and followed with three, six and eight. She said there's more to it than just swinging well, though.
"As the match progresses you figure out how they're playing you ... and my teammates really help me out, too, by letting me know where to hit," she said. "... Credit to the back row, too. They kept us in system, and that really helps."
All four games were fangs-bared affairs with each point a battle.
"Both teams wanted this badly, and Jamestown is a very good team. We knew we had to fight for every point. ... We wanted to come out as champions, and we knew we had to play our absolute best to do it," Fitterer said.
The regional tournament championship was Century's seventh in a row.
None of the games were runaways. The first game was tied eight times and Century led only 19-16 before making its move late in the set.
Century pulled within a point, 20-19 in the second game before the Blue Jays scored five of the final seven points.
The teams fought through eight deadlocks in the third game. Neither team led by more than four points until the Patriots broke away by scoring eight of the final 12 points.
Century took off on a seven-point run to open a 20-12 lead in the fourth game, but Jamestown wouldn't go away. The Blue Jays closed to within four points at 22-18 before Century closed out the match on a Jamestown violation and kills by Fitterer, and Logan Nissley.
CHS coach Jamie Zastoupil said Saturday's win was a mixed blessing.
"We had a lot of fight. We were scrappy. I'd like to see us more in system. But we stayed collected and stayed calm," she said.
Jamestown coach Sara Hegerle said there's a definite downside to losing the regional title game.
"It's unfortunate that we have to start the state tournament after a loss. ... But we have learned from losses in the past, and not every team is like that," she noted.
Legacy 3, St. Mary's 2
St. Mary's led two games to one, but couldn't put the state-qualifying match away.
Legacy bounced through the first set 25-12, but the Saints rebounded to take the next two games 25-20 and 25-16. With their backs to the wall, the Sabers prevailed 25-16 and 15-11 to advance to the state tournament after a three-year absence.
Maggie Sorensen got the Sabers pointed in the right direction with 17 kills and 30 digs. Brooke Haas paced St. Mary's with 13 kills, six of them in the third game.
After a rough first game, the St. Mary's defense came around to make the match highly competitive.
"St. Mary's played some tough defense and we were hard-pressed to find some holes. ... We let ourselves get frustrated," Legacy coach Jennifer Astle said.
Mandan 3, Bismarck 1
Bismarck got off to a good start, taking a hard-fought first game 27-25, but the Demons couldn't sustain the momentum.
Mandan bounced back, but the road to victory wasn't an easy one. The Braves won the next three sets by five, six and three points.
Taylor Leingang put down 16 kills to lead Mandan on the road back.
Bismarck got 10 markers each from Caitlyn Allery and Kenadi Renner, but the Demons were hampered by nine service errors. They had only three aces.
Get in the game with our Prep Sports Newsletter
Sent weekly directly to your inbox!