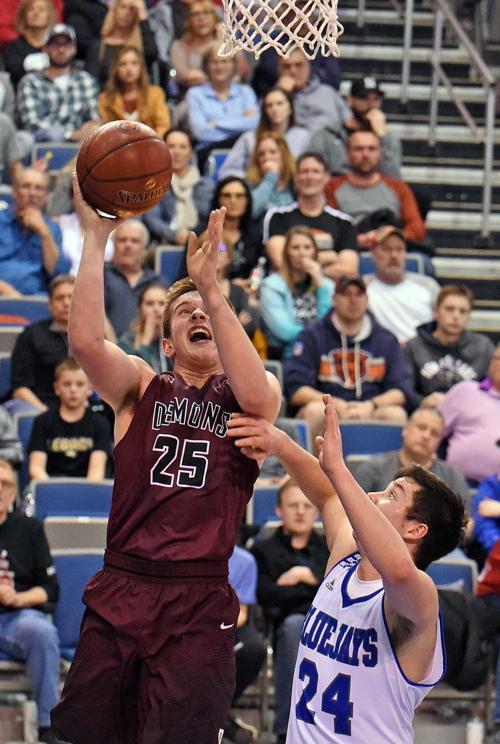 "Of all sad words of tongue or pen, the saddest are these, 'It might have been.'"
 John Greenleaf Whittier put that down on paper during the 19th century, but it is just as true today. Just ask the Bismarck Demons basketball coach, Jordan Wilhelm.
 A lot of hopes and dreams were left hanging when the North Dakota High School Activities Association shut down all activities indefinitely amid the state Class A basketball tournament.
  Shortly after the season abruptly ended, Wilhelm wasn't questioning the NDHSAA's decision to pull the plug due to the concerns over a coronavirus pandemic that has gripped the nation. Instead, he was trying to deal with something new in his 20-plus years of playing and coaching basketball. Never before has he been involved in a season that just stopped, rather than ending.
 "The thing you search for at the end of the season is closure. At the end, there's only one team that's happy ... but you can know you went out and gave it everything you've got. ... Now you've got four teams in North Dakota who didn't get that closure," Wilhelm said. 
 Bismarck, Fargo Davies, West Fargo Sheyenne and Jamestown are left wondering what might have been.
 "It's incredibly disappointing. We've done everything in our power to put ourselves in position to play for a state title. It's extremely disappointing," Wilhelm said.
  Taking the biggest hit, of course, are the seniors on the boys and girls teams who will never know who would have won that coveted state championship.
 "I just can't stop thinking about our seniors and the things they did for our program," Wilhelm noted. "I just feel awful for all the seniors having to go out like this. ... We'll have more seasons, but the seniors have done all they can to put themselves in this position, and I feel awful about it."
  Kenyon Eagle, Tyce Halter, Nick Hinsz, Joey Mills and Kade Rohlfs have all played their final basketball game for the Demons.
 Wilhelm and his players are left with an empty feeling for good reason. Their 20-5 record included just one loss, in overtime, in their last 10 games. The Demons hadn't lost a game in regulation time in over a month, and belted Fargo Shanley 85-62 in Thursday's quarterfinal round.
 "We're still alive in the tournament and have a chance to win it," Wilhelm said in retrospect. "I feel we're playing our best basketball all year. Thursday was probably the best we've been on both ends of the floor all season."
  Wilhelm, in his fifth season as the BHS head boys basketball coach, said he never imagined he would be confronted with a scenario like the one he faced on Friday.
 "I don't know of any coach who has taken a class that shows them how to handle a national pandemic ... when the whole country is in a state of emergency hysteria and they're canceling games all over the place," he observed. "You understand why these things happened, but it's so fresh that it's hard to process.
 "We've ended seasons on losses, and I've given my post-game speech. I've never had to get in front of a group of young men and talk to them about something I know nothing about."
  Wilhelm said Friday's team meeting was a difficult time.
 "I got a phone call (about the shutdown) just as some of the players were finding out via Twitter. We instantly called a team meeting ... and it was an extremely emotional time. I don't think administrators or coaches are trained to have conversations like the one we had today," he said. "I told our boys I was extremely proud of them ... and this was just out of our control."
 So ended the season without closure. Wilhelm recoiled at the idea that it was a lost season, however.
 "There's a ton of positives we can take away. There are all the life lessons you learn in sports, the good times in practice and on the bus," Wilhelm noted. "This was a special group this year. The right balance of senior leadership ... and toughness. They've developed relationships that will last the rest of their lives."
Concerned about COVID-19?
Sign up now to get the most recent coronavirus headlines and other important local and national news sent to your email inbox daily.