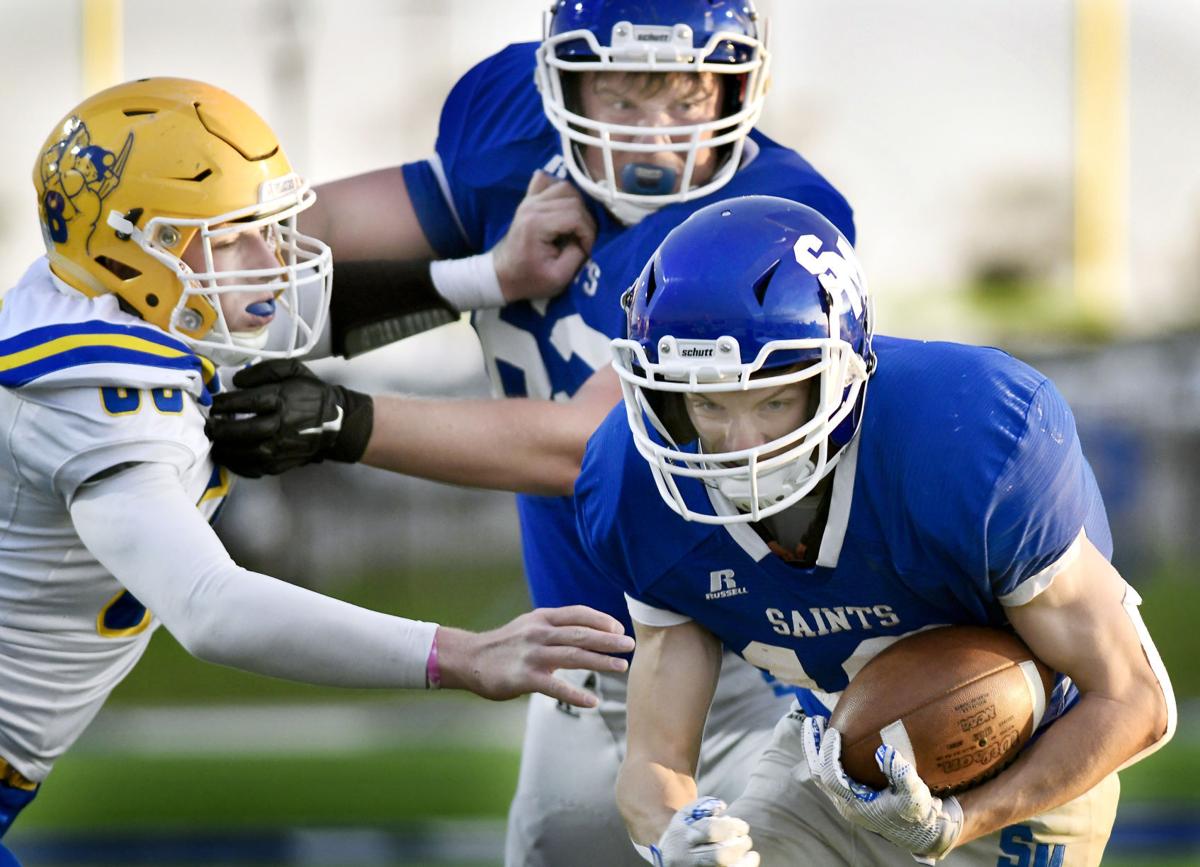 St. Mary's survived five turnovers, and a late onside kick, to remain unbeaten Friday night at Smrekar Field.
Beulah put up the first points of the season on the Saints' defense, but a late stop by St. Mary's sealed the 21-13 victory.
"Going in we knew it was going to be a tough game," St. Mary's coach Dan Smrekar said. "Beulah is a good, physical football team and they're tough to defense.
"Six turnovers -- three interceptions, two lost fumbles and the onside kick we didn't recover -- we made it a little hard on ourselves, but it was a tough game exactly like we thought it would be."
The fourth-ranked Miners trailed 12-0 at halftime, but made it interesting late. 
Down 21-7, Nathan Battest scored on an 11-yard touchdown run to get Beulah within one score. The Miners went for two, but did not convert. 
Beulah recovered an onside kick to get one final possession. Kicker Isaak Barbot's hard-liner bounced off a St. Mary's player and Zayne Phelps was there to flop on it. St. Mary's defense stiffened and stopped Beulah on a fourth-and-long play to effectively seal the win with less than 30 seconds t play.
"Defensively, I thought we played extremely well. Beulah's offense has a lot going on. They have talented players. It's difficult to defend, but I thought our kids stood tall and we got a couple big stops when we really needed it," Smrekar said. 
It was the fifth straight road game for the 3-2 Miners, who finish the season with three home games.
Battest ran for 96 yards on 13 carries, caught two balls for 73 yards and had an interception. Trapper Skalsky surpassed 100 yards rushing on 16 carries. Trey Brandt had a six-yard scoring run in the third quarter for Beulah. Up to that point, St. Mary's had not allowed a point in 18 straight quarters.
Cullen Curl scored all three St. Mary's touchdowns. The senior running back carried 26 times for 138 yards. He had TD runs in the first, second and third quarters.
St. Mary's did not attempt a pass in the second half. Jackson Uhler was intercepted three times in the opening 24 minutes. The Saints also lost two fumbles. Uhler did provide a number of big runs. The senior QB rushed for 68 yards on nine carries.
Nick Schumacher booted a clutch 25-yard field goal in the fourth quarter to make it 21-7 Saints.
"Offensively, we played pretty well. We moved the ball, obviously the big issue was the turnovers," Smrekar said. "Three of them were inside the 15-yard line when we were going into score possibly. So we might have left some points out there, but you have to give (Beulah's) defense credit as well. They made some plays."
Phelps and Aaron Ripplinger had interceptions for Beulah, which hosts Hazen on Saturday, Oct. 10.
Thomas Jackson of St. Mary's had an interception for the 5-0 Saints, who travel to Watford City on Friday to face the Wolves.
"I thought the effort and the fight from our kids was extremely good. I have no complaints there," Smrekar said. "We have things we need to get fixed, namely the turnovers. We need to have better discipline and stop turning the ball over.
"But when you look at it, we turned it over six times against a quality football team and still found a way to win. We'll take a lot of positives out of this game and get back to work."
Get in the game with our Prep Sports Newsletter
Sent weekly directly to your inbox!