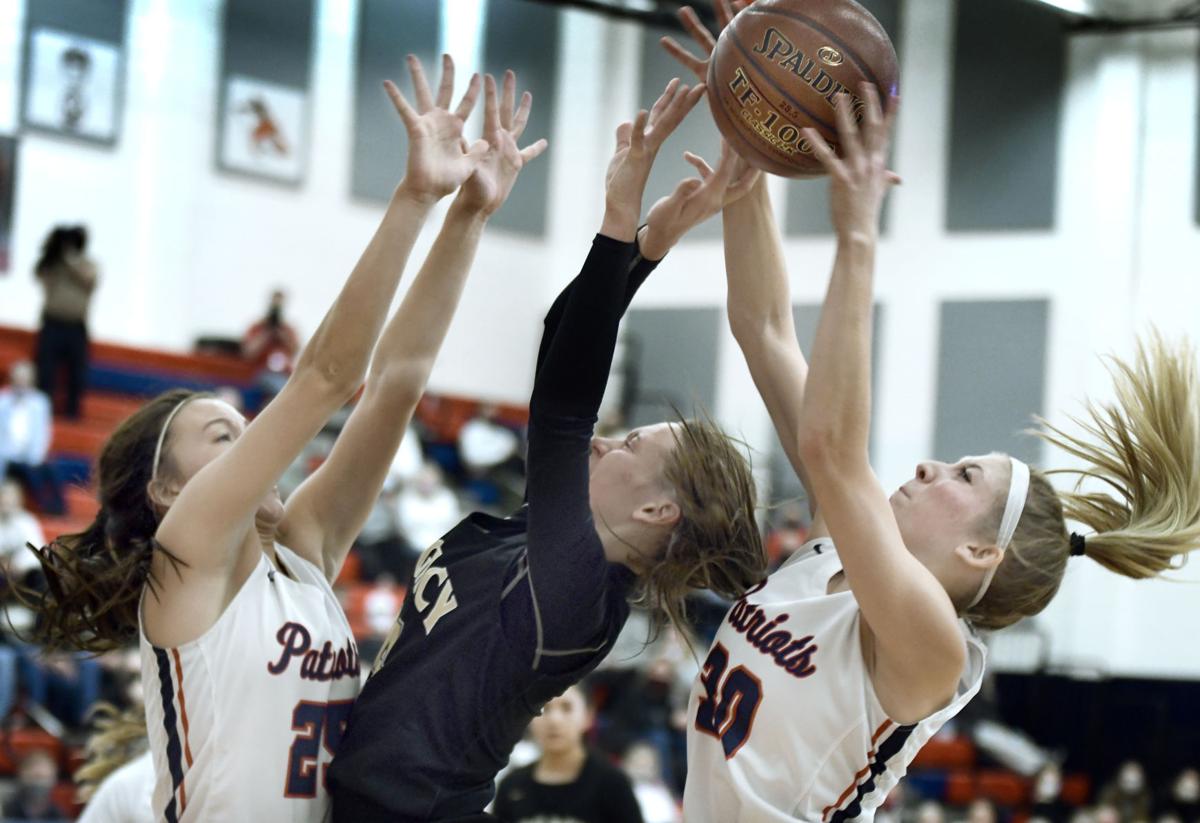 A 13-point lead had dwindled to a one-possession advantage with three minutes to go.
The Century Patriots knew what to do.
"We just talked about one possession at a time," senior Julia Fitterer said. "We talked about taking smart shots, keeping our communication up. We didn't need to force anything. They weren't going to give up and we knew that. I think we knew if we just stayed within our system, trusted our teammates we knew we could come out with a win."
Top-ranked Century remained unbeaten, using a late 10-1 run to stave off No. 5-ranked Legacy 77-70 in a battle of West Region heavyweights on Tuesday night at the Olson Gymnasium.
Century led the entire second half, building a 13-point lead at 52-39 with 14 minutes remaining. But the Sabers battled back, drawing within three at 67-64 after a Jaiden Baker layup with 3:11 remaining.
"We talked about it in the timeout," Patriots coach Ron Metz said. "They're still right there, they're going to keep pouring it on us, we've just got to make sure we're solid defensively, nothing easy for them, hopefully make them work for any baskets they get, and offensively, just keep looking to attack and get the ball inside. (Fitterer) had a heck of a game and it's great when you've got seniors that step up for you."
Fitterer poured in a game-high 29 points, hitting four 3-pointers and converting a pair of old-fashioned three-point plays for the Patriots (7-0).
"Legacy is a really good defensive team," Fitterer said. "They're not going to just give you easy looks. They know who our shooters are so I think we knew it was going to be a physical game so we wanted to attack them as much as we could and get to the foul line."
Logan Nissley hit a low-post jumper and Jocelyn Julson hit a 3-pointer to start the Patriots' game-sealing late run. Nissley hit one free throw with 2:06 left to make it 73-64.
After Alyssa Eckroth hit one of two free throws for Legacy, Fitterer sank a running jumper with 90 seconds left and Ashton Kinnebrew hit two free throws for a 77-65 lead with 56 seconds on the clock.
The Patriots and the Sabers got a lot of offense from driving the lane, getting to the basket and getting good looks or drawing fouls.
Century converted 14 of 22 from the free throw line while Legacy hit 26 of 34.
"That's an excellent team," Metz said. "Coach (Jim) Petrik has always got them ready to play. They always defend us really well and it's tough to score on them. It's a tough battle every time we play them.
"We like to play offense inside out. We like to attack. We don't have huge posts or anything -- Megan (Klein) and (MaKayla Anderson) do a great job in there for us -- but we like to get fluid with our offense and make sure everyone gets a chance to get a look."
The early 3s sparked Fitterer, who had 13 points to go along with 10 from Klein in the first half.
"It's nice to see some go through the net in the beginning, give you a little confidence," Fitterer said.
Fitterer finished with 28 and Klein 14. Ashton Kinnebrew added nine, Nissley eight and Julson seven for the Patriots. Century sank nine 3-pointers, with Fitterer hitting four and one each from Julson, Nissley, Ashton Kinnebrew, Gabby Rush and Bergen Kinnebrew.
There were three ties and five lead changes in the first half, with Century using a late 12-4 run to take a nine-point lead to the intermission at 39-30.
Legacy (7-2) was led by 19 from Baker and 17 from Arianna Berryhill. Hannah Stymeist finished with 10 and Breena Sand with nine.
The game had a postseason feel to it, with two West Region powers squaring off, a close game late and a few more fans in the stands.
"There was a bigger crowd today, a lot of energy in the gym and it was just a really fun game," Fitterer said.
"We're not used to this, it's been so different for so long so a lot of us were just really excited for this game and really looking forward to it."
"It was great to see all the fans," Metz said. "We appreciate them coming out. They really helped us."
Both teams are off until Tuesday, Jan. 19. Legacy visits Bismarck at 6 p.m., while Century will host Minot at 7:30 p.m.