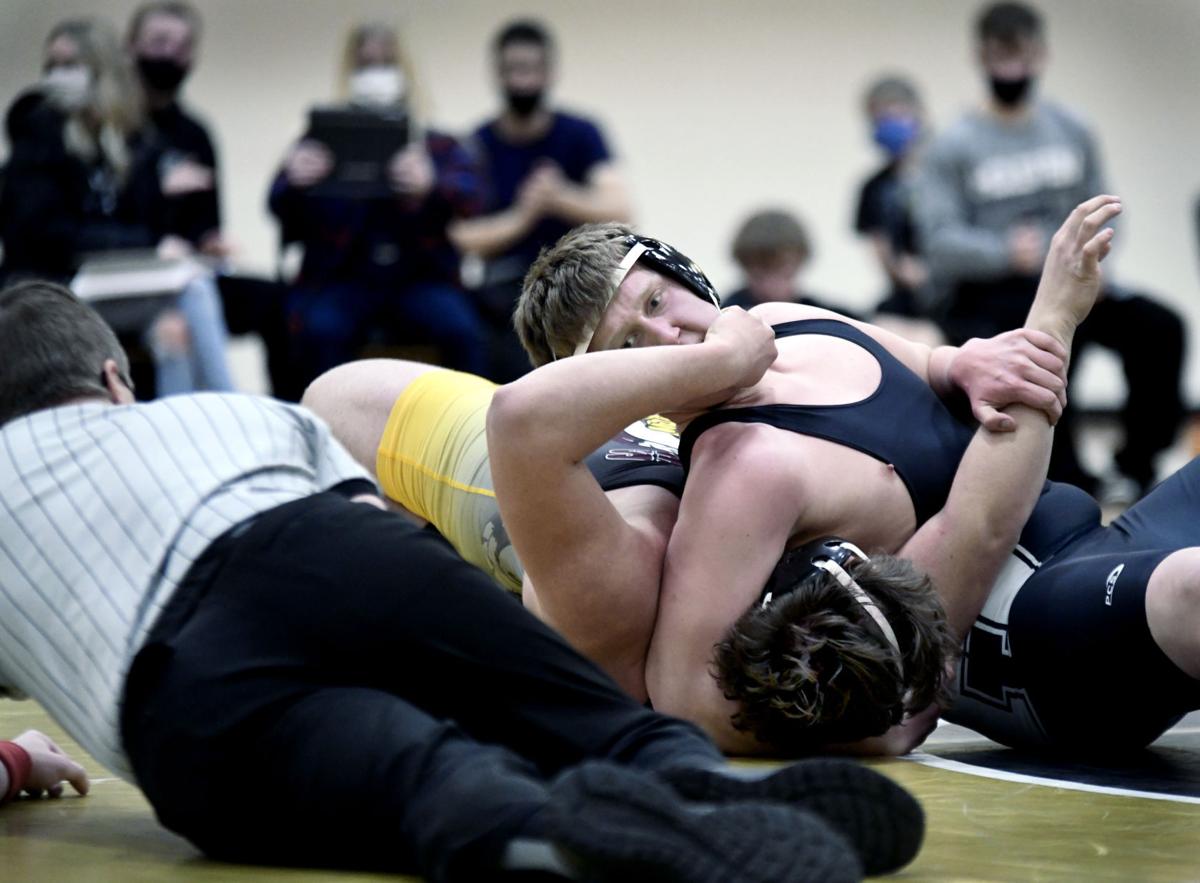 If New Salem-Almont wrestling coach Dave Wolding had second thoughts about getting his undefeated team involved in a triangular with two Class A schools, he disguised it well.
 "I love it. I had no reservations at all, That's what makes kids tougher. We have a couple more Class A teams we're going to dual," Wolding said after his team defeated Turtle Mountain 70-12 and Legacy 46-24 Wednesday in a triangular at Haussler gym in Bismarck.
 Legacy downed Turtle Mountain 60-24 in the other dual on the schedule.
 Wolding said he was impressed by the way his wrestlers competed on Wednesday.
 "I liked the way we got into the tough matches and stood up to the Class A kids," he noted.
 Lars Jacobsen, who shares Legacy head coaching duties with Steven Monk, said he had no second thoughts about bringing the Holsteins into the triangular.
 "None. Competition is competition. It give us a chance to see good wrestlers who are tough and shows us what we have to work on," he observed. "Why shy away from somebody because they're in a different division? We can't go out of state and we can't go out east. We're limited to what's available to us, so let's make the best of it."
 Jacobsen said his wrestlers benefited from tangling with New Salem-Almont. 
 "If each kid, whether he won or lost, improved one percent it's a victory for us," he said.
 Thirteen wrestlers came through Wednesday's proceedings with 2-0 records, seven from New Salem-Almont, four from Legacy and two from Turtle Mountain. Four of them, NS-A's Ethan Maier and Cole Nagel and Turtle Mountain's Stephen Leonard and Tanner LaRocque, racked up a pair of pins.
 Three Holstein wrestlers came out of the triangular with perfect season records intact. Wyatt Engwicht at 113 pounds, Ethan Maier at 125 and Allan Heins at 285 remain unbeaten. Ty Wolding at 160 suffered his first loss, a 17-6 major decision, to Legacy's Draken Stugelmeyer.
 NS-A improved to 6-0 in duals on Wednesday after winning a championship in the 12-team Linton Lions tournament on Dec. 19.
 With just nine wrestlers entered, the Holsteins totaled 161.5 points to finish 34 points ahead of the field.
 "My goal was to finish in the top four or five," Wolding said. "We had five guys in the finals and five champions, so we really had a good day. ... We're really young. We only have one senior on the team."
 Wolding said it will be interesting to see where the Holsteins fit in with South Border, Velva and Lisbon as the season plays out.
 "We've got a nice full team, but we're very, very young," he noted. "But these kids will do what you want them to do. That's why we're getting it done."
 Turtle Mountain was open at five weight classes on Wednesday, and coach Derrick Dixon said it's an uphill battle the Braves will be fighting all season.
 Due to coronavirus precautions and protocols Turtle Mountain didn't field teams during the fall sports season and is not allowing middle school athletes to compete on varsity teams. Other wrestlers chose not to participate due to concerns about the virus.
 "I just hope we don't lose any more," Dixon said.
 Prior to the coronavirus outbreak, Dixon said he expected to have a much larger team. 
 "We expected to have a full lineup for sure. I'd say, roughly, we should have had about 25 kids out this year," he observed.