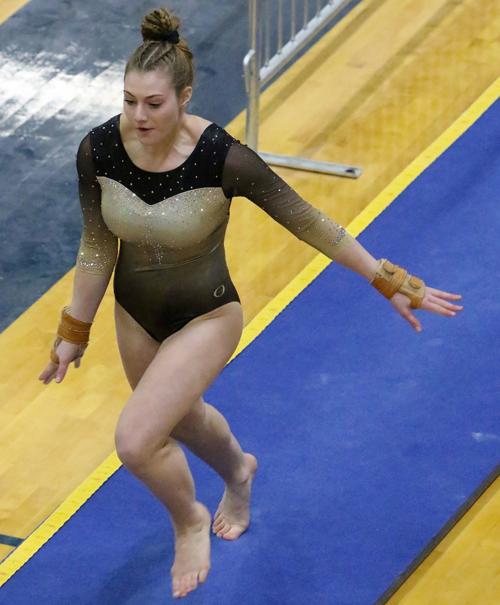 Legacy's strong finish at the state gymnastics meet last season left the Sabers wanting more.
After their best finish at the state meet, placing second behind only powerhouse Dickinson, the Sabers started 2019 with pep in their step.
"They're fired up to do better," said Linda Grina, who coaches all three Bismarck teams. "I hope they can do as good as last year, if not better."
The Sabers' best performances came went it mattered most. Legacy's 142.435 edged Jamestown (142.134) for second.
Dickinson (146.084) remained firmly in front of the field, winning its fourth straight state title, but with top all-arounders Elicca Stugelmeyer, Madison Deics and Joanne Lee all back, the Sabers have big plans this time around.
"If we can stick the beam, that's always such an important thing, that would help a lot," Grina said. "We're trying to add a few more skills on bars and some new vaults. Hopefully that can pull them through."
The Sabers, Bismarck High and Century compete for the first time this season today in Fargo, joining Davies, Fargo South, Grand Forks and Valley City in the meet. Practice began Nov. 18. With just three gymnasts, BHS will not have the required four scores to count in team standings at meets.
"Some of (the girls) are ready. That's how the first one usually is," Grina said. "We take it with a grain of salt and then go from there."
Dickinson, led by returning all-around state champion Ayana Fossum, will again be the favorite. The Midgets have won 13 state championships total. Only Fargo South (15) has more.
"It always looks that way," Grina said of coach Kent Van Ells' Dickinson dynasty. "They've earned that with how well they've done."
If there's a team that can possibly give Dickinson a push, it's probably the Sabers.
Stugelmeyer (36.650) placed seventh in the all around at last year's state meet in Jamestown.
"She actually won the all around on the team day last year, that doesn't count for anything, but she did very well that day," Grina said. "She's a hard worker. I hope she has a great senior year."
Madison Deics, a sophomore, turned in a very nice 36.384 to earn ninth in the all around last season as a freshman.
Joanne Lee, just an eighth-grader at the time, was 15th (35.200). Lee returns for her freshman campaign.
Juniors Alyssa Larson and Zoe Prince (back from injury), sophomore Liz Goldade and freshmen Alexa Evanger and Irelyn Ell give the Sabers solid depth.
"If they keep working hard, I think they'll do very well," Grina said. "It will be fun to see it goes."
Century returns its top all-arounder in eighth-grader Teah Schulte, while Bismarck High was supposed to, but an injury dinged the Demons.
Kate Dillman, projected as one of the top talents in the state, suffered a severe elbow injury during last year's state meet, which required surgery. Dillman took second in the all around (37.433) and vault (9.483), third on bars (9.150), fourth on beam (9.267) and fifth on floor (9.533) but opted not to compete this season.
"Elbows can very difficult, especially when you're trying to compete at a high level," Grina said. "It's too bad. You never like too see kids get hurt."
Get in the game with our Prep Sports Newsletter
Sent weekly directly to your inbox!