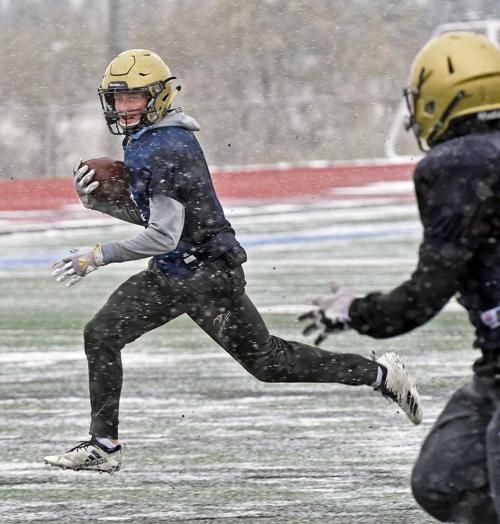 Braiden Kuehn has been a big play machine this season for Shiloh Christian.
The Skyhawks' Swiss Army Knife has accounted for 1,230 yards and 14 touchdowns on offense, plus 45 tackles and four interceptions defensively.
Kuehn, pronounced Keen, leads the Skyhawks in rushing, receiving and return yardage. The 5-foot-11, 160-pounder can score from anywhere. He has an 80-yard kickoff return for a touchdown, 73-yard rushing TD and a 65-yard pass reception for six.
"Braiden's a really versatile kid. He can do a lot of things for our team," Shiloh head coach Funnon Barker said. "He's really explosive. When we get the ball in his hands, we know something big might happen."
Kuehn, who speaks like a coach, deflects any individual accolades back to the team.
"Josh (Kolling) has played great this season as our quarterback and our offensive line deserves a lot of credit too," Kuehn said. "It all starts up front with those guys. They give us room to run."
A three-sport athlete at Shiloh, Kuehn also plays basketball and runs anything from the 100-meter dash to the 3,200-meter relay in track. Football is indisputably his favorite, however. The threat of potentially not playing this season due to the ongoing pandemic has made him savor every snap.
"It's been kind of a worrysome experience because you're not guaranteed anything and we've seen a lot of teams that have run into problems with Covid this year," he said. "As seniors, we've tried to make sure we're treating every practice, every play like it could be our last because you don't know what might happen."
The high school season has successfully made it to the playoffs and the Skyhawks (6-2) are surging. Winners of six straight -- one a forfeit -- Shiloh hosts Kenmare-Bowbells-Burke Central (4-4) today at Miller Field. Kickoff, in the cold, is set for 2 p.m.
Even with mid-20s temps, don't expect to hear any complaining from Kuehn.
"We're getting to play. Whether it's cold, hot or somewhere in between, we're just thankful for the opportunity," he said. "We'll be excited to be on the field on Saturday."
Kuehn's approach has been of a true leader, his coach said.
"He's a team captain for a reason," Barker said. "He sets a great example for the younger guys. Braiden's the type of kid who can put the team on his shoulders."
After two losses to start the season, the focus was on improvement.
"We try to get 1 percent better each practice like coach Barker says. That's the standard," Kuehn said. "As the season has gone on, we've been able to make steady progress and that's allowed us to play better."
Kolling, Shiloh's quarterback, also has had played a key role for the Skyhawks on both sides of the ball. He's thrown for 1,091 yards and 12 touchdowns, and is the team-leader in tackles with 56, to go with three INTs.
"Josh has done a tremendous job for us," Barker said. "As the season has gone on, he's gotten more comfortable running our offense. He's just a really good football player."
Shiloh's play up front has steadily improved as the season has gone on. Senior Stephan Packineau (left tackle), juniors Trenton Radenz (center) and Ethan Gerving (right guard), sophomore Kylar Hall (right tackle) and freshman Jayden Ambuehl (left guard) are formidable up front.
"We've moved guys around position-wise to find the right mix. It's a good group. They've really come on and played well for us," Barker said.
Like the Skyhawks, Kenmare-Bowbells-Burke Central has good size up front. Whether the Honkers can handle Kuehn and the Skyhawks' big-play offense will determine if it's a close game or not. The Honkers have allowed 218 points in eight games, Shiloh 144 over seven.
A handful of Skyhawks will be playing in their first playoff game, most notably freshmen starters Ambuehl, Michael Fagerland and Isaac Emmel. Kuehn is hoping it's not his last, at least in high school. College programs have come calling, but he also has a desire to study crop and weed sciences at North Dakota State.
But his focus is squarely on Saturday and extending the Skyhawks' season.
"We've been telling the younger guys that we're not guaranteed anything from here on out," Kuehn said. "We have to take it one game at a time and we have to play well. If we don't, we'll be going home and we don't want that."
Get in the game with our Prep Sports Newsletter
Sent weekly directly to your inbox!