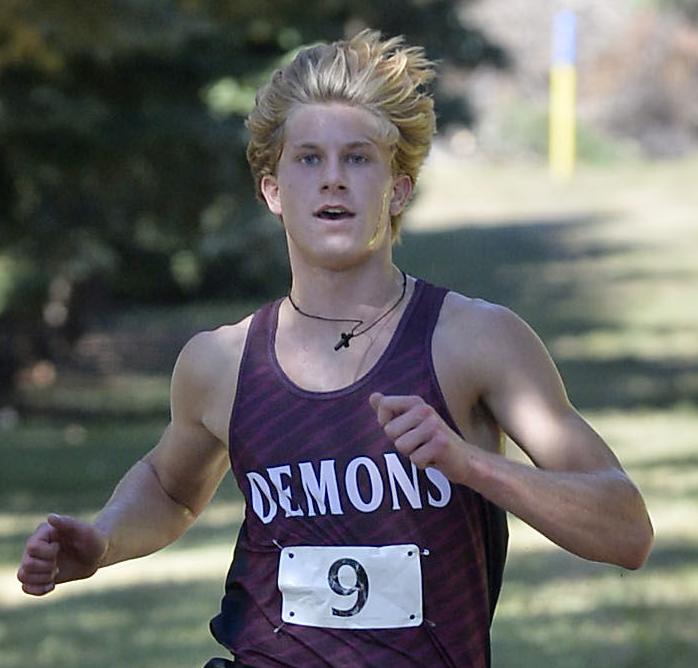 Sean Korsmo is a fiery competitor. Underestimate him or his team and a blaze is kindled within.
 And Korsmo, a senior at Bismarck High School, has been that way for quite awhile.
At age 10, Sean asked his dad, Tracy, what he would think if he finished first in a race he was about to run. Tracy said it would be cool. That was all the motivation Sean needed to win the 5-K division of the 2013 United Tribes Thunderbird road race.
 "One of my favorite things is proving people wrong. ... I'd get into races with older guys and people looked at me as just a kid. That fueled my competitive fire and made me want to win even more," Sean said in retrospect. "I am very competitive. ... More than talent, more than hard work, I'm just competitive."
 Korsmo's competitive instincts, honed in cross country, track, hockey and lacrosse, still burn brightly, but he's not underestimated any more. He's a state cross country champion (2018) and a two-time track champion (1,600 and 3,200 in 2019).
  That said, Korsmo is quick to note that his thirst for winning doesn't spring from a "winning is the only thing" mentality.
 His priority ladder has God at the top, his teammates second and his vanity third.
 "My relationship with the Lord is the most important focus of my life. ... More than running, more than schoolwork, more than my relationships with other people, the Lord is the most important focus of my life," he emphasized.
 "That's how I approach everything," he added. "If I can't do something to glorify God, I don't see any purpose in doing it. ... And that doesn't just mean winning. It doesn't mean I'm never going to have a bad race. That happens to everyone. But my main focus when I put on my uniform is to glorify God."
 Korsmo is among a wave of talented distance runners who came on the scene his sophomore year. Others include Brady Yoder of Dickinson, Jacob Knodle of West Fargo Sheyenne, Mason Kindel of Century and Ben Anteau and Gavin Haut of Jamestown, all of whom, like Korsmo, are now seniors.
  It's kind of a dog-eat-dog milieu in which to compete, but Korsmo believes it's a blessing.
 "All of us in that group are the same age. ... We're all competing against each other and, honestly, I think we're all better runners because of each other," Korsmo said. "Two years ago there were a ton of sophomores in the top 20 (at the state cross country meet)."
 Korsmo had a brilliant sophomore year. He edged Yoder by three seconds to win individual honors at the state cross country meet in Jamestown. His 5-K time was 15:45.5. In the spring he triumphed in the distance double and ran a leg on the Demons' 3,200 relay team. He was clocked in 4:25.63 in the 1,600 and 9:32.05 in the 3,200.
 Last fall he again battled it out with Yoder in the state cross country meet at Minot, placing second in 15:33. Yoder won the title with a time of 15:21.
The two went head-to-head for the first time in 2020 on Friday at Prairie West Golf Course in Mandan. Korsmo cruised to the win, finishing in a time of 15:31.33. Yoder was a distant second (15:54.61)
 Coronavirus-related precautions wiped out the 2020 high school sports seasons, disappointing hundreds of North Dakota athletes. Korsmo, however, saw an opportunity in the gloom.
 "Obviously, we couldn't race last spring ... but basically it just gave me an opportunity to put in more miles," he observed. "I had a ton of fun just going out on runs. ... If I got bored, I'd go out for a two-miler and it would turn into five.
 "My mindset when we found out we'd lost the (track and field) season was 'I'm going to take advantage of this time God has given me to train.' ... I thank the Lord, because now I'm having a good season and feeling good."
 There was more to Korsmo's summer than pounding out miles in Bismarck. In July he attended the Peak Performance High Altitude running camp in Keystone, Colo., an experience that revolutionized his view of running.
 After the conclusion of the five-day camp, Korsmo competed in the National High School Trail Championships at Salida, Colo. Running in the first trail race of his life, he placed second.
 He hopes that finish will afford him the opportunity to compete on the U.S. Junior Mountain Running Team in the world championships, scheduled for November in Spain. The roster for the American team will be announced Oct. 1.
 Korsmo said training and competing in the mountains of Colorado was a world removed from what he'd experienced as a native of Bismarck.
 "I love running around Bismarck. I love Bismarck and I love North Dakota, but I saw some mountains (in Colorado) and that was amazing. ... It's super cool. ... It's a whole different style of running," he recalled. "I thought running was running, but I found there's so much technique involved in climbing and descending mountains. ... It's almost a different sport. There's a reason they call it trail running rather than cross country running."
 What passes for a running trail is sure to offer such challenges as rocks, fallen tree debris and protruding tree roots.
 "You've really got to watch your footing. It almost brings a whole new athletic side to running. ... Trail running incorporates more agility and more athletic ability than cross country." 
 Korsmo was told by a fellow camper that runners don't become trail runners until they've taken a spill. His initiation came while running on 12,504-foot Ptarmigan Peak, courtesy of a tree root.
 "We were running a downhill. I was running pretty much as fast as I could and I caught a tree root and went straight to the ground. ... I just felt like I was falling on ice. ... I hit the ground, rolled and immediately came up," Korsmo said. "I got pretty scraped up."
 Did the time in Colorado make Korsmo a more formidable cross country runner? He's not sure.
 "I don't think 10 days there made me a way better runner. ... It's a whole different type of training. More than anything else, it grew my love for the sport," he said. "It gave me a whole new appreciation for running that you can't understand until you experience it."
  As he wends his way through his senior year, Korsmo has a new teammate with whom he enjoys training and competing. His brother Brady, a sophomore, was the Demons' sixth finisher in the season-opening BPS Invitational.
 Sean said he made no effort to coerce his brother into becoming a runner.
 "I knew if I tried to force him he wouldn't like it. ... Running is really personal, and people need to find their own connection," Sean said. "His freshman year he played soccer and ran cross country ... and I let him choose his own path.
"It's really his own choice, and he's into it now. He's an awesome teammate."
Get in the game with our Prep Sports Newsletter
Sent weekly directly to your inbox!