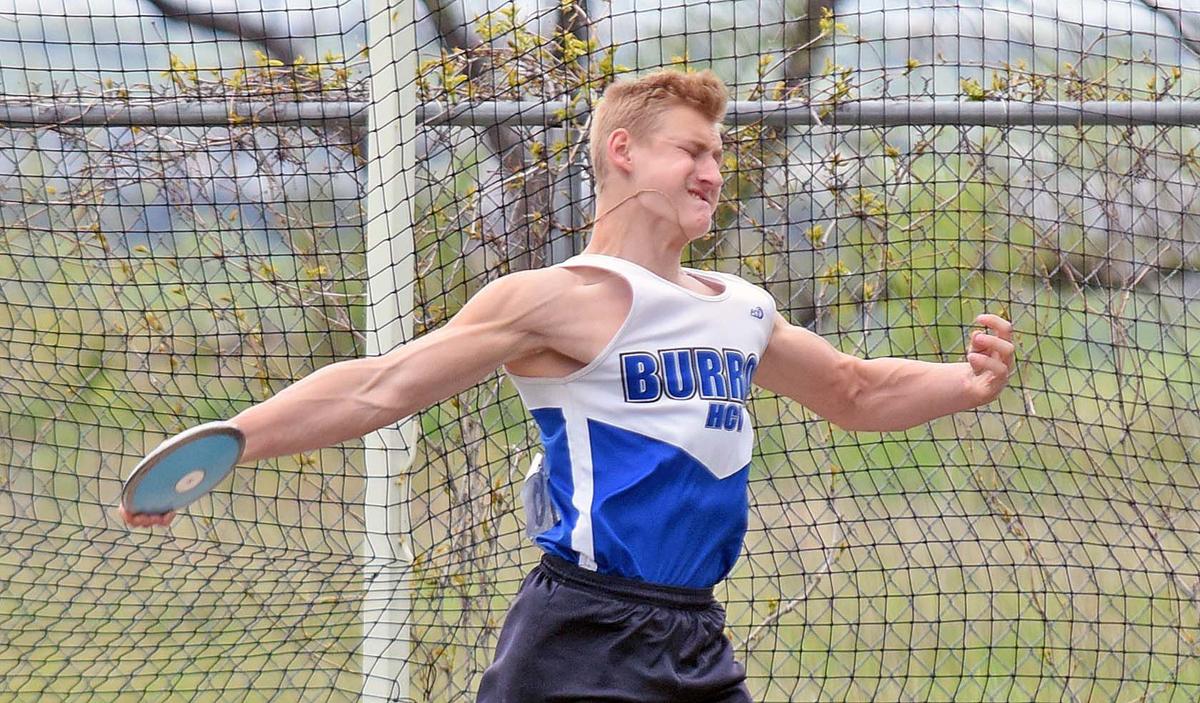 It's unlikely that any athletes in the history of North Dakota high school track and field have waited as long as Kidder County sophomore Kennedy Harter and Hillsboro-Central Valley senior Kaden Pastian to defend their state championships.
 It will be two years this weekend since the pair were crowned at the 2019 state meet; Harter as an eighth-grader in the Class B girls triple jump and Pastian as a sophomore in Class B discus.
 Barely a junior high student, Harter was the state's top triple jump qualifier with a leap of 36 feet, 5 inches. But she came up big on the state's biggest stage with a personal-best 37-6, which was more than a foot better than runner-up Brooke Blessum of Rugby.
 "I was pretty surprised that I actually beat my mark at state," Harter recalled. "My first two jumps I scratched, then I had one more jump left to make it into the finals. Then I felt like there was less pressure (in the finals) because there were less girls to compete with."
With COVID-19 wiping out last year's state meet, Harter had to wait an extra year to try to repeat. They were among the fortunate ones that would get another chance – and in Harter's case several chances – to bring home more titles.
 "We didn't even get into practice last year. It was very sad," said Harter, who became the first Kidder County eighth-grader to win a state track championship. "I just did workouts at home."
 She also held out hope that by some miracle the season would eventually begin. Within three weeks it was official that 2020 was lost.
"I was pretty sad because I was striving for another track season," she said.
 Kidder County track coach Kasey Kallenbach said losing a season was hard on everyone.
"When we got removed from school, we thought we might have a chance to come back. But when we heard it was officially over, it was hard, especially for the seniors," he said.
 Underclassmen, like Harter, get another chance Friday and Saturday at the state track meet at the MDU Resources Community Bowl. Harter goes in with the state's best qualifying triple jump (37 feet, 1 inch), which is short of the winning mark of two years ago but still a foot better than second-place Makenna Vollmer of Harvey-Wells County. Vollmer was third in 2019.
 Harter also has qualified in the high jump and long jump, but her best event is still the triple jump.
  "I was hoping I could pick up where I left off," she said.
 Instead, it took about five meets for Harter to meet her qualifying standard. That was actually earlier than Kallenbach could have hoped, not just for Harter but for all athletes.
 "It was easier than I thought it would be," Kallenbach said. "It helped that we had a nice spring. We were outside earlier than we had ever been. The kids that have that natural ability will be able to pick up where they left off."
 Harter qualified for high jump with a 4-11 and in long jump at 17-2.5.
 "We knew she could jump," Kallenbach said. "We knew she had the ability to do some good things in the jumps and she put it all together and ended up winning as an eighth-grader."
 Harter isn't the only young athlete aiming for a state title. Shiloh sophomore Hannah Westin owns the best qualifying mark in the 1,600-meter run (5:21.57) and third-best in the 3,200 (11:50.69). Westin's freshman teammate, Dedra Wood, is tops in the 100 hurdles (15.95).
 Another freshman, New Rockford-Sheyenne's Kelsie Belquist, is a contender in the 100 (third in 12.41), 200 (second in 25.78), 400 (first in 57.92), 300 hurdles (first in 44.61), long jump (seventh in 17-4) and triple jump (third in 35-10). She also ran on the 4x400 and 4x800 relays.
 Killdeer senior Jess Goetz is the top qualifier in discus (140-4) and Richardton-Taylor's Skylar Crow leads in the long jump (18-4).
 Pastian, meanwhile, has been the dominant force this spring in discus. His best qualifying mark of 193-4 is nearly 12 feet better than the second-best qualifier in Oakes' Ashton Biesterfeld (171-5) and 45 feet better than the third-best mark.
 Pastian won discus in 2019 with a 180-4 and was third in the shot. This season, he is the top qualifier in the shot (62-7).