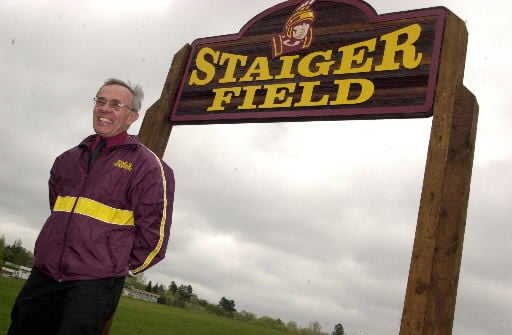 Ron Staiger feels terrible for what the coronavirus outbreak has done to senior athletes.
 He feels terrible for what the shutdown has done to athletes in general.
 Staiger feels terrible for what the pandemic-related concerns have done to coaches.
 In addition, Staiger, a guy who's a fixture at the Community Bowl in the spring, just feels terrible.
  For Staiger, a retired teacher and coach, there's nothing that comes close to filling the void left by the spring of 2020 -- the spring that never happened.
 "He's bored, no question about it," Staiger says, speaking in the third person.
 "Track has been a huge part of my life," he adds.
 To put things in perspective, this is just the third spring since 1985 that Staiger hasn't officiated at the state high school track meet. The other two lapses were in 2007 due to a medical emergency and in 2008 for a family funeral.
 Staiger, an 1960 graduate of Hebron High School, got his first taste of track as a Brickmaker athlete, running sprints and tossing the shot. A man for all seasons, he also played football (fullback, linebacker), basketball (reserve guard) and American Legion baseball (third baseman).
 Those Hebron athletes experienced their greatest success in football, long before the introduction of sanctioned playoffs. It was in football that Staiger earned All-Heart River Conference recognition.
 As a gainfully employed student at Dickinson State, Staiger was able to squeeze just one season of football into his schedule.
 After earning his bachelor's degree at DSC, it was off to Tolley, where he taught and constituted the entire athletic department. He coached basketball and baseball for one school year before moving to Bismarck.
 Once in Bismarck, he stayed, beginning a long career of teaching and coaching at Simle Middle School when it was still Simle Junior High School.
 Staiger joined the staff at Simle, where he'd previously been a student teacher, in the fall of 1966. He remained there, teaching math and physical education, through the 2003-2004 school year. Until about 2000 he served as Simle athletic director and track and football coach.
 Not long after he moved to Bismarck, he became deeply immersed in track, a passion that burns to this day.
 "(Bismarck High School track coach) Bruce Whiting is the one who really got us (junior high track coaches) into it. Roger Reinbold was at Hughes and I was at Simle. ... The deal was when we came and worked the high school meets, Bruce would arrange housing for us at the state track meet, which was at Valley City at old Hanna Field. ... That was our incentive. When we went to the state track meet, we always had a room there.
 "That was one way Bruce got us junior high school coaches involved in high school track. ... He knew how important we were in getting kids out for track," Staiger recalled.
 That was more than 50 years ago. Only Heaven knows now many track meets Staiger and his long-time contemporaries have successfully completed at the Bismarck State College bowl and its predecessor, Hughes Field.
 Staiger had scores of track meets behind him when he worked his first state meet at Grand Forks in 1986. He said he became a state meet finish line official when Bob King, then the assistant executive secretary of the North Dakota High School Activities Association, made some changes.
 "College coaches used to be the timers and pickers. ... Then Grand Forks went to using some of their local people to work the meets. ... It was when Bob King (acting as meet manager) brought in non-college coaches to run the meet that I worked my first state meet," Staiger recalled.
 By the time the state meet took up its present home in Bismarck, Staiger was part of a sizable cadre of local meet officials who were making an annual pilgrimage to Grand Forks for the state meet.
 Since Bismarck became the meet's current home in 2003, Staiger said officiating the state event has become a no-brainer.
  Should there be a state high school meet in 2021, Staiger said he'd like to swing back into action again.
 "Oh, yeah, if they want me to. I'm getting to the age (78) where you never know," he observed.
 Once he began officiating track meets, Staiger branched out, working football and basketball games "for eight or 10 years starting in the 1960s."
  The high point of those whistle-toting years, was making the modest list of officials acceptable to Emmons Central football coaching legend Al Dosch.
  With so much sports officiating behind him, Staiger said he's become a discerning but patient fan.
 "I'm a private eye. I officiate from the stands very quietly. ... I'm not a rabid jump up, scream and holler fan," he said.
When Staiger retired from teaching in 2004 he made a clean break. Substitute teaching was not on his radar screen.
 "I really enjoyed teaching, but I could see it would be impossible to come in and substitute for somebody else without having established control of the classroom," he said. "Each teacher runs their classroom in their own way."
 Continuing with track and field was an entirely different matter. Staiger said officiating track meets has enabled him to continue working with long-established friends.
 "I'm a social person. I really like to get together with people and visit," he observed. "I've really gotten to know Leon House very well. We've become close friends. ... Terry Zander is another guy I'm really close to. Bruce Evanson, Dennis Johnson ... we all work track meets, so it's kind of a continuation of our past relationships.
 "Guys like Cal Collins, Dan Reinbold, Roger Reinbold, Jim Frey ... we all socialize after meets."
 While the opportunity to work with his buddies is the main draw, there are some other rewards that have come Staiger's way over the years. He's a winner of the Bismarck Quarterback Club's Roger Higgins Award for service to Bismarck athletics and has been honored for track and field volunteerism. He's been inducted into the state track and field officials hall of fame. Several years ago, the Simle football and track complex was christened Staiger Field.
  While he's appreciative of the recognition, Staiger draws great satisfaction from living in Bismarck and enjoying the company of friends at morning coffee klatches. Those restaurant get-togethers, like spring athletics, were casualties of the coronavirus shutdown.
 "I'm pretty much a social guy who goes out for coffee, and we can't even do that now," he said in late May. "We've been meeting out in the open, that's how desperate we are." 
 Staiger said he and his wife, Diane, a retired nurse, had no plans to leave Bismarck as their careers wound down.
 "We like the people. I've got a lot of people I associate with as friends. To me Bismarck has always been a really impressive city," he said. 
  Staiger is among the diminishing strain of people who have lived out the life they envisioned as youngsters.
 "My mother was a teacher, so she had a lot of influence on me concerning what I was going to do. She left the impression that education was a rewarding thing. So she was the reason I went into education," he said.
 "If I had it to do over, I'd do it again," he continued. "But I have a real interest in construction. ... In another life I might be an engineer. I've gotten a reputation as a sidewalk superintendent. I can stand and watch a construction project forever."
Get in the game with our Prep Sports Newsletter
Sent weekly directly to your inbox!